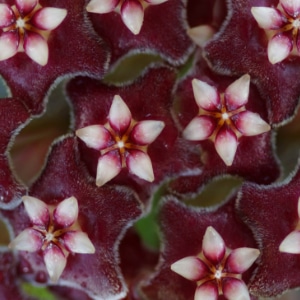 | Class | Info |
| --- | --- |
| Common Name | Wax plant, honey plant |
| Scientific Name: | Hoya |
| Family | Dogbanes |
| Plant Type | Flowering |
| Origin | Tropical Asia, Australia, Pacific Islands |
Plant Description

Hoyas are a variety of evergreen plants that are perennial creepers or vines. Occasionally, they will be shrublike. Larger varieties can grow to be more than 50 feet long.

Leaves

Depending on the variety, the leaves can be long or short. Many are oval-shaped, but some are heart-shaped. Some will twist. They are thicker, succulent leaves.

Temperament

Many varieties of hoyas are relatively easy to care for, the most problematic issues occurring when not watered properly.

Seeds

Some hoya varieties need to be cross-pollinated in order to produce seeds.
Rate of Growth

Depending on the variety and the stage of life, growth may be slower. To increase the growth rate, you will need to ensure that its environmental needs are met.

Roots

Hoya roots are typically used merely for anchoring as they are an epiphytic plant. They do not have an extensive rooting system.

Flowers

While flowers will vary depending on the variety, many hoyas will produce balls of wax-like star-shaped flowers.

Fruits

Some hoya varieties need to be cross-pollinated in order to produce fruit.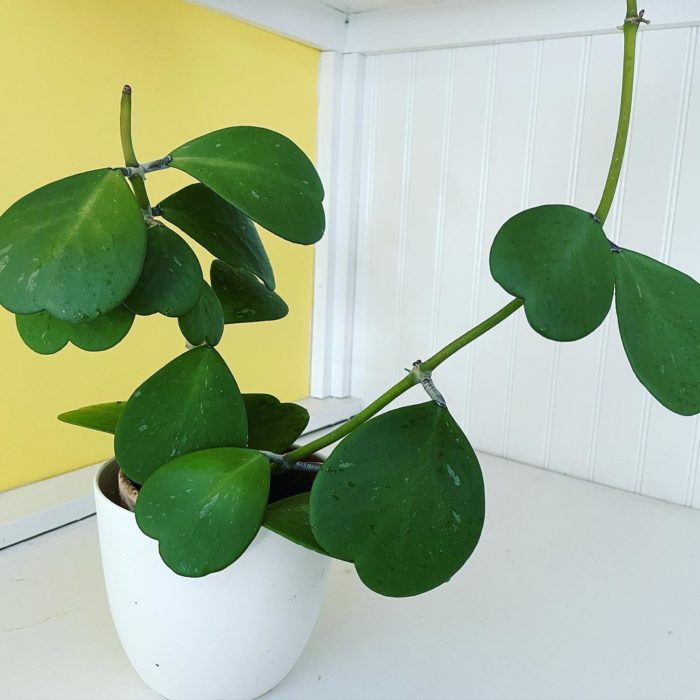 Here is a list of popular hoya varieties:
Hoya Carnosa

Also known as the Hindu Rope Plant, the Hoya Carnosa is one of the most popular varieties. This topical plant boasts both succulent vines and soft-pink wax-like flowers that bloom in summer.

Hoya Kerrii

The Hoya Kerrii is a rare hoya variety that has close-jointed stems with heart-shaped leaves. It produces brown-colored flowers.

Hoya Australis

Popular in Australia, the Hoya Australis can flower at any time throughout the year. Its large oval leaves will change color depending on its environment. The leaves will grow darker in lower light and lighter in brighter light.

Hoya Kentiana

The Hoya Kentiana has variegated long leaves that can come in white, pink, or green. While it may not bloom often, when it does, it will produce a star-shaped flower.

Hoya Multiflora

Also known as the "Shooting Star Hoya," the Hoya Multiflora is a popular variety that is relatively easy to grow. It produces large, leathery leaves and soft-yellow flowers.

Hoya Coronaria

A rare variety, the Hoya Coronaria is a variety that keeps a low profile but has a long central stem that climbs. The recurve leaves are waxy on one side and hairy on the other.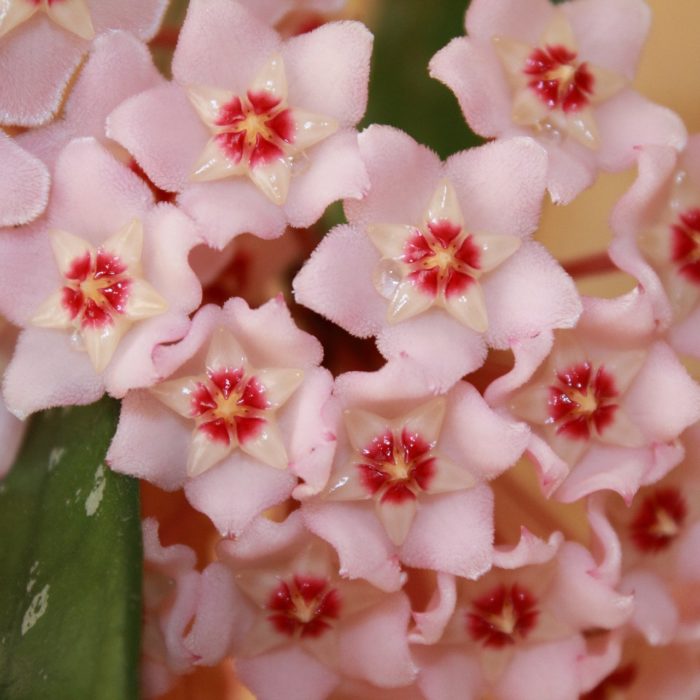 How to Care for Indoor Hoya
How Often You Should Water Your Hoya?

When watering your hoya, you should use water that has sit to room temperature. This is easy to do by filling your watering can about a half-hour before you water your plants. After watering your plant, allow the top inch of your soil to dry out before watering again during the spring and summer. In other seasons, allow it to dry out a little more before wearing.

With hoyas, it is better to underwater (and water the plant a little more if it starts to wilt) than to overwater and risk root rot. If in doubt, wait a little longer to water your plant.

How Much Light Does a Hoya Need?

Hoyas need indirect but bright light to thrive. They can grow in conditions that offer lower light, but their flowers will struggle to bloom.

How to Fertilize Your Hoya

Use a liquid fertilizer that is typically used on orchids (or one that has an N-P-K ratio of 2-1-2 or 3-1-2). Use it once per month (or as necessary for your specific plant) starting in spring and ending in autumn.

Best Soil For Your Hoya

Choose a well-draining soil that will also allow good air circulation. You can also make your own with equal parts orchid mix, cactus mix, and perlite.

Optimum Temperature/Humidity for Your Hoya

Hoyas are tropical plants and therefore love both a higher temperature and humidity. Make sure to keep a temperature of at least 60° F in the room where your hoya will sit. Make sure that you do not have it sitting in the direct airways of any vents and be sure to not allow the branches of the plant to touch outside windows when it is cold outside.

To increase the humidity in your room, try misting the plant periodically or place the pot on a dish with pebbles and water. You can also use a humidifier nearby.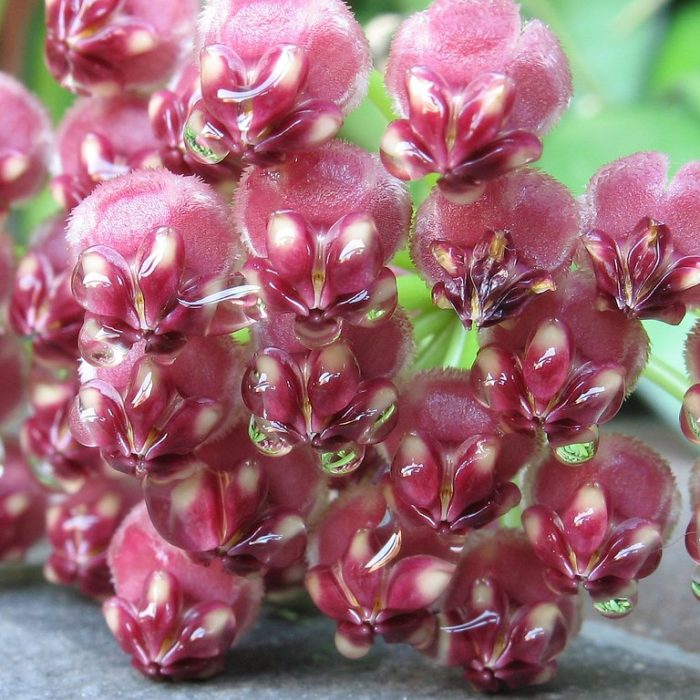 Common Problems with Hoya
Why Does Your Hoya Have Wilting or Yellowing Leaves?

If your hoya has wilting or yellowing leaves, you aren't watering it enough. While you should increase watering, do so gradually. Overwatering your plant could lead to root rot, which is a much more difficult problem to treat.

Why Is Your Hoya Not Flowering?

There could be a variety of reasons why your hoya isn't flowering. For one, it may not be receiving enough water or light. Other reasons may include that you over-pruned it in the spring or it doesn't have enough phosphorus, an important nutrient for the plant.

What Insects Can Affect Hoya?

Unfortunately, there are several insects that can affect your hoya plant in various ways. These pests will include aphids, mealybugs, scale, spider mites, thrips, and whiteflies.

Aphids

Aphids are generally found in groups or colonies on the undersides of new growth on a plant. While they will vary a bit in color (or whether or not they have wings), aphids are generally pear-shaped with little cornicles sticking out of the back of their abdomens. These soft-bodied insects seek out the sap of plants and will inject saliva into the foliage during the process which may alter the overall look of your plant.

Mealybugs

With a length of only 1/8 inch, mealybugs are white, soft-bodied insects that enjoy feeding on the photosynthates (plant juices) of your houseplants. As their bodies have a powdery-white substance on their bodies, they are often described as "looking like snow" when you have a larger infestation on your leaves. They will coat the leaves with a sticky substance that is covered by greyish-white bumps that resemble mold. While it does take some work, you can remove mealybugs so long as the issue hasn't become too overwhelming for the plant at the time of treatment.

Scale

Scale are small insects that suck the sap out of your houseplant's leaves or stems. Either round or oval in shape, they can come in a variety of colors but are most often brown. While all of them have shells, there are two main varieties, one of which has a harder shell (known as a hard shell) than the other (soft shell). These insects can be found anywhere on a plant and are very difficult to fully remove, though the soft shell scale is easier. You will need to remain very vigilant for a few weeks in order to save your plant.

Spider Mites

Spider mites are tiny black arachnids (not typically seen by humans) that like warm environments. They have oval bodies and eight legs and are generally white, red, or brown (though they are difficult to see with the naked eye). Spider mites can easily travel on the wind through a window screen. If you have them, you'll see fine webbing similar to spider silk underneath the leaves. Leaves will sometimes become spotted or change color. Spray them off with water, a homemade miticide, or use Neem oil to remove them. 

Thrips

Thrips come in various colors from black to yellowish. They are very thin (about the same width as a sewing needle) and have fringed winges. These tiny insects are typically most active in the spring and are attracted to various houseplants and garden vegetables. They will feed by sucking the sap of your plants. They spread very quickly through laying their larvae, so it is important to take action as soon as you realize you have an infestation.

Whiteflies

Whiteflies appear exactly as they sound. With four, white wings, these tiny insects measure to be about 1/16 inch in length. They are very hard to spot individually, but when brushing up against a plant, you may notice them swarm together in a "cloud" above the plant. Whiteflies suck the juices from the underside of leaves which can cause damage to your plant over time. They also produce honeydew which can attract other pests to your plant.

Is the Hoya an Invasive Species?

Hoya plants are not invasive. They do need to be cared for in the right environments in order to thrive.
Hoya is typically spread through propagation or air layering. While both methods can be easy enough, you should know that the process can take a long time, and even after the plant roots, it still may grow very slowly.
To propagate, you will need to prune healthy parts of the plant and place them in potting soil with a rooting agent.
When to Prune Your Hoya

Schedule your Hoya pruning for early spring before the growing season. While you can trim back the vines, avoid cutting the stems (they won't have leaves on them) as these will produce flowers annually in the right conditions.

How Often Should You Repot a Hoya?

You can repot your Hoya every 2-3 years. The plant likes to remain snug within its container, so don't move it too often. When you do, only go to the next size up.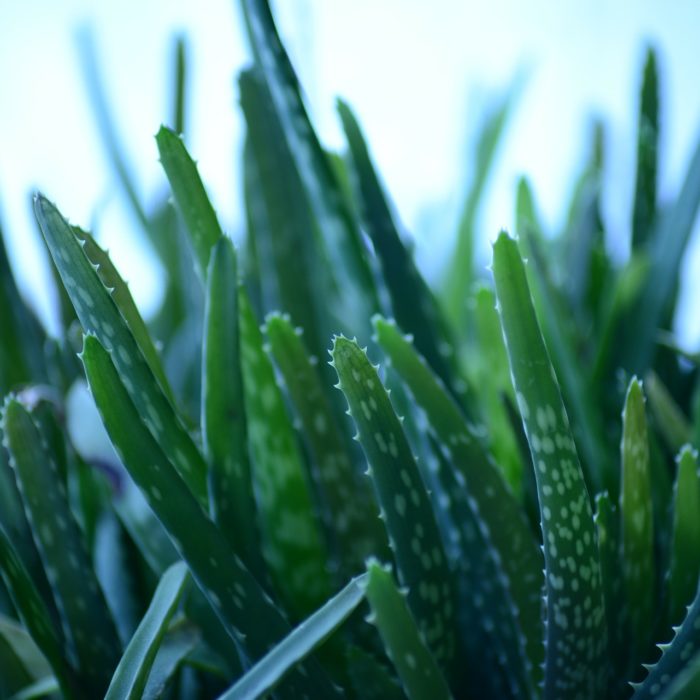 Companion Plants to a Hoya
The following plants can often grow alongside hoya and may compliment the plant (depending on the variety you have):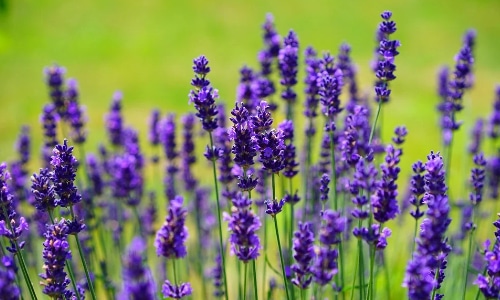 Lavender Overview
Lavender is a well-known and loved perennial herb that produces long stems with delicate buds and blooms. While the foliage can range in color from bright green to grey, the flowers are typically light purple but can come in other colors. They emit a floral scent that many people find calming. In fact, lavender is often used as a home remedy for sleep or stress relief. Lavender is fairly easy to grow and can be harvested up to several times per year (depending on the variety).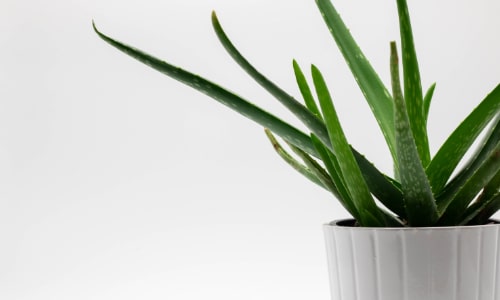 Aloe Vera Overview
A member of the lily family, Aloe Vera is a short-stemmed shrub that is very popular for its healing properties. The leaves of the plant are succulent and stand erect and contain a gel-like center that is often used to relieve burns or treat other skin issues. The Aloe Vera plant is typically light green and is easy to propagate. They typically enjoy warmer environments. They can grow to above three feet in length but are generally harvested more frequently.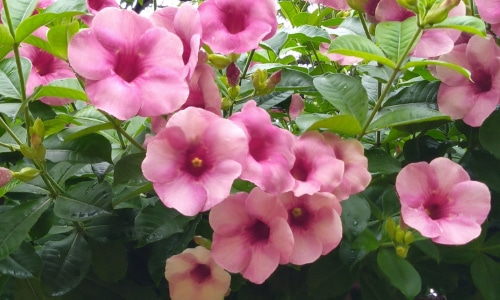 Mandevilla Overview
Mandevillas are tropical (and subtropical) vines that produce big, fragrant flowers (generally between 2 to 4 inches wide) in several different colors including yellow, pink, red, and white. The vines are climbers and, therefore, can be trained along trellises, poles, and other decorative structures. Mandevilla vines can grow both indoors and outdoors in the right conditions and are very popular for container groupings. Grown outdoors, the plant can grow quite tall.
Purslane Overview
Purslane is an annual that grows relatively short, but wide as it branches out from its base. The round or oval shaped leaves are thick ad range from a brownish red to light green depending on the variety, they tend to cluster more toward the top of each stem. The plant flowers are small and yellow, containing 5 petals that will open on sunny mornings. The plant will typically bloom for about two months during the summer.
Moss Rose Overview
Known for its small, pretty flowers that resemble miniature roses, the Moss Rose is a spreading plant that is low growing. The cylindrical leaves and stems are succulent-like, storing water for the plant to use over time. The plant is hardy and can last even in drought-like conditions. There are many varieties that produce several different colors of flowers from pink, to red, to yellow. The plant is generally small, growing no more than a foot high.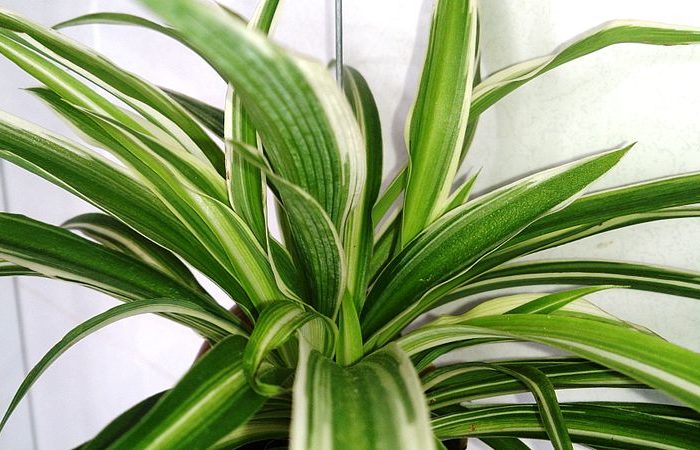 Plants that are Similar to Hoya
The following plants are similar to hoya in some way. Read on to learn what other plants you can grow: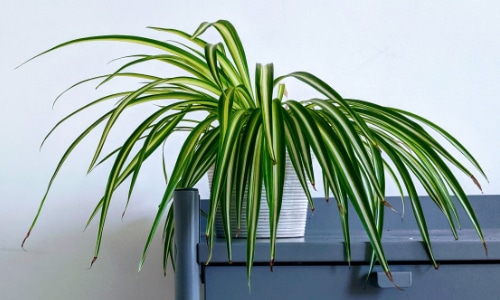 Spider Plant Overview
Known for its ability to clean the air in your home, the spider plant is a plant that grows long, variegated stems. Colors range from green to cream to white depending on the variety. The plant also produces smaller versions of itself on long stems that can be easily propagated in a new pot. Many homeowners will place them on a higher shelf to allow the leaves and stems to drape down, but they also look great in a hanging pot.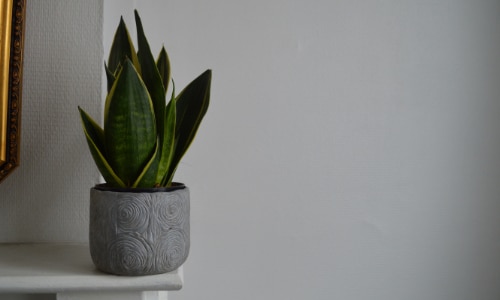 Snake Plant Overview
Also known as "Mother-in-Law's-Tongue," the Snake Plant is a popular plant that can grow up to 4 feet tall with proper care. The plant is created with sword-shaped leaves the grow directly from the base. The leaves will vary in color between light and dark green as well as a bluish green. Not only is the Snake Plant a hardy plant that can grow in a variety of conditions, but it is also known as a plant that will help clean the air in your home.
English Ivy Overview
Although the English Ivy is considered an invasive plant in many outdoor areas, it is the perfect indoor plant for busy people. This perennial vine comes in many varieties ranging in size. Some people keep smaller varieties in terrariums, while others will keep a variegated variety in a pot and have it climb around the frame of a windowsill. Without pruning, the vines of the English Ivy can grow quite long, reaching at least 90 feet.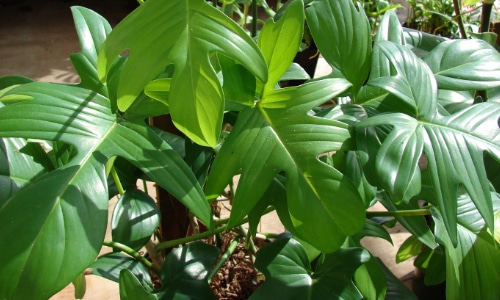 Philodendron Overview
Depending on the variety, a philodendron's leaves may vary from green, purple, red, or copper. Grown leaves will range from 10-16 inches that are arrow-shaped and have veins that will occasionally contrast with the color of the leaf. Not only are these plants popular in many homes, but they are also said to remove harmful toxins (such as formaldehyde) from the air. The plant will typically grow to be about 3 feet tall, but can be quite wide.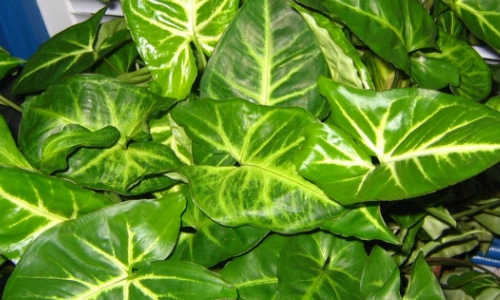 Arrowhead Plant Overview
Also known as the Arrowhead Vine, the Arrowhead Plant can grow to up to 6 feet tall indoors. The plant is named for the spade-like shape of its leaves, though each will start as a softer heart shape before maturing. This vine will grow very quickly, and will need to be trimmed in order to keep it under control. There are several varieties available that will range in variegated leaves that will include hues of pink or light green.
Frequently Asked Questions
How Large Will a Hoya Grow?

Most hoyas can grow to about 12 feet in length, though some varieties can reach 20 feet when given the appropriate care.

Is a Hoya Toxic or Bad for Pets?

The hoya plant is non-toxic for both humans and animals, making it a safe houseplant to have in your home.

What Kind of Container Do You Need for Your Hoya?

Hoyas do best in well-draining containers, whether they be made of plastic or terra cotta. They also light to be snug in their pot, so make sure to not place them in too large of a container.