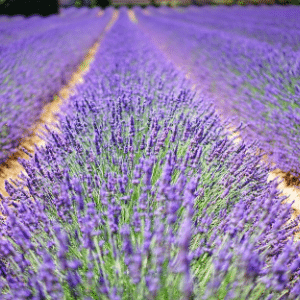 | Class | Info |
| --- | --- |
| Common Name | Lavender |
| Scientific Name: | Lavandula |
| Family | Lamiaceae |
| Plant Type | Flowering, Herb |
| Origin | Mediterranean, Middle East, Northern Africa, India |
Plant Description

Lavender is a shrub-like plant with long shoots that flower on the end. They are often planted in rows when farmed or are bunched together in home gardens.

Seeds

Cultivated lavender plants will generally not produce seeds. Instead, these plants need to be divided or cut in order to be propagated.

Temperament

Lavender is fairly easy to grow. In arid climates, it can be grown as a perennial. In humid climates, it is often grown as an annual.

Fruits

Some lavender varieties will produce a small nut-like fruit that will contain the seeds of the plants.
LEAVES

The leaves are greenish-grey and shoot out from the stem. They resemble the leaves of Rosemary or fir trees. They are often used when making soaps or sachets for the home.
Flowers

One flower, called an inflorescence, grows on each stalk of the lavender plant. Each is made up of several small flowers that are light purple or blue, depending on the variety.

RATE OF GROWTH

While lavender can take several months to reach the point where they can be transplanted, they can grow several inches per year once they are in their permanent home.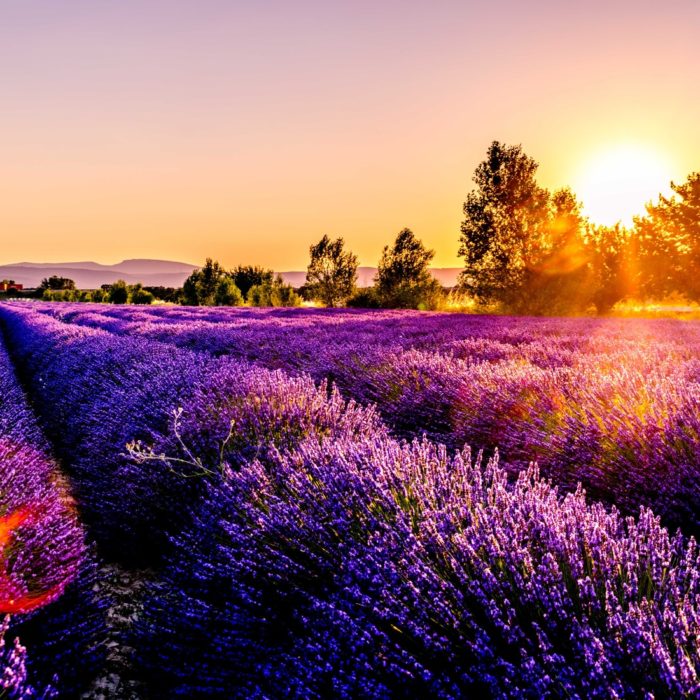 With such a rich history, lavender has been cultivated throughout time into a variety of different plants. There are three primary types of lavender that have been cultivated into sub-varieties. These primary species are known as English Lavender, French Hybrid Lavender, and Spanish Lavender. Each lavender variety has its own benefits and unique looks.
Here is a list of popular lavender variants:
Sharon Roberts

This English lavender variety will bloom twice and has long, attractive flowing spikes.

Vera

Another English variety, the Vera lavender variant works well in relatively cold climates and can survive in temperatures down to – 20° F (- 29° C). if you live in zone 5a, this may be the variety for you.

Grosso

This cultivar is one of the more popular French hybrids. They grow well in zone 6 and can grow to a relatively large size.

Kew Red

The Kew Red is a Spanish lavender variety that is known for its reddish-purple flower heads that have pink petals on top. In mild climates, the flowers may remain all year long.

Purple Ribbon

Another Spanish variety, check out the Purple Ribbon which has a strong scent and is very easy to grow.
How to Care for Indoor Lavender
How Often You Should Water Your Lavender?

Most lavender plants need to be watered once every 1-2 weeks. It is a good idea to watch how your plant reacts to watering and adjust your schedule as necessary. Fortunately, lavender is a drought-resistant plant that does well even if it hasn't been watered as frequently as it should.

Frequently check your lavender's soil to ensure that it has enough water to thrive. When the soil starts to dry out, thoroughly water it, but don't allow water to stand in it as that may cause root rot.

You will be able to tell if you aren't watering your plant enough if the lower leaves begin to yellow. In these cases, you will need to increase watering. You should also increase watering if you move your plant outdoors in the spring or summer.

When to Fertilize Your Lavender

While fertilization practices may vary depending on your plant's specific variety, it is common to fertilize indoor plants once a month during the spring and summer.

Best Fertilizer For Your Lavender

Use a water-soluble, all-purpose fertilizer that has been diluted to half strength when fertilizing your lavender. Ensure you follow the application instructions and watch the plant to see how it is affected. Adjust your technique over time based on results.

How Much Light Does Lavender Need?

When growing lavender indoors, place your plant in south-facing windows to give it the most daylight possible. You can also supplement lighting as needed. Lavender needs a minimum of 3-4 hours of direct sunlight to ensure that it grows hearty and can produce flowers. In order to achieve uniform growth, make sure that you rotate the plant at least once a week so that all sides get equal amounts of sun.

Not enough sunlight may result in your plant becoming more susceptible to disease as well as sporadic growth patterns that will lead to a weaker plant.

Best Soil For Your Lavender

Lavender does well in well-drained, moderately fertile soil. If using a potting mix, look for one that has equal parts perlite, sand, and compost. As lavender thrives in slightly alkaline soils, some homeowners will add a few crushed eggshells or a couple of spoonfuls of powdered lime to the mix to add alkaline as they decompose.

Optimum Temperature/Humidity for Your Lavender

From early spring to late fall, the ideal temperature for your lavender plant will be around 70° F throughout the day and 50-55° F at night. During the winter months, the plant should be kept in a cooler area of the home that is kept between 60-65° F throughout the day and 45-50° F at night.

Do not place your lavender plant where it may be in the direct line of forced heated air.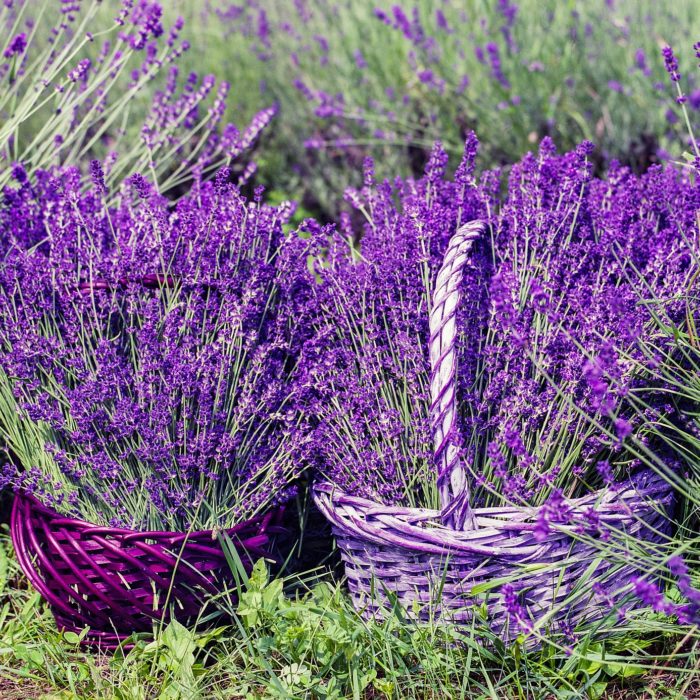 Common Problems with Lavender
While lavender is relatively easy to grow, there are a few common problems that may arise if you aren't diligent in watching out for them. Here are a few things you should watch out for:
Lavender Is Susceptible for Root Rot

Lavender needs to be planted in well-drained soil and watered correctly in order to avoid root rot. You can often identify root rot by yellowing, browning, or mushy leaves or a dropping plant overall. If you notice these symptoms, inspect the roots of the plants. If they are soft, brown, or wet, you will need to act quickly to give yourself the best chance of saving your plant.

Why Does Your Lavender Have Yellowing Leaves?

If your plant isn't getting enough water, the lower leaves will begin to yellow. Increase the amount of water you give it or water it more frequently until the symptoms are reversed. Be careful to not over-water it as this can cause root rot.

The leaves of your plant may also turn yellow if you have fertilized the plant too much. In this case, decrease the amount of fertilizer or add your plant food less frequently throughout the year.

What Insects Can Affect Lavender?

There are a few insects that can affect lavender plants. Knowing what to look for will help you identify the pests so that you can prevent future damage to the plant.

Aphids

Aphids are generally found in groups or colonies on the undersides of new growth on a plant. While they will vary a bit in color (or whether or not they have wings), aphids are generally pear-shaped with little cornicles sticking out of the back of their abdomens. These soft-bodied insects seek out the sap of plants and will inject saliva into the foliage during the process which may alter the overall look of your plant.

Spittlebugs

If you see a white, bubbly substance on your plants in the spring, it may be due to spittlebugs (also known as froghoppers). These pests use their needle-like mouthparts to suck the nectar from your plants, slowly draining the nutrients it needs to thrive. While the stems with the spittle-like substance may die, infestations rarely become bad enough to damage the whole plant. Just remove the stems as you find the substance and dispose of them to manage it. You can also wash your plant with water to remove both the bugs and the white substance.

Whiteflies

Whiteflies appear exactly as they sound. With four, white wings, these tiny insects measure to be about 1/16 inch in length. They are very hard to spot individually, but when brushing up against a plant, you may notice them swarm together in a "cloud" above the plant. Whiteflies suck the juices from the underside of leaves which can cause damage to your plant over time. They also produce honeydew which can attract other pests to your plant.

Is Lavender an Invasive Species?

Lavender is not classified as an invasive species, but like all plants, it should be planted responsibly.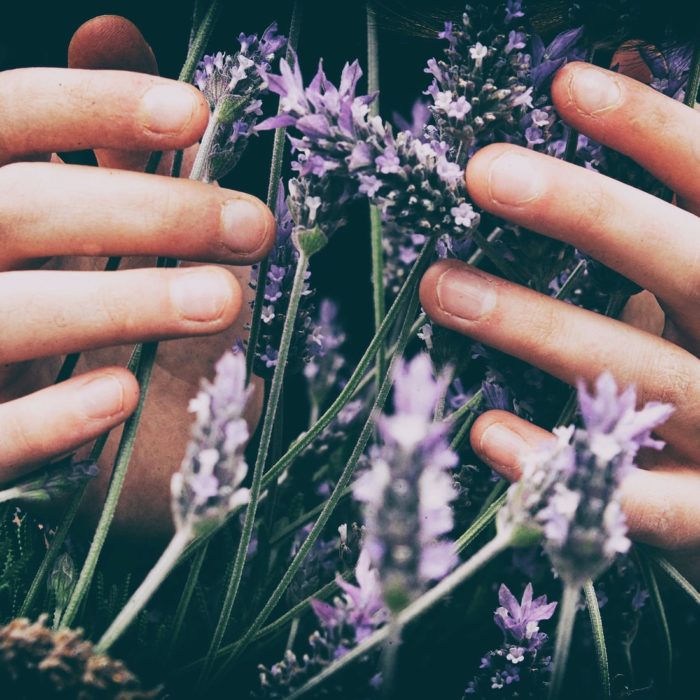 How Does Lavender Spread?
It is much easier to propagate lavender than it is to grow it from seed. Many gardeners choose to complete the process in the spring than in autumn as there is more softwood on the plant that can be used. The process is simple enough and new lavender plants can be cared for and shared annually.
When propagating the plant, it is important that you don't cut into the woody section of the plant (especially if you propagate in autumn) as that can cause long-term damage to the plant.
Pruning
If you want a bushier plant, you will want to prune your lavender plant frequently. Harvesting your plant regularly will allow for a fuller plant over time. Note that lavender flowers are at the tips of the stems so if your prune it too regularly, you may not receive many flowers.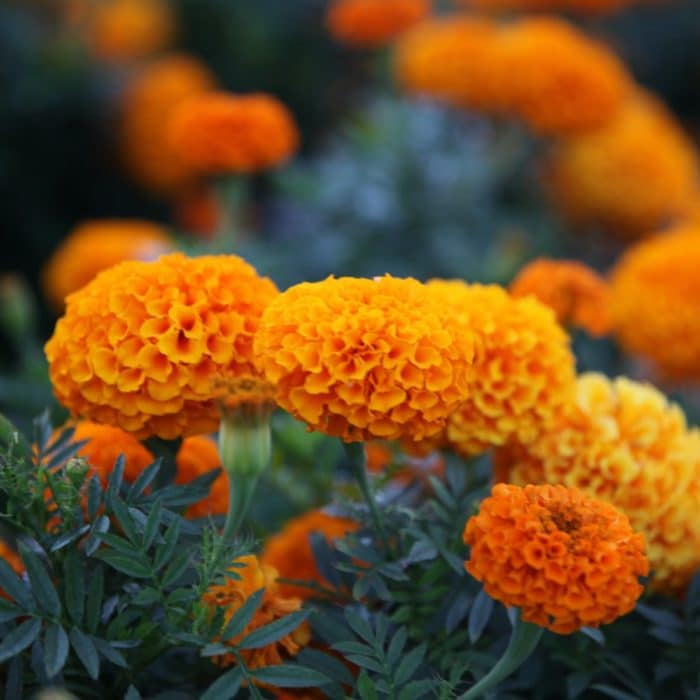 What are Good Companion Plants to Lavender?
There are several plants that grow well with lavender. You should look for varieties that thrive in your area to create an idyllic garden that you can enjoy. Here are a few good companion plants for lavender: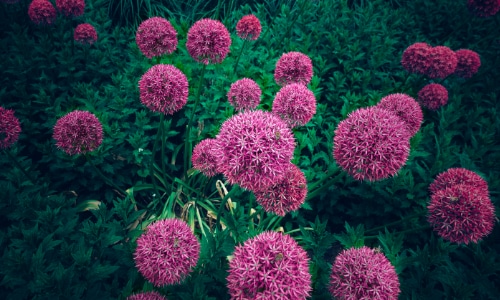 Allium Overview
Alliums are a genus of plants that are known for their linear leaves and clusters of flowers, each with six petals. Several alliums are popular edibles like garlic and onion. The flowers bloom at the top of long stems and are a spherical (or oval or cascading) cluster of flowers that vary in colors that include blue, pink, yellow, white, and purple. Alliums will vary in size from very small (between 4 to 5 inches high) and tall (up to 48 inches in height).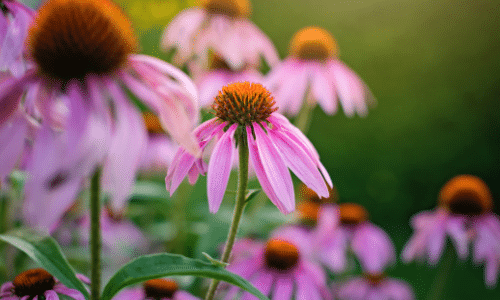 Echinacea Overview
Also known as the "Corn Flower," echinacea is a perennial herb that produces single, elegant flowers at the top of long stems. The plant has rough, slender leaves that grow out on opposite sides of each other on the stems. The daisy-like flowers are most often a purplish color, but they do occasionally produce white or yellowish flowers. The plant can grow to be up to four feet tall. Echinacea has many benefits and both the roots and the plant itself are used as home remedies to help with an assortment of maladies, including the common cold.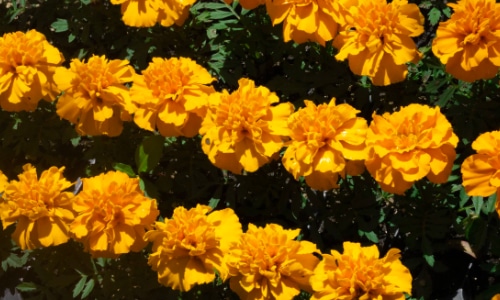 Marigold Overview
Known as a cheery flowering plant, the marigold is an annual that blooms for a long season. They are very easy to grow and maintain, making them the perfect plant for a new gardener. The full flowers, made from many layers of overlapping petals, come in many colors, most often gold, yellow, or orange, but they can also be found in maroon or red. You can also find hybrids that have two-toned flowers if you want to showcase something more unique. The flowers are also used as a home remedy for ulcers, period cramps, upset stomachs, and more.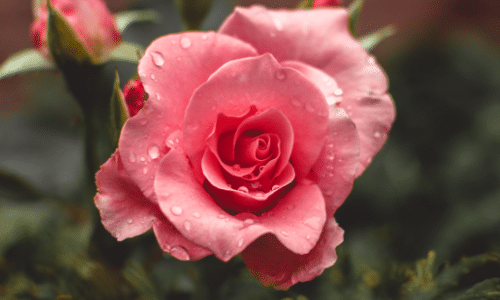 Rose Overview
Roses are one of the most – if not the most – popular flowers in the world. With so many varieties, sizes, and colors available, people are happy to grow these plants in their homes and in their gardens. The plants can grow as climbers, trailers, or erect plants. The stems typically have thorns that may prick your skin if you aren't being careful. The flowers will bud in an elegant shape before fully blooming into large flowers. Roses are also very popular for their scent, which is both floral and fresh.
Yarrow Overview
Yarrow does well in temperate regions. It grows flat clusters of flowers in a variety of different colors, many of which can complement other flowers grown in your garden. These will typically bloom from spring to autumn (April to October in most places). The leaves of the plant look fern-like and are aromatic. The plant is a member of the composite family and is a hardy perennial that is fairly easy to grow. In the right environment, it can grow to up to 36 inches in height. Many people use parts of the yarrow plant for many home remedies.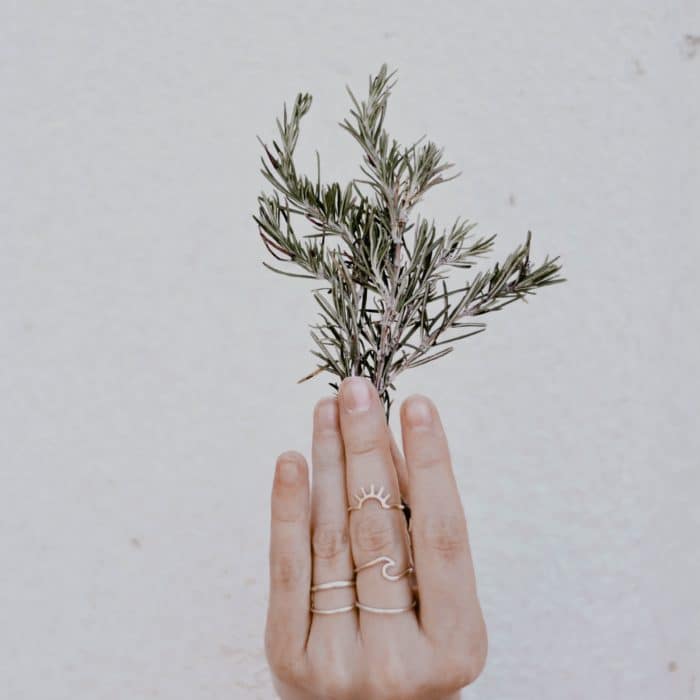 Plants that are Similar to Lavender
The following are a few plants that are similar in appearance to lavender: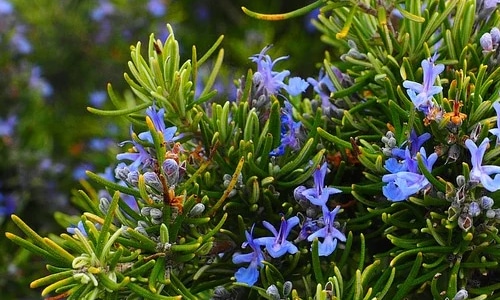 Rosemary Overview
A perennial herb, rosemary grows into a shrub that can either be continually pruned back or grow into a full, bushy shrub. Each branch produces evergreen, needle-like leaves that give the plant the pine-like scent for which it is known. While the plant is dark green at the top side, underneath, there is a dense fur-like covering of white hairs. The plant will grow light purple flowers that have an earthy smell. The plant has many medicinal benefits (such as being a source of antioxidants) and is often used in culinary dishes.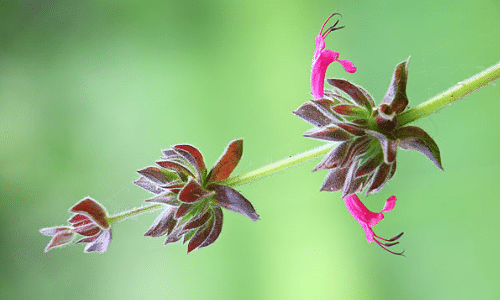 Pitcher Sage Overview
Scientifically labeled as Salvia azurea, the pitcher sage is an herb that produces blue flowers that are often used as part of potpourri alongside lavender and other fragrant flowers. The foliage is covered with fuzzy hairs and will release its scent when crushed. Pitcher sage is perfect for gardeners who want a flowering plant in a shaded portion of their garden. In the right environment, the plant can grow between 3 and 5 feet tall and about 3 and 6 feet wide. The plant can attract hummingbirds into your garden, making it ideal for bird-lovers.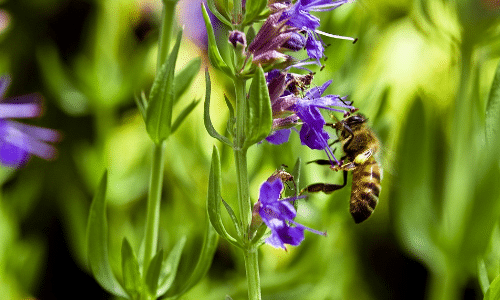 Hyssop Overview
Growing to between 2 to 3 feet tall, common hyssop will produce dark needle-like leaves that are often used for culinary purposes, including in salads, stews, soups, and drink. The plant has a woody stem that produces leaves and flowers. These flowers could be red, pink, purple, blue, or white depending on the variety. When in full bloom, your plant may attract butterflies and bees to your garden. Hyssop has been used through the centuries for a variety of home remedies including treating the common cold and asthma.
Frequently Asked Questions
How Large Will Lavender Grow?

Most of the time, lavender will grow between 20-24 inches tall, though some varieties can grow up to 4 feet tall. As the plant blooms on tall stalks, when it is out of season, it will appear to be a much small bush, being only about a foot tall.

Is Lavender Toxic or Bad for Pets?

Humans can eat lavender (though they should avoid ingesting lavender oil). In fact, there are several recipes that include lavender and several other herbs.

While the plant can be ingested by humans without issue, it does contain a compound called linalool which is toxic to dogs and cats. Ingesting can cause nausea and vomiting as the animals do not have the appropriate enzymes to process the compounds.

What Kind of Container Do You Need for Lavender?

Lavender should be planted in larger pots (between 12-16 inches in diameter) as they can grow into the size of small shrubs. If you plan to keep it indoors, you may be able to use a smaller pot until the lavender grows too large and needs to be transplanted.