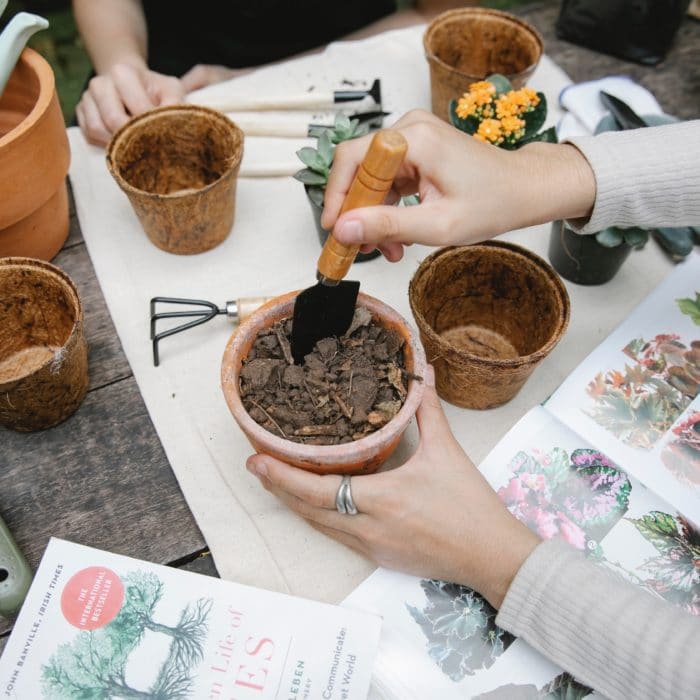 How to Read the N-P-K Ratio
The N-P-K ratio is a listing of three different numbers listed on fertilizers. They will read something to 10-30-10 or another set of numbers. Each number represents the weight of the nutrient in a pound of fertilizer. A 10 would equal .10 lbs, whereas a 6 would equal .06 lbs.
The first number in the sequence will always tell you the nitrogen level, the second will tell you phosphorus and the third will tell you the potassium amount. Any remaining weight not accounted for in the N-P-K ratio is the bulking agent or filler of the fertilizer.
The ratio will be different depending on the type of plant you are growing. The good news is that you can typically find the name of the type of plant each is used for also on the bag. For indoor plants, it typically will say "houseplants."
What is a Balanced Fertilizer?
A balanced fertilizer simply means that each of the primary nutrients is represented in equal amounts to each other. The amount doesn't matter, only that each number is the same. Both 10-10-10 and 20-20-20 N-P-K would both be considered balanced fertilizers.
N-P-K Ratio Further Explained
Every nutrient (both macros and micros) in a fertilizer has a special function to help the plant thrive. In this post, we will focus on the three macronutrients found in the N-P-K ratio.
| Element | Part Affected | Deficiency Symptom | Elemental Role | Additional Notes |
| --- | --- | --- | --- | --- |
| Nitrogen (N) | Leaves, plant tissue | Slow growth, yellowing leaves (starting with older leaves) | For healthy foliage growth, aids in photosynthesis | Can be washed away during watering |
| Phosphorus (P) | Roots, fruits, buds/flowers | Slow growth, abnormal dark green or purplish stems and leaves | For healthy root growth, helps produce flowers and fruit | Too much phosphorus can inhibit the plant from getting zinc, manganese, and iron |
| Potassium (K) | Buds/flowers, leaves, fruit | Dry or yellowish leaves, smaller developed flowers or fruit | Catalyzes enzymes, promotes bigger blooms, opens and closes stomata, helps the plant resist disease | Too much potassium can inhibit the plant from getting other nutrients. |
Why Do Plants Need Nitrogen?
Indoor plants need nitrogen for protein synthesis for new tissue and vegetative/foliage growth. It is a major component of the chlorophyll (C55 H72 O5 N4 Mg) that is essential for the plant's photosynthesis. This photosynthesis creates protein producing amino acids that forms new tissue and allows the plant to absorb the light's energy.
You will likely need nitrogen-rich fertilizer for your lady houseplants, such as Philodendrons. Flowering plants will likely require less as too much nitrogen could cause it to not bloom or bloom less.
Why Do Plants Need Phosphorus?
Phosphorus is needed for flowers (and buds) and fruit production. It is also very important for the roots of the plant by transferring energy from one part to the other. It is also very important for the plant's tissue production and cell division.
If you have a flowering plant, you may want to use a fertilizer that has a higher ratio of phosphorus (or the second number) than the other two elements. That being said, some flowering varieties (such as African violets who need more potassium) may need a specific ratio, so it is always a good idea to check first.
Why Do Plants Need Potassium?
Potassium is important for strong stems and the vitality of the plant overall. While it isn't part of the chemical makeup of the plant, it is necessary for catalyzing at least 60 enzymes in a plant to help it grow. It also encourages the plant to bloom bigger flowers.
Plants also use potassium to open their stomata (their pores) where water vapor, O2, and CO2 can be exchanged. Without potassium in the soil, plants can lose too much water from both the roots and the stomata.