This post will cover what scale is, how the pest affects your plants, and what you can do to protect your plants in the future.
What Does Scale Look Like?
Scale looks like cluster-like bumps on your plants. While there are several colors, they typically are light to medium brown. There are two main varieties to scale; hard (armored), which has a hard protective shell, and soft (unarmored), which have a waxy scale to protect them.
Once scale finds where they want to feed, they become immobile on the plant. They typically gather in clusters on the leaves and stems of the plant. The soft scale will produce honeydew which could lead to a black mold on your plant.
Why Scale Are Attracted to Your Plants
Scale need the sap of plants to survive. After being born, they will move to a fresh location on the plant where they will begin to feed. Some varieties will produce honeydew as a result. The sucking of the sap could lead to damaged plants. Without treatment, the plant could die.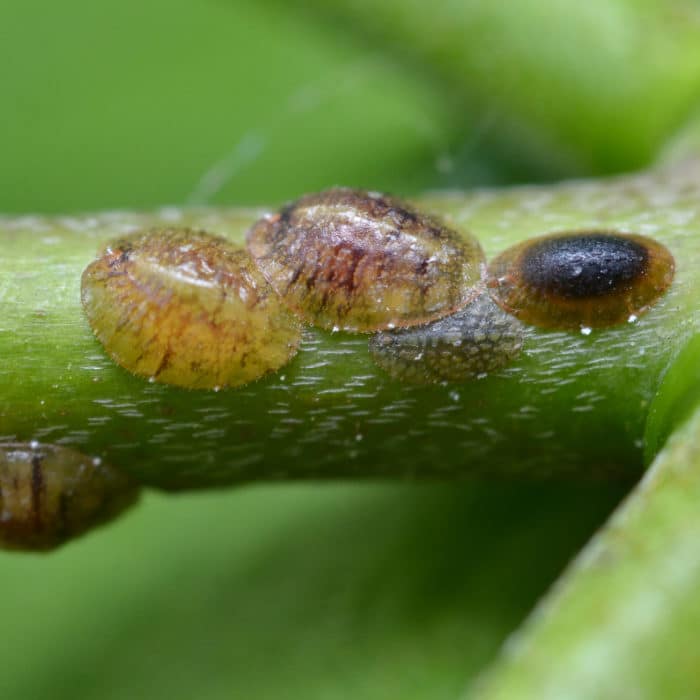 Symptoms of Scale on Your Plants
While you won't know if a plant has scale until you examine it looking for pests, there are a few symptoms that you may be able to notice from afar. These will include the following:
Discolored or yellowing leaves

Not only may leaves turn yellow or brown, but they may also fall off the plant. While there may be many reasons for discolored leaves, it is always something that should be checked as soon as possible.

Sticky or black substance

Soft scale produces honeydew that can lead to a blackish mold growing on your plant. If you notice either of these symptoms, it is a good idea to check for scale. You may notice other insect activity due to their attraction to the honeydew.

Stunted growth

Heavily infested plants may experience no new growth until they are properly treated.

Overall decline in health

Plants plagued with scale will often look sickly and weak. Again, there may be several causes for this symptom. It is always a good idea to check each.
How to Remove Scale From Your Plants
Once you have identified the pest on your plant as scale, you will need to try to remove it. It is important to act quickly as this infestation is typically one of the most difficult ones to fight. Here is what you need to do in order to remove scale from your plants:
Step 1

Quarantine any infected plants as soon as you can. You may want to also move neighboring plants to another area in your home in case they are also infected to prevent further spread.

Step 2

Remove severely damaged portions of your plant. If leaves are too colored, have mold, or appear to have been irreparably damaged, it is often better to snip them off. Not only will this allow your plant to focus its energy on recovering other areas of the plant, but it will make your task of removing the scale a bit easier.

Step 3

Pick off as much scale as you can by hand. While you can use your fingernails, you can also use a soft-bristled toothbrush or a cotton swab that has been dipped in rubbing alcohol. After picking over each plant, wipe it off with a clean rag to ensure you didn't miss any. Repeat the process on every leaf and stem of the plant.

Step 4

Either wash the plant in your sink or spray it with water to remove as much mold and debris leftover from the scale as you can.

Step 5

Use a pesticide on the plant. You can either purchase an organic pesticide or use your own homemade pesticide. Either way, you will likely need to use it multiple times before the scale is fully removed.

Step 6

Check your plant each week and repeat the process until you no longer find scale on your plants.
If you have a severe infestation, you may want to consider a systemic pesticide. While this is a toxic option, it is occasionally your only choice unless you are willing to destroy your plant.
When to Destroy/Get Rid of Your Plant
At some point, you may realize that you will need to prune most of your plant in order to get rid of the damage or you can't seem to get rid of the scale no matter what you try, you may need to destroy or get rid of your plant.
If you live in an area where they can live outside, you may be able to set them out on your patio (so long as there are no other plants nearby that they can harm) and introduce one of their predators to feed on them. Some of their predators include ladybugs and lacewings.
How to Prevent Scale in the Future
As it is very difficult to treat scale, it is a good idea to take precautions to prevent the scale from causing issues in the future. The pest typically comes into your home on a new houseplant. Regardless of where you purchased your plant (or if it was given to you), it is a good idea to do the following to each one that enters your home:
Step 1

Scrutinize the plant to see if you can see signs of any pest activity. Even though it is best to complete this step in the store, this isn't always possible especially if you purchase your plants online or receive them as gifts. If you find a few, try to pick them off with your fingers.

Step 2

Carefully clean your plant with diluted dish soap in water or an organic pesticide spray, taking care to wipe off each leaf and stem. While this isn't a perfect way to rid your plant of scale, it could help minimize the issue.

Step 3

Quarantine your plant from other plants for 3-4 weeks, checking the new plant every day for signs. If you are worried, you can clean the plant each time you check. If you are unable to quarantine the plant, try to ensure that it is not touching any of your other plants to make it more difficult for the scale to travel.

Step 4

Once you are comfortable with the new plant, move it into position near other plants, but continue to stay diligent in case other problems arise.