There are over 500 cultivars of hedera helix with colors varying between green, white, and yellow (and the occasional additional color). Leaves vary in shape, size, and number of lobes. With so much variety, you'll have no problem finding the perfect English ivy for your home.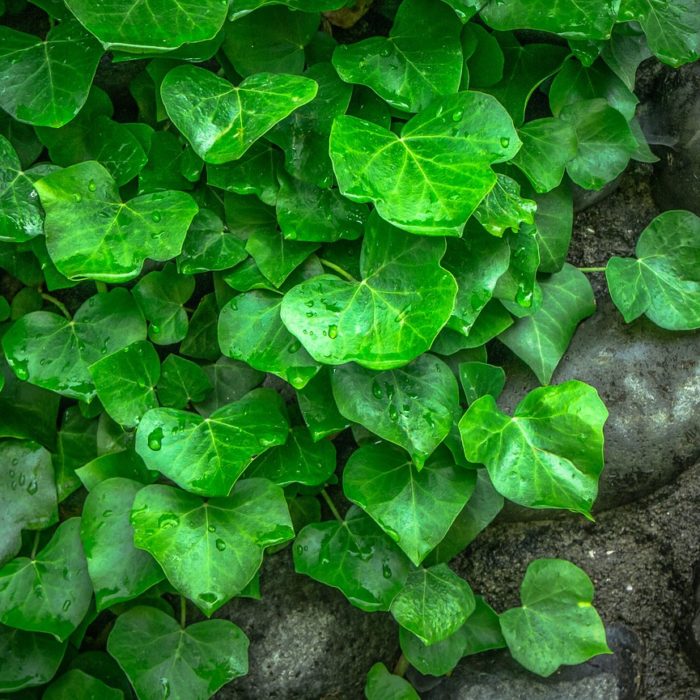 | Class | Info |
| --- | --- |
| Common Name | English Ivy, European Ivy, Common Ivy |
| Scientific Name: | Hedera helix |
| Family | Ginseng |
| Plant Type | Vine |
| Origin | Europe, Western Asia, North Africa |
| Habitat | Hedera helix can be found in almost any habitat. The climbing vine can grow on trees (which slowly destroys the tree) on buildings, cliffs, in fields, along the forest edge, rocky slopes, etc. |
| Note: | English ivy is considered an invasive plant in the United States and Australia. While it doesn't hurt to grow the plant indoors, we advise not planting it outdoors. |
Plant Description

Climbing vine that can attack to many surfaces (including bricks and treebark) through a glue-like substance attached to root-like fibers. Evergreen, perennial. Stiff stems that branch regularly to spread the plant out.

Leaves

Light to dark green leaves, heart-shaped, triangularly lobed, often with off-white veins/edges. Leaves can be waxy and somewhat leathery. Varieties will have different amounts of lobes at different depths: either none at all or 3-5.

Temperament

Doesn't do well in drought or salinity.
Flowers

Flowers will bloom in late summer or early autumn when given full sun. English ivy's flowers are greenish-yellow, small, and cluster in bursts that grow from stems. It will very rarely flower, even outdoors. Don't fret if you can't get it to bloom.

Fruits

Spherical fleshy fruit with black outer layers that are delicacies to birds and rats

Seeds

Tiny, stone-like

Rate of Growth

Medium to fast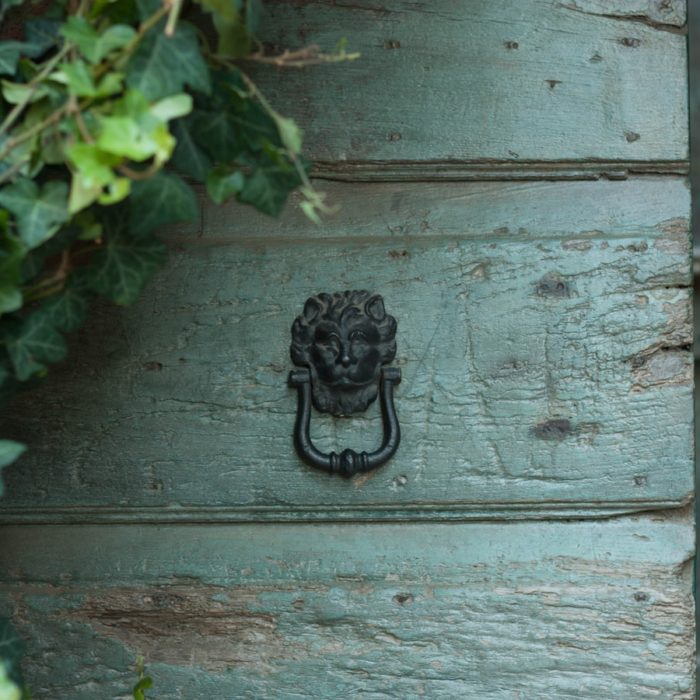 There are more than 500 hedera helix cultivars on the market, with variations in size, color, and lobe amounts on the leaves.
Here is a list of popular English ivy cultivars:
Angel Snow

Angel Snow displays dark green leaves with creamy-yellow edges and streaks.

Asterix

Asterix is named for the number and depth of the lobes on its leaves.

King's Choice

King's Choice is a delicate ivy that flows intricately with long, narrow leaves to give a webbed effect.

Purpurea

The leaves of the Purpurea English ivy cultivar has a purplish tint that darkens in the winter.

If you're in the market for "miniature" hedera helix, look at one of the following varieties:

Erecta

The leaves of Erecta are stacked closely along the stem and grow in stalks.

Needlepoint

Needlepoint leaves are tiny with sharply-pointed lobes and grow tightly together.

Miniature Needlepoint

Miniature Needlepoint, also known as "bird-foot ivy," has very elongated lobes on its tiny leaves.

Oak Leaf

The Oak Leaf cultivar has 3-point leaves are tiny as in the size of your fingernails.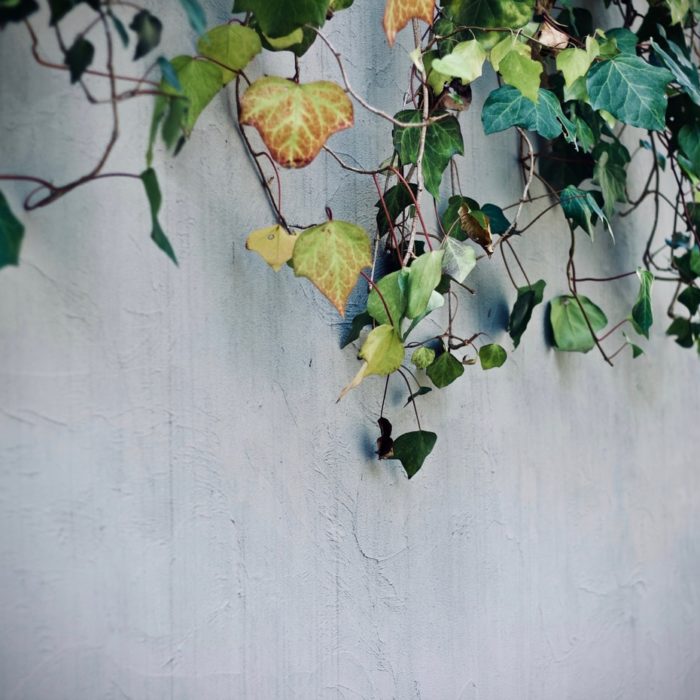 Indoor English Ivy Care Guide
While outdoors, English ivy can easily get out of hand, you don't have to worry about growing it inside. It can be hung, cascading down from baskets or growing up along branches, poles, or stone-work.
How Often Should You Water Your English Ivy?

While you should water it as needed, take care not to overwater your plant. Check the soil and wait until the top inch (2.5 cm) is dry before watering again. Additionally, make sure that the soil is draining properly by having clear draining holes for the water to escape.

Underwatering your hedera helix can cause the roots to begin to die back or cause pest problems. If the roots begin to die back, they won't be able to soak in as much water, which could lead to a distressed (or dead) plant.

If you can move your English ivy easily, consider taking it to the sink and spraying it down when you water it. Cleaning the leaves while you water the plant will help keep it clear from spider mites.

When Should I Fertilize My English Ivy?

Add fertilizer to the plant with every fourth watering during the growing season. Don't fertilize during the winter months while the plant is experiencing dormancy. Choose a water-soluble, nitrogen-rich fertilizer.

In What Soil Should EnGlish Ivy Be Planted?

Make sure that your hedera helix is planted in rich, well-drained, humusy soil. Include compost when planting. The top inch (2.5 cm) should dry out before rewatering.

How Much Sun Does an English Ivy Need?

Full sun to shady conditions. English ivy will do best if it is cared for in medium sun. It also does well in bright light and can survive in low light.

Place your hedera helix in the east or west areas of your house for optimum lighting. If that isn't available, use southern exposure (if you are in the southern hemisphere, use northern exposure). Hedera helix can also grow in the northern part (southern part if you are in the southern hemisphere) of your home, though it will be slower and will have fewer leaves along the vine.

Variegated varieties will require more light to maintain their color, but avoid too much direct light as it can damage the leaves. The single-colored varieties can tolerate lower light.

What is the Optimum Temperature/Humidity for English Ivy?

Hedera helix can tolerate a large range of temperatures. As the plant is native to Europe, it is used to lower temperatures. In the daytime, it prefers 65-75° F (18-24° C). English ivy prefers the nighttime temperature to be between 50-70° F (10-21° C) at night, making it a great plant to thrive indoors. It will tolerate even colder conditions.

English ivy can grow in low humidity but prefers humidity. If you are struggling to keep humidity in your home, layer pebbles on a large plate or saucer, then fill the dish with water. Carefully set the plant on top of the plate. As the water evaporates, it will humidify the air around the plant. You can also mist your plant periodically.

If you run a furnace or fireplace in the winter, take care to add more humidity to the plant as the air dries out around you.

How Large Will English Ivy Grow?

The size of the leaves and plant, in general, will depend on the specific cultivar of hedera helix. Some varieties have leaves that will never grow longer than an inch in length, while other plants can grow much larger leaves.

English ivy will continue to grow through its long stems as long as it is properly watered and has enough sun. In lower levels of light, there will be more space between leaves. You can easily cut a hedera helix back through trimming its vines.

Your hedera helix will naturally grow outwards and drape down. If you want it to climb, you will need to train in on trellises or pin it into place on a smooth surface.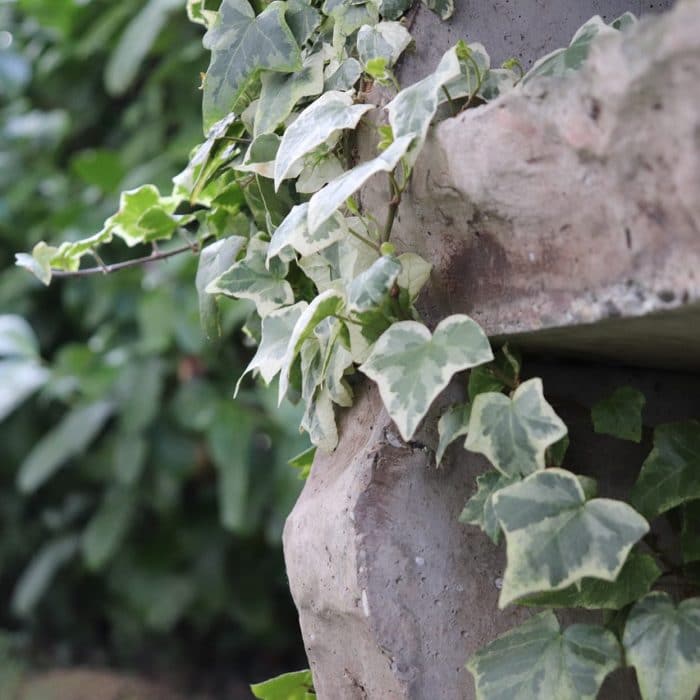 Common Problems with English Ivy
If you're paying attention to your plant, you'll likely notice symptoms as they appear and can quickly remedy the situation. Once you've diagnosed the problem, you can begin to correct it to return your hedera helix to its glory. Here are a few questions people typically ask if their plant seems stressed.
Why Is My English Ivy Losing leaves?

If your hedera helix is losing leaves, it might mean that your house is too hot, too dry, or both. If your home is too dry, add a humidifier. Chances are, a humidifier will help more than just you ivy!

Another reason you might be losing leaves is if you continually let your plant dry out.

Why Does Your English Ivy Have Brown Leaves?

Generally, this means that you are overwatering your plant. Typically, if an English Ivy has brown leaves it is due to overwatering. Typically our natural response to seeing brown leaves that are dry on the edges is to water them, which will, unfortunately, make your Hedera helix worse.

The reason why the leaves are turning brown and drying out is that the roots are too wet. When they are overly wet, they can't transfer the nutrients and water to the rest of the plant.

Cut back on the water. Make sure that the top portion of the soil is dry before you water again. Make sure that the pot it is in has drainage holes and that the soil is draining properly.

If you know that you frequently underwater you plant, this too could be the cause of the browning leaves. Add water, but take care to water your plants correctly in the future.

What Insects Can Affect English Ivy?

While hedera helix doesn't generally attract bugs due to the texture of their leaves, there are times where a few pests can attack the plant. These pests will include mealybugs, scale, and spider mites.

Mealybugs

With a length of only 1/8 inch, mealybugs are white, soft-bodied insects that enjoy feeding on the photosynthates (plant juices) of your houseplants. As their bodies have a powdery-white substance on their bodies, they are often described as "looking like snow" when you have a larger infestation on your leaves. They will coat the leaves with a sticky substance that is covered by greyish-white bumps that resemble mold. While it does take some work, you can remove mealybugs so long as the issue hasn't become too overwhelming for the plant at the time of treatment.

Scale

Scale are small insects that suck the sap out of your houseplant's leaves or stems. Either round or oval in shape, they can come in a variety of colors but are most often brown. While all of them have shells, there are two main varieties, one of which has a harder shell (known as a hard shell) than the other (soft shell). These insects can be found anywhere on a plant and are very difficult to fully remove, though the soft shell scale is easier. You will need to remain very vigilant for a few weeks in order to save your plant.

Spider Mites

Spider mites are tiny black arachnids (not typically seen by humans) that like warm environments. They have oval bodies and eight legs and are generally white, red, or brown (though they are difficult to see with the naked eye). Spider mites can easily travel on the wind through a window screen. If you have them, you'll see fine webbing similar to spider silk underneath the leaves. Leaves will sometimes become spotted or change color. Spray them off with water, a homemade miticide, or use Neem oil to remove them. 

Invasive Species?

Due to its popularity as evergreen foliage that covers the ground and beautifies buildings, the English took Hedera helix with them as they colonized the United States, Australia, New Zealand, South Africa, and other territories.

When English ivy wraps around the base of a tree, it slowly climbs until it can take over limbs, branches, then leaves. It blocks out the photosynthesis the tree needs in order to survive. The tree will decline over time until it succumbs to a lack of sun and the weight of the vines.

Additionally, English ivy can act as a reservoir for Xylella fastidiosa, bacterial leaf scorch that can harm native plants and trees.

Despite it being recognized as an invasive weed, the plant is still sold in some countries as an ornamental plant. Due to the extensive time and labor it takes to remove the plant, we recommend that you only use it indoors and resist the urge to plant it outside.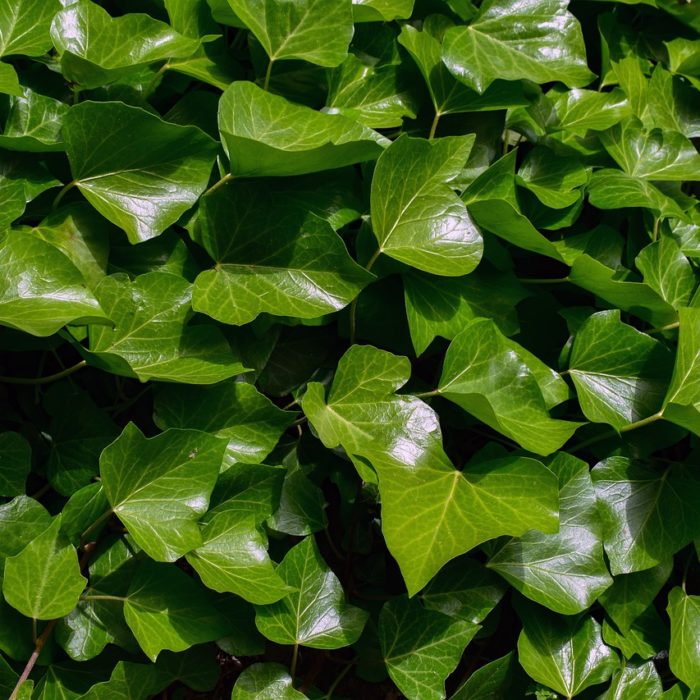 How to Propagate an English Ivy
English ivy can be propagated by gently placing stem cuttings in a pot with a moist potting medium. Roots will begin to grow from the stem.
Alternatively, you can actually pin one of the vines to another pot of soil while it is still attached to the parent plant. If the potting medium is moist, the plant will begin to develop roots. Once the roots have grown enough to be established in the new pot, cut the stem away from the parent to make it independent.
When kept indoors, an English ivy plant can stay in its juvenile state for years, allowing houseplant owners to enjoy their evergreen, glossy leaves. When it reaches adulthood, it will become more bushlike and the leaves will change in size and shape. Cuttings from an adult plant will remain an adult. To keep the juvenile appearance, you must take cuttings from a juvenile plant.
How Does English Ivy Spread?
In the wild, English ivy is spread by seed through bird poop and vegetatively through growth. Plants can be propagated through cuttings that are placed in the soil. It usually propagates naturally from early spring to late autumn.
English Ivy Companion Plants
There are several great plants that grow well with the hedera helix and complement each other's appearance. These include: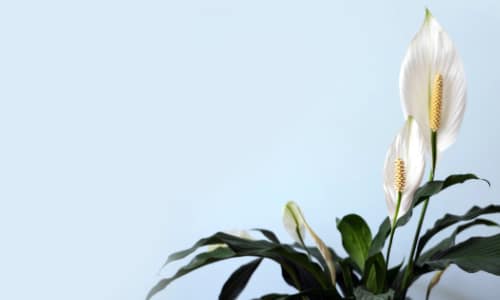 Peace Lily Overview
Peace lilies are known for their long, dark green leaves that come to a point and their long-lasting white flowers. Due to the lily-like flowers, the plant has long symbolized innocence, peace, and purity and is often used as a symbol of sympathy toward a family who has lost a member. Due to its love of shade, the plant is typically grown indoors and can help to purify the air of several pollutants. The plant is sometimes believed to bring good luck.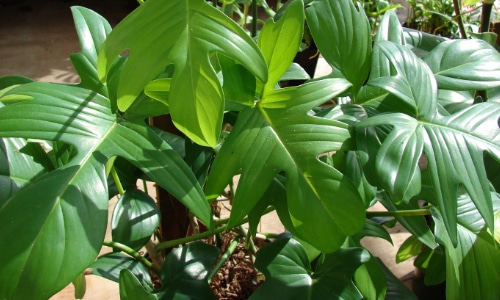 Philodendron Overview
Depending on the variety, a philodendron's leaves may vary from green, purple, red, or copper. Grown leaves will range from 10-16 inches that are arrow-shaped and have veins that will occasionally contrast with the color of the leaf. Not only are these plants popular in many homes, but they are also said to remove harmful toxins (such as formaldehyde) from the air. The plant will typically grow to be about 3 feet tall, but can be quite wide.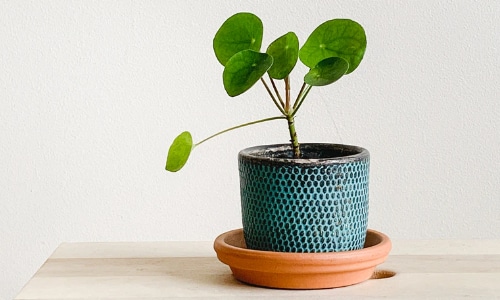 Chinese Money Plant Overview
Originally believed to bring good luck, the Chinese Money Plant originates in Southwest China. It grows flat, round leaves that can look like coins on long stems that grow directly from the crown. When it is healthy, the plant can become very dense, allowing you to have a rounded plant of green leaves. The plant is very easy to propagate and will frequently shoot up pups around its base that you can transplant into other containers.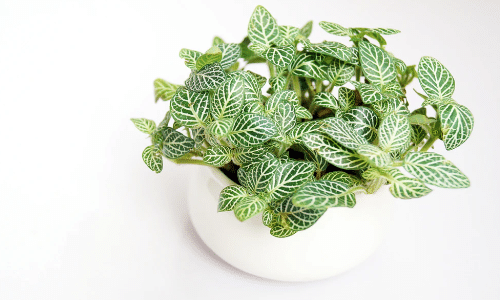 Fittonia Overview
Also known as the Nerve Plant, Fittonias are a popular houseplant with vibrant leaves. They come in several different colors and variegations. While they typically do not grow to be very tall, they do spread out, vining a little bit. They need to have moist soil or the leaves will begin to suffer. The plant has a slight fuzz that covers the stems and the leaves, making it a soft plant to touch.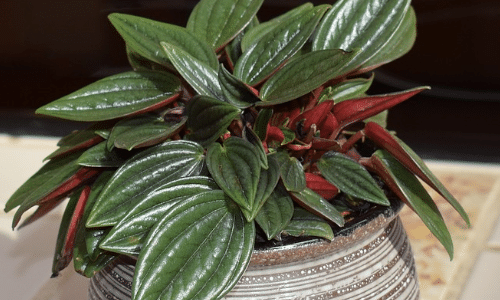 Peperomia Overview
Peperomias are popular houseplants that are very easy to care for. They are bushy and upright. Depending on the variety, the leaves and stems will have slightly different colors and variegations. The plants don't grow very large, most topping out at about a foot high. The leaves are thick and waxy and can grow to be about 6 inches long, making the plant look full and bright. The flowers of the peperomia are not remarkable but instead, look like small spikes that stand out at the top of the plant.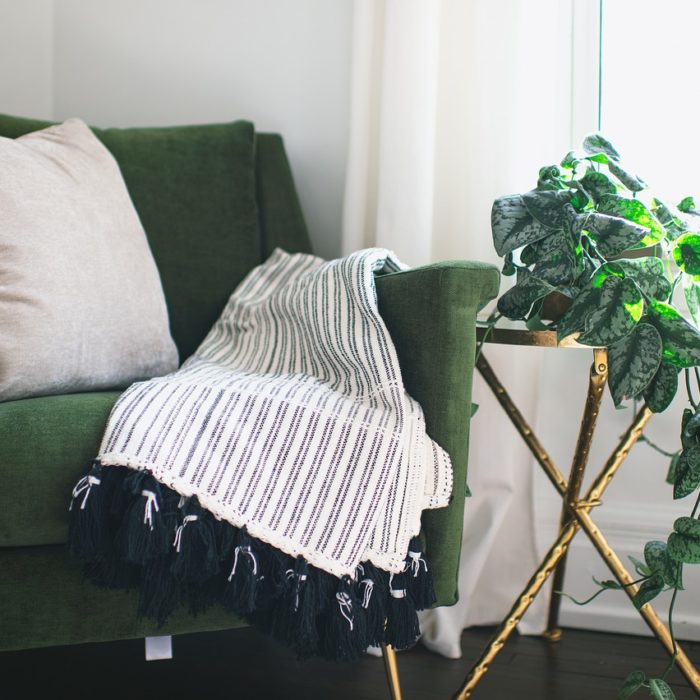 Plants That Are Similar to English Ivy
Here is a list of other plants that are visually similar to hedera helix that might interest you: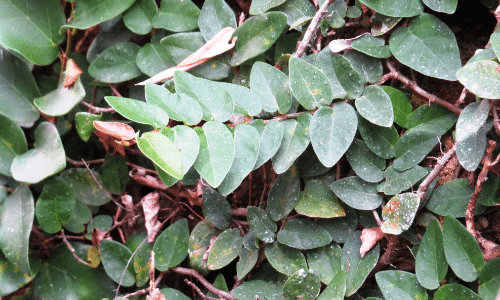 Creeping Fig Overview
Creeping figs are often used as a climbing plant or as a ground cover outdoors. It does well in both full and part shade as long as it is planted in well-draining soil. The plant has aerial rootlets that will grasp onto any surface, allowing it to creep along. The leaves are ovate and heart-shaped and will vary in size depending on the variety. The plant is an easy vine to grow indoors and the leaves will typically remain smaller in those instances. It will die back down to the ground if it is exposed to frost.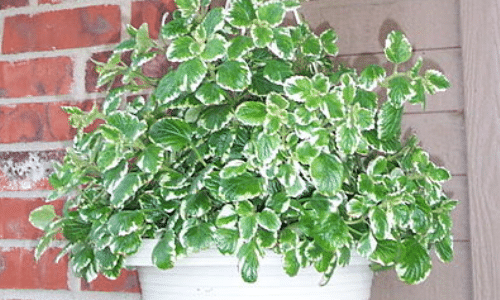 Swedish Ivy Overview
Despite its name, Swedish Ivy (Plectranthus australis) actually hails from South Africa. This evergreen perennial was so named because it gained popularity as a houseplant in Sweden after the discoverer of the plant sent it to the country. The plant will typically grow to between 2 and 3 feet tall and will spread out as they age. The glossy green leaves have crenate margins (scalloped edged) that will have white markings in variegated species. When flowering, the plant will produce light purple or white blooms.
Boston Ivy Overview
Boston Ivy is known for how it quickly and vigorously can climb fences and walls. The deciduous woody vine produces cordate-oval leaves that generally have 3 lobes. They slightly undulate on the margins and grow to be between 4 and 8 inches wide. The leaves can start out as light-green or even reddish but will turn a deep, shiny green as they go into summer. In autumn, they typically look red and can are beautiful against walls and on fences. The vines can grow between 30 and 50 feet high, covering every surface they come across.
Note: Poison ivy (Toxicodendron radicans) is also visually similar to English ivy but is very toxic. It can be identified through three-leaflet compound leaves. It isn't evergreen and doesn't have leaves in the winter. It has clusters of fruit that are creamy-white. It can be confused with English ivy due to hairy stems.
Frequently Asked Questions
Here are a few typical questions that are asked about hedera helix:
How Difficult Is It To Grow English Ivy?

English ivy is a very easy plant to grow. It is hardy enough to handle some common mistakes novice gardeners make, especially if they learn to overcome them. They can generally survive in low lights, though they do better in moderate to full light. If you forget to water it for a while, it will generally survive.

Hedera helix is hardy enough that if it is distressed or dying, there is a good chance that there is something wrong with the environment (air too dry, etc). You may want to investigate the cause as treating your ivy might help you as well.

Is English Ivy Toxic or Bad for Pets?

English ivy is toxic to humans and pets. Do not ingest the leaves or berries of English ivy. They contain glycoside hederin which is toxic to humans. While not fatal if ingested, people could experience an upset stomach, difficulty breathing, fever, weak muscles, diarrhea, lack of coordination, and other related issues. The sap from an English ivy plant can also lead to severe contact dermatitis (a skin irritation).

If you believe that you or a loved one has ingested part of the plant or has skin irritation, don't hesitate to take them to the doctor or the vet. You can also call the poison control center:

Australia – Call 131 126
Canada – Find your province's number on this website
New Zealand – call 0800 POISON (0800 764 766)
United Kingdon – Call NHS 111
United States – Call (800) 222-1222

What Kind of Pot Do You Need for Your English Ivy?

If you plan to let the ivy "grow wild," you don't need to worry too much about the color or design of the pot as the ivy will engulf it.

Make sure that the plant isn't cramped in the pot, but don't pick an oversized container either. Re-pot the plant in the spring or fall if possible as it needs it (generally every other year). Go to a slightly larger pot that is 2 inches (5 cm) larger than the last.