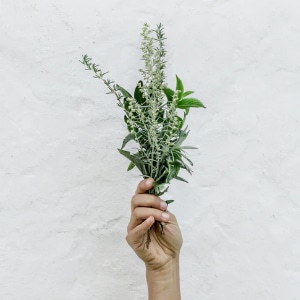 | Class | Info |
| --- | --- |
| Common Name | Rosemary |
| Scientific Name: | Salvia rosmarinus |
| Family | Mints |
| Plant Type | Perennial |
| Origin | Mediterranean Region |
Plant Description

Rosemary is a woody, perennial herb that can grow up to 6 feet tall and up to 8 feet wide.

Leaves

Rosemary leaves are evergreen and needle-like in shape.

Roots

Rosemary grows deep root systems and will often crowd a pot.

Flowers

Produces small flowers that can be white, pink, purple, or blue.
Seeds

Rosemary produces a lot of seeds, but they don't have a strong germination rate. The plant does better when it is propagated.

Rate of Growth

Rosemary can grow very quickly when planted in the right environment, up to 12 to 16 inches in a single summer.

Temperament

Rosemary is a very hardy plant and is fairly easy to care for. It grows strong and bushy and can be used for a variety of different benefits.
There are many popular rosemary varieties that will give you a slightly different scent and flavor. Here are a few of the best:
Irene

Irene grows to be about 18 inches tall but can spread out, covering the ground. In fact, it can cover up to 2 to 3 feet per year.

Boule

The Boule variety grows up to three feet tall and up to three feet wide. It grows in a ball-type shape that forms a neat dome.

Blue Boy

If you are looking for a smaller variety, try the blue boy. It grows slowly and produces little leaves. It will also cover the ground if given enough time.

Joyce de Baggio

Also known as the golden rosemary plant, this variety is goldish in color and will change with the seasons.

Salem

The Salem variety will grow up to 2 feet tall and 2 feet wide. It is perfect for moist and humid environments.
How Often Should You Water Your Rosemary?

Watering rosemary is a must. It should be watered regularly in the beginning. The soil should only be watered when it is dry. After a while, it will become so well established that watering weekly or biweekly will be sufficient. There is no set rule for how often you should water it, just keep an eye on it and water it when it is dry.

How Much Light Does Rosemary Need?

Rosemary plants like a lot of sunlight. In fact, they are not too fond of the shade. When grown indoors, place them in an area that receives at least six hours of direct sunlight every day.

How to Fertilize Your Rosemary

Rosemary doesn't need to be fertilized regularly to ensure that they remain at optimum health. If you choose to feed them, use only a small amount of balanced, non-acidic fertilizer, and only at the beginning of the growing season, in the spring.

Best Soil for your Rosemary

Rosemary grows best in soil that's drained well, slightly acidic, and loamy. Your soil should have a pH of between 6 and 7. You'll want to improve your soil if it doesn't have one of these properties. You can mix in some sand, or try adding limestone to your soil mix, which will raise its pH level.

Optimum Temperature/Humidity for Your Rosemary

The best temperatures for rosemary are 60-65°F (16-18°C) during the day and 55-60°F (13-16°C) at night. A rosemary plant can thrive when it's kept outdoors all year long. Keep the soil moist, but not soggy. If your rosemary starts to grow tall and leggy, cut it back to encourage new growth. Air circulation is very important and good for the plant.
Common Problems with Rosemary
Why is Your Rosemary Drying out over the Winter?

If you grow your rosemary indoors and it tends to die back in the winter, it may be because it is drying out. The plant requires a lot of moisture and the dry air from heaters can make it suffer a bit. Make sure that you water your plant very thoroughly. In fact, you can let it sit the plant in a dish full of water for about an hour to let it drink through its roots. After it has hydrated, remove the plant and dry off any excess water to prevent damage.

Why Does Your Rosemary Have Dropping LEaves?

If your rosemary has dropping leaves, it is likely not getting enough light. Try to move it to a southern-facing window to allow it to get more direct sun.

What Insects Can Affect Rosemary?

Some of the insects that affect rosemary will include thrips, mealybugs, scale, spittlebugs, and aphids.

Thrips

Thrips come in various colors from black to yellowish. They are very thin (about the same width as a sewing needle) and have fringed winges. These tiny insects are typically most active in the spring and are attracted to various houseplants and garden vegetables. They will feed by sucking the sap of your plants. They spread very quickly through laying their larvae, so it is important to take action as soon as you realize you have an infestation.

Mealybugs

With a length of only 1/8 inch, mealybugs are white, soft-bodied insects that enjoy feeding on the photosynthates (plant juices) of your houseplants. As their bodies have a powdery-white substance on their bodies, they are often described as "looking like snow" when you have a larger infestation on your leaves. They will coat the leaves with a sticky substance that is covered by greyish-white bumps that resemble mold. While it does take some work, you can remove mealybugs so long as the issue hasn't become too overwhelming for the plant at the time of treatment.

Scale

Scale are small insects that suck the sap out of your houseplant's leaves or stems. Either round or oval in shape, they can come in a variety of colors but are most often brown. While all of them have shells, there are two main varieties, one of which has a harder shell (known as a hard shell) than the other (soft shell). These insects can be found anywhere on a plant and are very difficult to fully remove, though the soft shell scale is easier. You will need to remain very vigilant for a few weeks in order to save your plant.

Spittlebugs

If you see a white, bubbly substance on your plants in the spring, it may be due to spittlebugs (also known as froghoppers). These pests use their needle-like mouthparts to suck the nectar from your plants, slowly draining the nutrients it needs to thrive. While the stems with the spittle-like substance may die, infestations rarely become bad enough to damage the whole plant. Just remove the stems as you find the substance and dispose of them to manage it. You can also wash your plant with water to remove both the bugs and the white substance.

Aphids

Aphids are generally found in groups or colonies on the undersides of new growth on a plant. While they will vary a bit in color (or whether or not they have wings), aphids are generally pear-shaped with little cornicles sticking out of the back of their abdomens. These soft-bodied insects seek out the sap of plants and will inject saliva into the foliage during the process which may alter the overall look of your plant.

Is Rosemary an Invasive Species?

In some areas of the world, rosemary is considered invasive due to how quickly it can spread and take over your garden. That being said, many people plant them in their gardens and don't have a bad experience.
How Does Rosemary Spread?
Rosemary will reproduce and spread through seed, but they have low germination rates. Most gardeners prefer to propagate the plant through cuttings because it is much more reliable and far faster. The process is simple enough, taking healthy cuttings from a plant and placing them in well-draining potting medium.
When to Prune Your Rosemary

To keep your plant healthy, prune it in late spring after it has finished flowering. This way, any new plant growth will be able to harden before winter falls.

How Often Should You Repot Your Rosemary?

Rosemary grows very quickly and can become root-bound in a pot in only a year. For that reason, try to transplant it into a larger container annually. Choose one that is about 2 inches larger than the one it is currently planted in. It is a good idea to use peat-free compost when transferring it to a new pot.
Companion Plants to Rosemary
The following plants can often grow alongside rosemary and may compliment the plant (depending on the variety you have):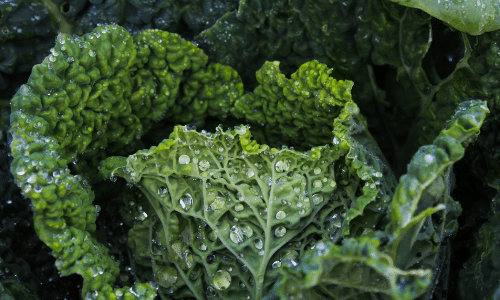 Kale Overview
Kale, known as Brassica oleracea, is a popular edible plant that is grown in many vegetable gardens. This loose-leafed plant will typically grow bluish-green, but can also come in varieties of purple, red, or green. The plant is a cousin of cabbage and contains many nutrients and vitamins. Not only is it full of fiber, but it contains calcium, antioxidants, iron, and vitamins C and K. Kale is often consumed by people who are working toward living a healthy lifestyle. It is a bit chewy but is also very tender.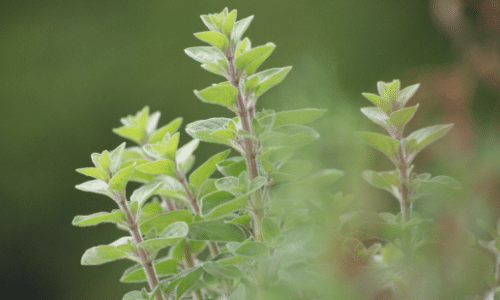 Oregano Overview
Oregano is a hardy, perennial herb Today, there are over 100 different species of oregano worldwide that plants similar characteristics including attractive foliage, aromatic leaves, and beautiful rose-purple or white blooms. Oregano prefers full sun and well-drained soil. It will tolerate drought conditions provided its roots remain moist. Like other members of the Lamiaceae family, oregano thrives in hot weather. Oregano is often used in many tomato-centric recipes and is the main ingredient in both pizza and pasta sauce.
Broccoli Overview
Broccoli belongs to the mustard family. The head is actually an inflorescence. The head forms from a central cluster of flowers. The flower cluster arises from an elongated, thickened, fleshy axis or main stem. This stem swells as the plant mature. The individual flowers are small and pale yellow-green in color. While growing, make sure to keep the plant well-watered and fertilized. This edible plant is full of healthy nutrients and vitamins, including both vitamin C and K. It is popular in many dishes including stir fry.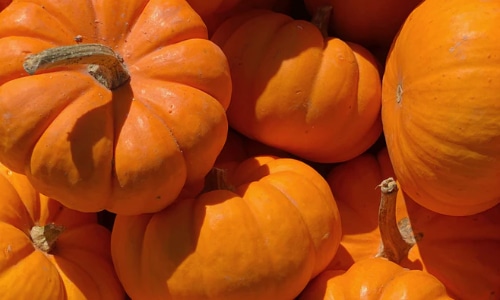 Pumpkin Overview
Pumpkins are squash that belongs to the same family as cucumbers, zucchinis, and other melons. Their seeds are edible and are commonly roasted and eaten as a snack. . While commercial pumpkins are mainly used for decoration (especially at Halloween), there are many culinary dishes that are perfect for this delicious fruit. They are eaten sliced, whole, cooked with other ingredients, or by themselves. The stem is also edible. It is cooked as a vegetable or as a thickener for soups and stews and is also used as a medicinal herb and to make dyes.
Plants that are Similar to Rosemary
The following plants are similar to rosemary in some way. Read on to learn what other plants you can grow:
Basil Overview
Known as one of the key ingredients in many Italian dishes, basil is one of the most popular herbs to grow at home. While it can be difficult to grow it indoors as it requires plenty of light, you can grow and harvest it throughout the spring and summer, harvesting it frequently. The green leaves of the plant are oval-shaped and tend to cup downward on the edges. Part of the mint family, basil can grow to between 12 to 24 inches high, but are often pinched down in order to spread out and produce more of the aromatic leaves.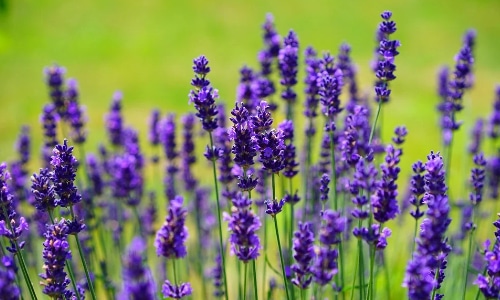 Lavender Overview
Lavender is a well-known and loved perennial herb that produces long stems with delicate buds and blooms. While the foliage can range in color from bright green to grey, the flowers are typically light purple but can come in other colors. They emit a floral scent that many people find calming. In fact, lavender is often used as a home remedy for sleep or stress relief. Lavender is fairly easy to grow and can be harvested up to several times per year (depending on the variety).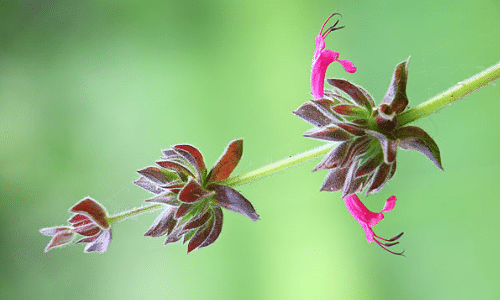 Pitcher Sage Overview
Scientifically labeled as Salvia azurea, the pitcher sage is an herb that produces blue flowers that are often used as part of potpourri alongside lavender and other fragrant flowers. The foliage is covered with fuzzy hairs and will release its scent when crushed. Pitcher sage is perfect for gardeners who want a flowering plant in a shaded portion of their garden. In the right environment, the plant can grow between 3 and 5 feet tall and about 3 and 6 feet wide. The plant can attract hummingbirds into your garden, making it ideal for bird-lovers.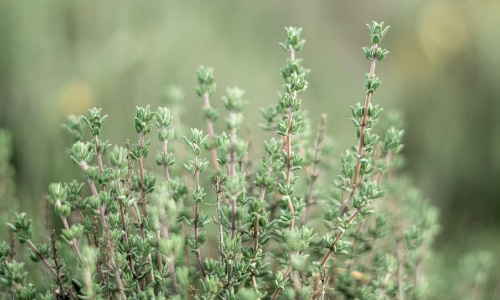 Thyme Overview
Thyme is a small, woody herb that is characterized by thin, narrow leaves and small flowers (which are usually white to pink in color) that are in the shape of a cone. The leaves can be anywhere from 1/2 to 2 inches long. The leaves are sometimes rough to the touch but are generally thin and brittle. The flowers are arranged in groups around the stem of the plant and are generally small in size. Thyme looks very similar to oregano, but it is smaller in plant size, has very soft leaves with almost no fuzz, and has a different scent.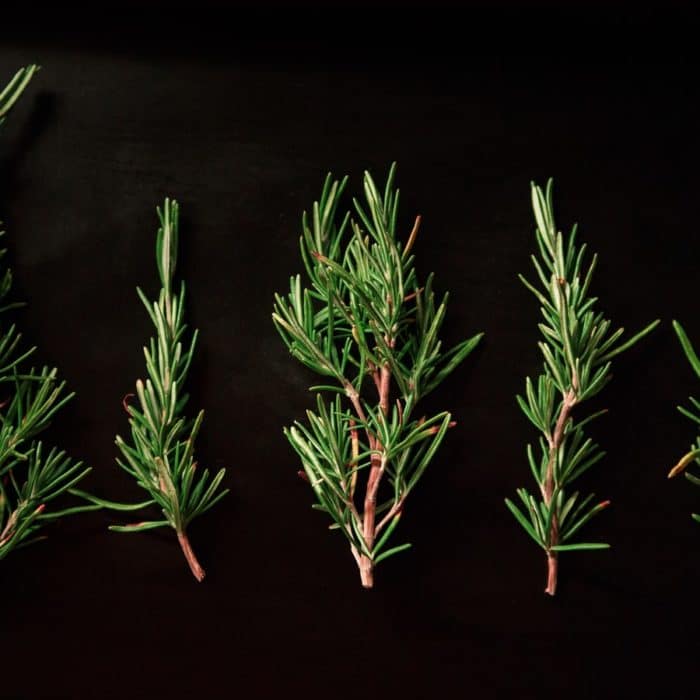 Frequently Asked Questions
How Large will Rosemary Grow?

Rosemary plants can grow up to 3 feet tall and about 3 feet wide. In warmer environments, they can grow to be much larger – up to 6 feet high and 8 feet wide.

Is Rosemary Toxic or Bad for Pets?

Rosemary is mildly toxic to cats and dogs, but it isn't usually a concern because they'll have to eat an awful lot of it to see any harmful effects. Rosemary is not poisonous to birds. Rosemary is a perennial herb that does not contain any thorns or spines, so there's no danger of getting scratched by it. Nevertheless, be mindful you or your pets might accidentally ingest it.

What Kind of Container Do You Need for Rosemary?

Rosemary should be planted in a well-draining container that is large enough for the plant and for its root system. The roots will become crowded very quickly, so it is a good idea to transplant it into a larger pot periodically.