This article will cover how and when you should harvest your lavender as well as how to dry and store it. Learning the basics of these steps will allow you to take advantage of lavender's benefits even in the off-season.
The best time to harvest lavender is just before the flowers open. The timing of this may vary depending on the variety or even from plant to plant, so keep an eye for early signs of blooming. To get the most out of your harvest, it is a good idea to start harvesting early in the year so that you can get additional growth that you can harvest later on.
Harvest in Early Spring

If you harvest in early spring, your plants should have enough time to grow another harvest by late summer or early fall. If you grow your lavender indoors, you may be able to harvest 3-4 times per year.

Harvest Early Blooms

To get the most fragrance or oils out of your plants, try to harvest your lavender toward the beginning of its bloom cycle. This means that the young flowers will have retained most of the oil. An additional benefit is that younger stems are easier to dry without crumbling.

Harvest in the Morning

Lavender tends to be freshest earlier in the morning after a cool night. You may lose some of the fragrance after a day in the sun. This is especially important if you plan to extract the oil.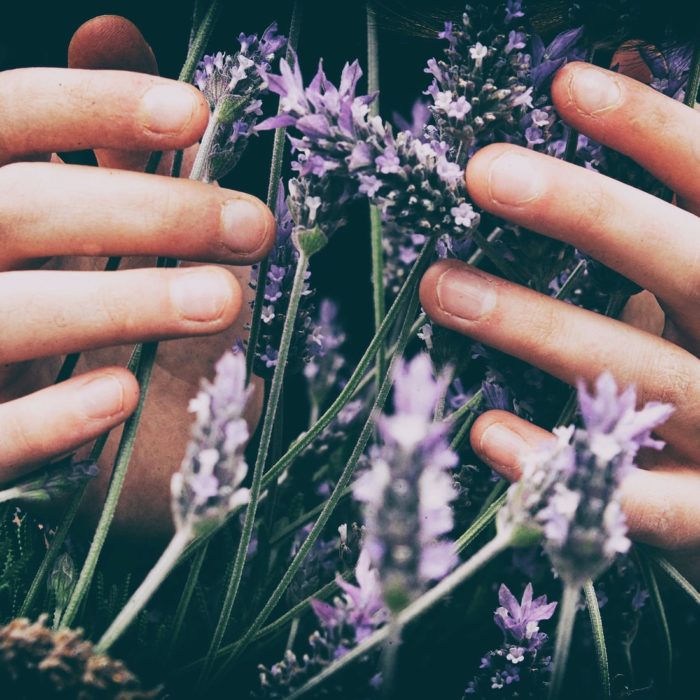 Once it's time to harvest your lavender, you will want to cut each branch in the best way to increase your harvest over time. Follow these steps to get the most out of your plants while keeping them healthy:
Step 1

Isolate the stem you wish to harvest and follow it down from the top until you find a junction in the stem. This may be where two new buds or leaves have begun to form on either side of the stem. If you want longer stems, simply go down to a different junction further down.

Step 2

Cut the stem just above the junction using sharp scissors or pruning snips. Once the stem is cut, the two sides will grow into their own flowers. Try to keep the size of your stems a similar length to make the drying process a little easier (if you use the hanging method).

Step 3

Place the lavender in a basket or on laid-out newspaper to keep it uniform and easy to transport to where you wish to process it.
To dry your lavender, you will need to complete the following steps:
Step 1

After harvesting your lavender, separate the flowers into smaller bunches that are all fairly uniform in length. Keeping the lavender in bunches that are a "handful" is a good way to make sure there aren't too many in each bundle. Too many could restrict airflow to the flowers, slowing down the drying process.

Step 2

Tie each bundle toward the base of the stems. While this can be simply done with string or even with a rubber band, you can also use ribbon if you want a homey look through the process. Don't tie them too tightly as that can also restrict airflow which could cause mold to grow on your flowers.

Step 3

Hang each bunch of lavender in a sheltered place where they can air out as they dry. Keeping it in a darker area will help the flowers keep their color. This can be in your home, a garden shed, or any place where the air isn't too moist and there is good air circulation. If there isn't enough circulation, plug in a fan nearby.

Step 4

Check your flowers in a few weeks to ensure they have become as dry as paper. You can also try to break one of the stems. If it snaps cleanly, it is dry. At that point, you can gently shake the petals from the stem into a jar for storage.
This method works best in dryer climates, though you can try it in mildly humid climates as well.
Can You Dry Lavender Using a Dehydrator?
If you don't want to go through the trouble of creating bunches or you want to speed up the drying process, you can also dry your lavender with a dehydrator. Here's how:
Step 1

After harvesting your lavender and checking it for insects, cut off the long stem portion to save space in the dehydration. The extra stems are perfect for your compost container.

Step 2

Place the de-stemmed lavender onto your dehydrator trays. stems should be placed in a single layer. You may want to use dehydrator liners (if you have them) to help preserve petals through the process.

Step 3

Stack your trays into your dehydrator according to your brand's instructions.

Step 4

Set your dehydrator to a low temperature that is between 85 and 100° F and turn it on. It will typically take between a day or two for your lavender to try out.

Step 5

After 24 hours have passed, check your lavender to see if it dry. If it is still moist, turn on your dehydrator again in 2-3 hour increments until the job is complete.
Using a dehydrator is a good way to ensure that your lavender is completely dry. As with air drying, you can tell by trying to snap one of the stems.
Using Baskets or Screens to Dry Lavender
You can also dry lavender using baskets or screens. Many people who use the hanging method will also use this method for stems that are shorter or spare buds that have fallen off. Here's how you can perform this method:
Step 1

Gather homemade screens or a professionally made herb drying rack. You can also use airy baskets.

Step 2

Spread out your lavender buds in a single layer onto the screens on baskets. Set them out or stack them in an area where each layer will still be able to get good airflow.

Step 3

Your lavender should dry out in a few weeks (similar to the hanging method). Check it by snapping a stem. Once dried, you can move it to storage.
How to Store Dried Lavender
Once your lavender is dried, you can store it in a variety of ways depending on your purposes. If you want to keep it around as a decoration that provides a light scent, you can keep them on their stem and place them upright in vases around your home or hang them in the corners of your room.
To scent your clothes or sheets, remove the flowers from the stem by gently shaking them or tapping them on the inside of a container. Move the petals into sachets and place them in drawers to keep your items smelling fresh.
When looking for long-term storage, you will want to remove the petals and place them in a sealable jar to keep them cool and dry. Place the jar in an area that doesn't receive direct light to keep your lavender fresher for a longer period of time.
Lavender has several benefits and uses. Not only is it adored for its aroma, but many people use lavender essential oil or add petals to recipes. Here are a few things you can try:
Sachets

Add lavender to potpourri or sachets that can be placed in drawers to make your clothes smell fresh. You can also place them in your pillowcase to help you fall asleep at night.

Bread and Biscuits

Lavender is often added with other herbs to various bread and biscuit recipes. You'll even occasionally find it in pastry or cookie recipes.

Tea

Brew lavender tea by pouring boiling water over some petals and allowing it to steep for about 20 minutes.

Create lavender oil

Medicinal lavender oil has been used throughout history to help both physical and mental symptoms. It has been known to help relieve burns, decrease anxiety, as well as many other uses.

Create household items

Add your lavender to a homemade room spray or create your own soap, sprinkling the leaves in it periodically.

Repellent

Add lavender as part of your topsoil to repel flies, mosquitoes, and other pests away from your houseplants.