| Class | Info |
| --- | --- |
| Common Name | Rubber Plant, Rubber Tree, Rubber Bush, Rubber Fig, Indian Rubber Bush, Indian Rubber Tree |
| Scientific Name: | Ficus elastica |
| Family | Moraceae (Mulberry Family) |
| Plant Type | Ficus |
| Origin | Bhutan, Burma, China, East India, Nepal |
| Habitat | From a tropical/Mediterranean setting |
Plant Description

The rubber plant can grow quite large and produce thick, oblong leaves. The trunk of the tree can exude latex (a milky sap). While most rubber plants have green leaves, some cultivars offer a variety of colors, including off-white, a marbleized grey, and variegated white or yellow leaves.

Flowers

While the rubber plant does produce flowers in the wild from time to time, it is very unlikely that you'll get it to flower indoors. The flowers of the ficus elastica are flat and white and don't really stand out (other than its pale color) than the rest of the plant.

Roots

Ficus Elastica will grow aerial roots from its branches. They can be prone to root rot if they are not watered and maintained properly.

Fruits

The rubber plant will produce a small fig approximately that is ⅓ of an inch (slightly less than 1 cm) long.
Leaves

Glossy and leathery. Large – 4-14 inches (10-35.5 cm) long and 2-6 inches (5-15 cm) wide. Oval in shape with a pointed tip and midrib. Leaves come out of a single stem that rarely sets off side-shoots unless the top is removed. Evergreen, can include variegation or color.

Rate of Growth

The rubber tree will grow very fast when it has everything it needs to thrive. If it doesn't have the lighting or water it needs (or isn't in the right temperature), it will grow slowly. The plant can grow 24 inches (61 cm) or more during a single growing season.

Seeds

Large, oblong seeds that light and dark brown (in a moralized pattern). They are planted just beneath the surface of the soil in indirect lighting.

Temperament

The ficus elastica can tolerate challenging environments.
The rubber tree is used as an ornamental decoration in homes and offices worldwide. They are popular because of their size and the fact that they are relatively easy to grow indoors. Due to its popularity, many varieties of the plant have been cultivated.
Here is a list of popular rubber plant cultivars:
Robusta

The Robusta boasts large, wide leaves.

Decora

The Decora has shiny, broad leaves (even to that of the robusta) with a white midrib on the top surface of the leaf (it will be red beneath).

Doescheri

A unique cultivar, the Doescheri has grey and pinkish leaves.

Tineke

The Tineke has a bold variegation that covers much of the leaf, blending green and yellow.

Tricolor

The Tricolor has greyish-green leaves, variegated with pink (or red) and creamy yellow or white veins.

Variegata

The Variegata variation has pale green leaves with a yellow or white margin.
How to Care for Indoor Ficus Elastica
How Often Should You Water Your Rubber Plant?

You should water your rubber tree in varying amounts throughout the year. In the summer, the plant requires more moisture than the winter and may need to be watered once or twice per week, whereas in cooler seasons, you might only need to water once or twice per month. If you are away a lot, this plant can survive a vacation.

A good rule of thumb for the rubber plant is to water the plant when the top 1 inch of the soil is dry.

When Should I Fertilize My Rubber Tree?

Try to fertilizer your rubber tree every fourth watering (or once per month) from spring through early autumn. Don't fertilize it in the winter.

What Fertilizer Should I Use On MY Ficus Elastica?

Use a diluted organic fertilizer that is equal parts nitrogen, phosphorus, and potassium (10-10-10 for NPK ratio). You can also use mycorrhizal fungi and other beneficial microbes to help feed your rubber plant.

In What Soil Should Your Rubber Plant be Planted?

Plant your ficus elastica in organic soil that is well-draining. Mix potting soil with sand or perlite to prevent water from sitting within your plant.

How Much Sun Does a Rubber Tree Need?

Rubber plants prefer moderate to bright, indirect sunlight. Though they can tolerate the morning son, try to keep most of the light filtered as too much direct sun can cause damage to the tree.

The best place to put your plant is in east or west-facing windows, with sheer curtains to keep the light bright, but filtered.

What is the Optimum Temperature/Humidity for Your Rubber Plant?

The rubber plant enjoys warmer, humid environments. Try to keep the daytime temperature between 70-80°F (21-27°C) during the day and between 60-70°F (15-21°C) at night.

To help with the humidity, mist it frequently (at least twice per week) with a handheld mister. You can also use the mist setting on a spray bottle. Alternatively, you can put the pot into another container with water and stones so that the planted pot isn't setting in water. As the water evaporates, it will create humidity around the plant.

How Large Will Ficus Elastica Grow?

A rubber tree can grow to approximately 78 inches (195 cm) high. This is the equivalent of 6 feet, 6 inches. It can grow up to 12 feet (366 cm) eventually as an indoor plant.

In the wild, it can grow up to 50-100 feet tall (15-30 meters tall). In a home garden, it will often reach a height of 25 feet tall (7.5 meters tall).
Common Problems with Ficus Elastica
Why is Your Rubber Plant Losing Leaves?

While losing a few leaves is normal, if your rubber plant seems to lose a lot of leaves in a short period of time, there could be an issue. Make sure that your ficus elastica has the humidity it needs and is kept out of cold drafts. Lower humidity and fluctuating temperatures can cause stress on your plant, which may cause it to shed.

Why Does Your Ficus Elastica Have Yellow Leaves?

If your rubber tree has yellowing leaves, it is likely that you aren't watering it correctly (generally underwatering). Check the soil. If more than the top inch is dry, give it a thorough watering.

Does My Rubber Tree Have Root Rot?

You can sometimes tell if your rubber tree has root rot by smelling the soil. If it smells "old" or like "rotting potatoes or food," it is generally a sign of root rot. To prevent root rot, make sure that your plant is in the correct pot and that you don't overwater.

If your ficus elastica is wilting, carefully pull back some soil to inspect the roots. If they have turned mush and their color is black, dark brown, or grey, you have root rot. To give your plants the best chance for survival, you must act immediately

Remove the diseased roots from the plant and any soil it was touching. Spray the remaining roots with an organic fungicide like Actinovate. Carefully take the plant out of the planter and sterilize the container and any tools you used in the process.

What Insects Can Affect Rubber Plants?

While there are other insects that may affect a rubber plant, there are a few that are more common. They include aphids, mealybugs, spider mites, and scale.

Aphids

Aphids are generally found in groups or colonies on the undersides of new growth on a plant. While they will vary a bit in color (or whether or not they have wings), aphids are generally pear-shaped with little cornicles sticking out of the back of their abdomens. These soft-bodied insects seek out the sap of plants and will inject saliva into the foliage during the process which may alter the overall look of your plant.

Mealybugs

With a length of only 1/8 inch, mealybugs are white, soft-bodied insects that enjoy feeding on the photosynthates (plant juices) of your houseplants. As their bodies have a powdery-white substance on their bodies, they are often described as "looking like snow" when you have a larger infestation on your leaves. They will coat the leaves with a sticky substance that is covered by greyish-white bumps that resemble mold. While it does take some work, you can remove mealybugs so long as the issue hasn't become too overwhelming for the plant at the time of treatment.

Scale

Scale are small insects that suck the sap out of your houseplant's leaves or stems. Either round or oval in shape, they can come in a variety of colors but are most often brown. While all of them have shells, there are two main varieties, one of which has a harder shell (known as a hard shell) than the other (soft shell). These insects can be found anywhere on a plant and are very difficult to fully remove, though the soft shell scale is easier. You will need to remain very vigilant for a few weeks in order to save your plant.

Spider Mites

Spider mites are tiny black arachnids (not typically seen by humans) that like warm environments. They have oval bodies and eight legs and are generally white, red, or brown (though they are difficult to see with the naked eye). Spider mites can easily travel on the wind through a window screen. If you have them, you'll see fine webbing similar to spider silk underneath the leaves. Leaves will sometimes become spotted or change color. Spray them off with water, a homemade miticide, or use Neem oil to remove them. 

Is The Rubber Plant An Invasive Species?

Rubber plants can be considered an invasive species when planting outdoors as their roots can grow extensively and take over other plants.
How to Propagate a Rubber Tree
Ficus elastica is very difficult to propagate, but it can be done with air-laying.
In the spring, cut off new tips that are at least 4 inches (10cm) long. Look for cuttings that where the bottom ½ in (12 mm) is woody and light. Note that when you cut the trimmings, the plant will seep out milky-white sap (used for latex) which will rubberize without proper care.
Strip the leaves from the lower ⅓ portion of the cutting and place it in water for 30 minutes to prevent the rubber from forming on the base, creating a cap. Shake the cuttings dry after you remove them from the water, then place them into a sterile medium. Seal the entire cutting (and the medium) into a ziplock bag or in a jar. Set the bag or jar in a bright area, but not in direct sun.
When Should You Repot a Rubber Plant?
Replant as needed in the spring before the growing season begins. When you up-pot, go to a container that is 4 inches wider than the previous pot. The pot shouldn't be any more than ⅓ larger than your current planter.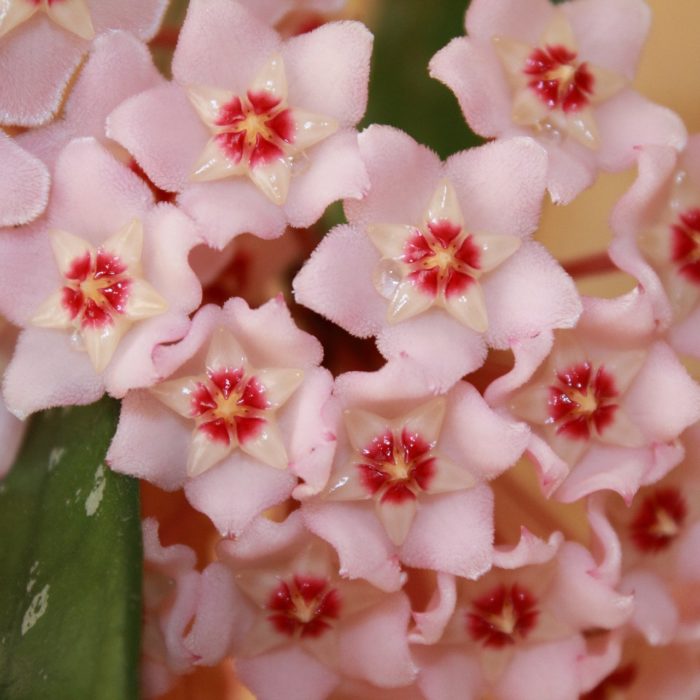 Companion Plants to Rubber Tree
There are several plants that work well as companions for the rubber tree. These will include the following: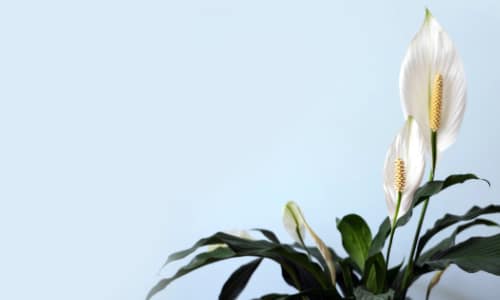 Peace Lily Overview
Peace lilies are known for their long, dark green leaves that come to a point and their long-lasting white flowers. Due to the lily-like flowers, the plant has long symbolized innocence, peace, and purity and is often used as a symbol of sympathy toward a family who has lost a member. Due to its love of shade, the plant is typically grown indoors and can help to purify the air of several pollutants. The plant is sometimes believed to bring good luck.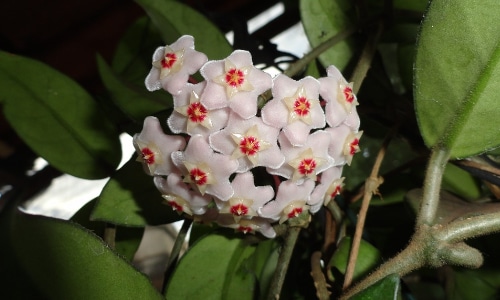 Hoya Overview
Originating from tropical Asia, hoyas are perennial vines or creepers that are known for their waxy leaves and flowers. They typically grow by twining and can grow quite large when given the opportunity. Their flowers are typically characterized as spherical clusters of star-shaped blooms that can come in a variety of different colors. The plants are easy to propagate, making them a very popular option for people who love flowering houseplants.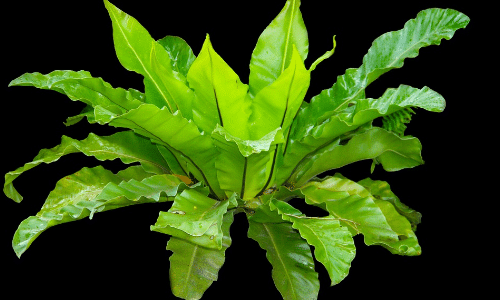 Bird's Nest Fern Overview
One of the key things that make the Bird's Nest Fern interesting is that they are epiphytic, which means they can grow on the surface of other nearby plants. The slow-growing plants can grow to between 3 and 5 feet tall as well as 2 to 3 feet wide. All of the leaves grow from a central rosette that sits in the ground. The plants love humidity, moisture, and warmth and will grow a little faster and taller when kept in those conditions. The plants are native to Africa, Asia, and Australia.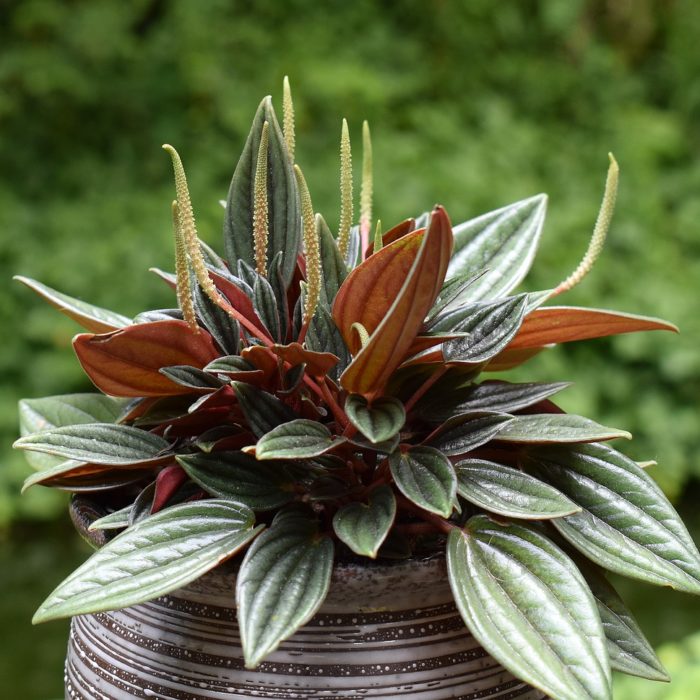 Similar Plants to the Rubber Plant
There are many plants that are similar to the rubber plant in one way or another. Check out the following: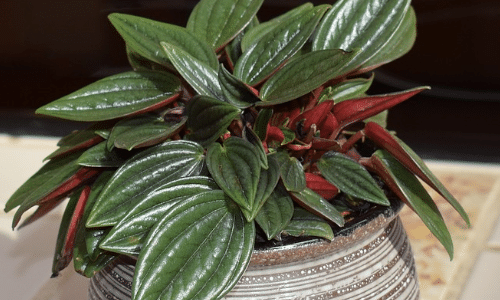 Peperomia Overview
Peperomias are popular houseplants that are very easy to care for. They are bushy and upright. Depending on the variety, the leaves and stems will have slightly different colors and variegations. The plants don't grow very large, most topping out at about a foot high. The leaves are thick and waxy and can grow to be about 6 inches long, making the plant look full and bright. The flowers of the peperomia are not remarkable but instead, look like small spikes that stand out at the top of the plant.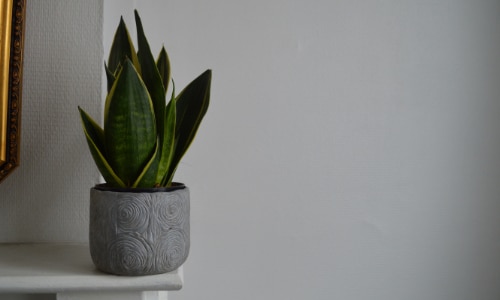 Snake Plant Overview
Also known as "Mother-in-Law's-Tongue," the Snake Plant is a popular plant that can grow up to 4 feet tall with proper care. The plant is created with sword-shaped leaves the grow directly from the base. The leaves will vary in color between light and dark green as well as a bluish green. Not only is the Snake Plant a hardy plant that can grow in a variety of conditions, but it is also known as a plant that will help clean the air in your home.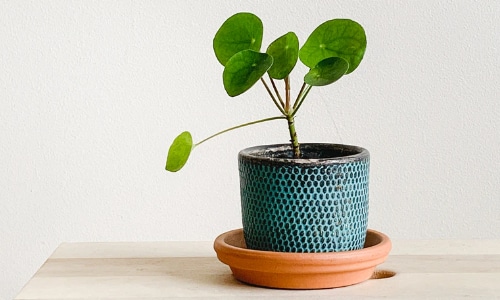 Chinese Money Plant Overview
Originally believed to bring good luck, the Chinese Money Plant originates in Southwest China. It grows flat, round leaves that can look like coins on long stems that grow directly from the crown. When it is healthy, the plant can become very dense, allowing you to have a rounded plant of green leaves. The plant is very easy to propagate and will frequently shoot up pups around its base that you can transplant into other containers.
Frequently Asked Questions
Does a Rubber Tree Clean the Air?

Yes, rubber trees are very efficient at cleaning the air. They remove carbon dioxide and formaldehyde from the air as well as certain kinds of bacteria and molds.

Are Rubber Trees Toxic or Bad for Pets?

The sap of ficus elastica can be a skin irritant and can cause mild stomach issues if ingested. Make sure to pick up dropped leaves and to teach children and pets to stay clear of the plant. If the plant is ingested and you need to check with a poison center, call one of the following numbers:

Australia – Call 131 126
Canada – Find your province's number on this website
New Zealand – call 0800 POISON (0800 764 766)
United Kingdon – Call NHS 111
United States – Call (800) 222-1222

What Kind of Container Do You Need for Your Ficus Elastica?

Choose a pot with drainage holes to allow the soil to drain properly. Root rot is a major issue for rubber trees and you shouldn't risk letting your plant sit in water.