| Class | Info |
| --- | --- |
| Common Name | Catnip |
| Scientific Name: | Nepeta cataria |
| Family | Mints |
| Plant Type | Perennial |
| Origin | Europe, Asia, Africa |
Plant Description

Catnip is a perennial herb that doesn't live many years but spreads very quickly and easily.

Leaves

The leaves of the plant are arrow-head-shaped, toothed leaves.

Roots

The root system creates rhizomes that help the plant spread.
Flowers

Most catnip flowers are white with some purple spots, though some varieties will produce pinkish or purplish flowers.

Rate of Growth

Catnip can grow very quickly and can grow to up to 3 feet tall in a single season.

Temperament

Catnip is a fairly easy plant to grow and can bounce back if not watered all the time.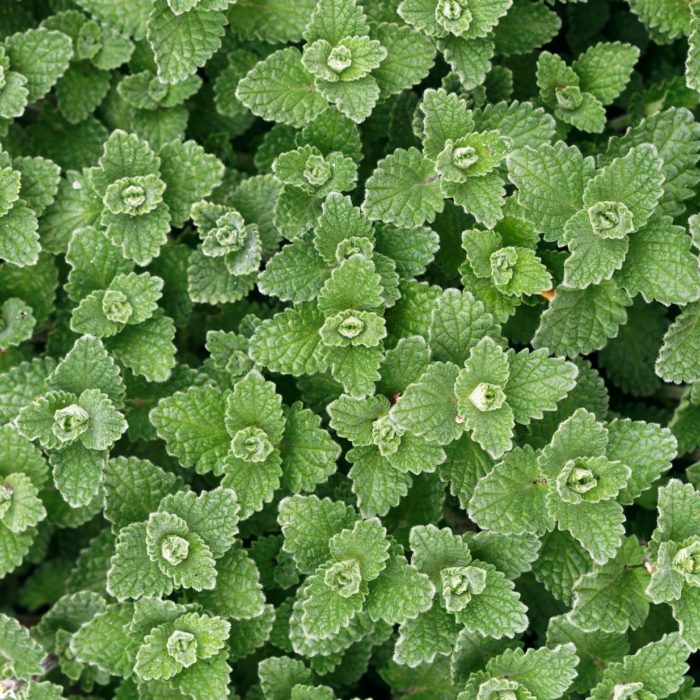 There are many popular catnip varieties that will give you a slightly different scent and flavor. Here are a few of the best:
True Catnip

The true catnip variety can grow to up to 3 feet tall and can grow either white or purple blooms.

Lemon Catnip

If you enjoy a lemony scent, you may enjoy this variety. It has a nice scent and many people use it as an insect repellent to keep mosquitoes away.

Greek Catnip

The greek catnip will grow to a smaller plant, about 1.5 feet high, compared to other varieties. It produces pale, pinkish flowers.

Camphor Catnip

The camphor catnip is a unique plant. Whit small white flowers with purple dots, the plant also grows to be a bit smaller than the average plant, about 18 inches tall.

Catmint

While not actually a catnip, the catmint is closely related. It tends to grow a bit bushier and produces large, beautiful flowers. The plants are typically confused for each other, but catmint usually grows purple flowers, whereas catnip grows white flowers.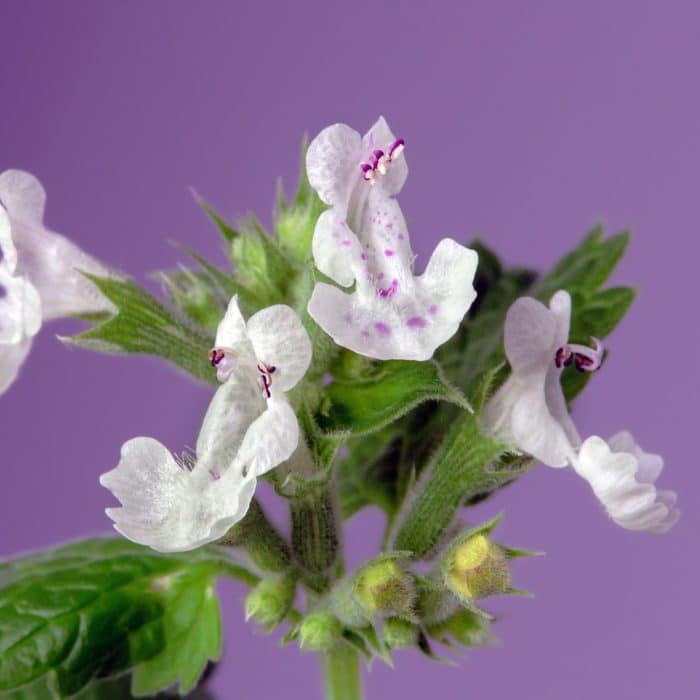 How Often Should You Water Your Catnip?

All you need to do to properly water your catnip is to make sure that your plant is well-drained. When you first get the plant, you should water it a little more often than normal to make sure that it is established. Catnip is a hardy plant and can survive with very little water, like maybe a couple of waterings every week or two. Catnip will naturally shrink and wither if you don't water it, but it should rebound when you water it again. It is better to err on watering less often than overwatering.

How Much Light Does Catnip Need?

Catnip can grow in full sun to partial shade. Full sun generally produces the best plant growth. You can use supplemental lighting inside if you don't have any south or west-facing windows.

How to Fertilize Your Catnip

When fertilizing your catnip, you should start at the beginning of spring and fertilize every two weeks until the first week of summer. Make sure to use a balanced, water-soluble fertilizer.

Best Soil for your Catnip

The nice thing about catnip is that it does well in almost any well-draining soil. It is a hardy plant and any fertile potting soil will do.

Optimum Temperature/Humidity for Your Catnip

Catnip does well when it is growing in between 55 and 85 degrees Fahrenheit. It can withstand hard frost, so you generally don't have to worry about it dying in the winter.
Common Problems with Catnip
Why Does Your Catnip Have Spots?

If your catnip has small spots with yellow halos, you may have bacterial leaf spot. Remove damage sections of the plant and avoid watering from the top of the plant (only water the soil beneath it) if possible.

What Insects Can Affect Catnip?

Some of the insects that can affect catnip are aphids, thrips, spider mites, and whiteflies. It is a good idea to always keep an eye on your plants to ensure that they stay pest-free.

Aphids

Aphids are generally found in groups or colonies on the undersides of new growth on a plant. While they will vary a bit in color (or whether or not they have wings), aphids are generally pear-shaped with little cornicles sticking out of the back of their abdomens. These soft-bodied insects seek out the sap of plants and will inject saliva into the foliage during the process which may alter the overall look of your plant.

Thrips

Thrips come in various colors from black to yellowish. They are very thin (about the same width as a sewing needle) and have fringed winges. These tiny insects are typically most active in the spring and are attracted to various houseplants and garden vegetables. They will feed by sucking the sap of your plants. They spread very quickly through laying their larvae, so it is important to take action as soon as you realize you have an infestation.

Spider Mites

Spider mites are tiny black arachnids (not typically seen by humans) that like warm environments. They have oval bodies and eight legs and are generally white, red, or brown (though they are difficult to see with the naked eye). Spider mites can easily travel on the wind through a window screen. If you have them, you'll see fine webbing similar to spider silk underneath the leaves. Leaves will sometimes become spotted or change color. Spray them off with water, a homemade miticide, or use Neem oil to remove them. 

Whiteflies

Whiteflies appear exactly as they sound. With four, white wings, these tiny insects measure to be about 1/16 inch in length. They are very hard to spot individually, but when brushing up against a plant, you may notice them swarm together in a "cloud" above the plant. Whiteflies suck the juices from the underside of leaves which can cause damage to your plant over time. They also produce honeydew which can attract other pests to your plant.

Is Catnip an Invasive Species?

Catnip can be very invasive. If you are worried about it taking over your garden, it is a good idea to keep it in a container.
Catnip can spread and repopulate through seeds and propagation. The plant will naturally spread in the wild, but many indoor gardeners who choose to propagate their catnip will do though through cuttings.
They will typically take a healthy cutting and put in well-draining soil with a bit of rooting hormone to give it the best chance of success of taking off. It usually will take a few weeks to take root. You will know when it does when you gently tug on the plant and it doesn't budge.
When to Prune Your Catnip

You should prune your catnip after the first round of blooming. Cut it to about 3 – 4 inches in height which will encourage new growth and you will often get a second round of blooming. You can also deadhead them in late spring through autumn.

How Often Should You Repot Your Catnip?

You should repot your catnip when it starts to outgrow your original container. It is best to repot it in the early spring before it takes its first growth spurt.
Companion Plants to Catnip
The following plants can often grow alongside catnip and may compliment the plant (depending on the variety you have):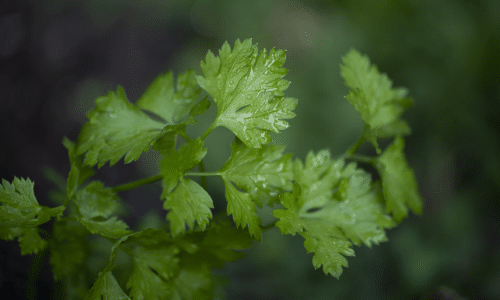 Parsley Overview
Parsley (Petroselinum crispum) is an herbaceous biennial plant in the celery family Apiaceae. It is native to the Mediterranean region, but has become naturalized in many places and is cultivated for its edible leaves. It is also used as a decorative garnish. The plant is widely used in European, Middle Eastern, and American cooking, and, used as traditional herbal medicine. Parsley can grow up to 2 to 3 feet tall. It bears small clusters of white or pink flowers and pointed leaves. The plant produces delicious leaves the first year and seeds in its second.
Yarrow Overview
Yarrow does well in temperate regions. It grows flat clusters of flowers in a variety of different colors, many of which can complement other flowers grown in your garden. These will typically bloom from spring to autumn (April to October in most places). The leaves of the plant look fern-like and are aromatic. The plant is a member of the composite family and is a hardy perennial that is fairly easy to grow. In the right environment, it can grow to up to 36 inches in height. Many people use parts of the yarrow plant for many home remedies.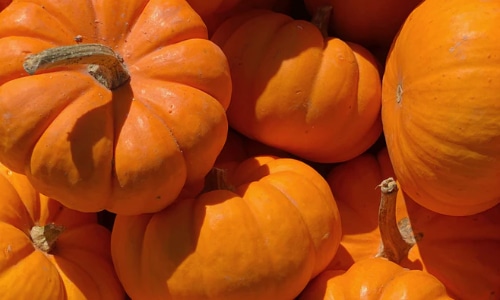 Pumpkin Overview
Pumpkins are squash that belongs to the same family as cucumbers, zucchinis, and other melons. Their seeds are edible and are commonly roasted and eaten as a snack. . While commercial pumpkins are mainly used for decoration (especially at Halloween), there are many culinary dishes that are perfect for this delicious fruit. They are eaten sliced, whole, cooked with other ingredients, or by themselves. The stem is also edible. It is cooked as a vegetable or as a thickener for soups and stews and is also used as a medicinal herb and to make dyes.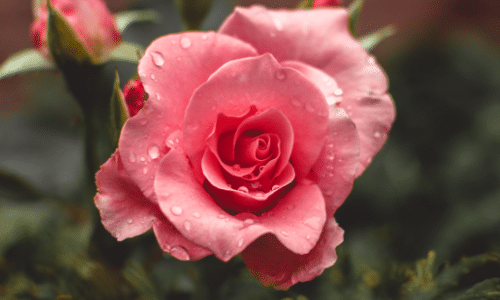 Rose Overview
Roses are one of the most – if not the most – popular flowers in the world. With so many varieties, sizes, and colors available, people are happy to grow these plants in their homes and in their gardens. The plants can grow as climbers, trailers, or erect plants. The stems typically have thorns that may prick your skin if you aren't being careful. The flowers will bud in an elegant shape before fully blooming into large flowers. Roses are also very popular for their scent, which is both floral and fresh.
Plants that are Similar to Catnip
The following plants are similar to catnip in some way. Read on to learn what other plants you can grow: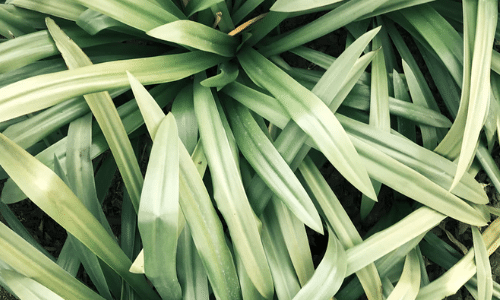 Lemongrass Overview
Lemongrass can grow to be about 2 to 3 feet tall. It grows grass-like leaves that are a greenish grey and both the leaves and the stems give a lemon-like flavor when used in culinary dishes. You can often smell a lemon-like scent from the plant as well. Even the plant is fairly easy to grow, it cannot withstand winter conditions, making it an ideal container plant for those who want to use the herb.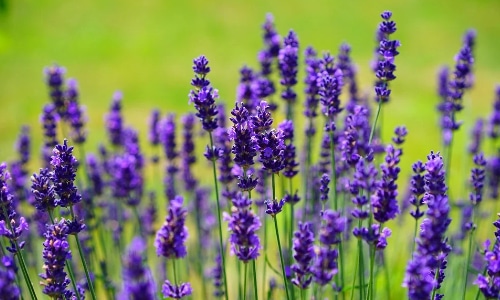 Lavender Overview
Lavender is a well-known and loved perennial herb that produces long stems with delicate buds and blooms. While the foliage can range in color from bright green to grey, the flowers are typically light purple but can come in other colors. They emit a floral scent that many people find calming. In fact, lavender is often used as a home remedy for sleep or stress relief. Lavender is fairly easy to grow and can be harvested up to several times per year (depending on the variety).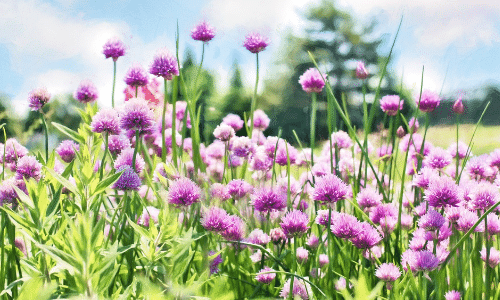 Chives Overview
From the same family as onions and leeks, chives are an easy plant to grow to harvest for your kitchen. They are cold-tolerant perennials that do well growing in the spring, allowing you to have a tasty treat in early summer. Growing from bulbs planted underground, the plant produces green, tubular leaves. The plant will also produce spherical clusters of blooms that are also edible. Chives are also known to be a pest deterrent and will chase away many insects such as mosquitoes.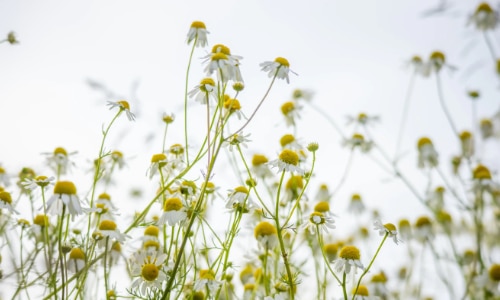 Chamomile Overview
The chamomile plant is a small annual herbaceous plant. It is a low-growing plant that can grow up to 24 inches in height. The plant bears light pink, white or dark purple flowers with yellow flowers. These flowers, which smell like apples on the plant, are often used in making herbal tea. Chamomile leaves are quaint, light green, with a serrated edge. Many people have used German Chamomile for a variety of ailments. The benefits of using the plant are said to soothe the nervous system, help people sleep, and support digestion.
Frequently Asked Questions
How Large will Catnip Grow?

Catnip can grow to between 2 and 3 feet tall. When planting multiple catnips, try to space them about 18 to 24 inches apart to give them room to grow. You will also want to ensure that you keep an eye on the plants as they can become invasive.

Is catnip Toxic or Bad for Pets?

Catnip is a safe herb and many people drink it in tea. However, you may have issues if you take it in large quantities or smoke it. Symptoms could include vomiting and headaches.

The plant is safe for dogs and cats unless consumed in large portions.

What Kind of Container Do You Need for Catnip?

Look for a container that is both deep and wide to use for your catnip. For smaller plants, choose one that is 8″ by 8″ and repot it up as it outgrows each.