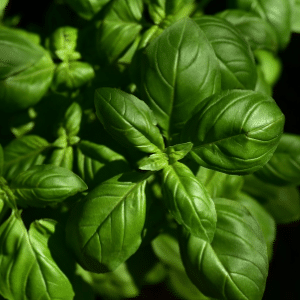 | Class | Info |
| --- | --- |
| Common Name | Basil |
| Scientific Name: | Ocimum basilicum |
| Family | Mint |
| Plant Type | Herb, Foliage |
| Origin | India |
This post will cover the basics of the plant as well as how to care for it:
Plant Description

Basil is known for its aromatic, oblong leaves that are used in many popular culinary dishes. The plant is glossy-green and typically grows between 12 – 24 inches high.

ROOTS

The root system of basil is very vigorous, allowing the plant to find the nutrients it needs to feed the plant overall.

SEEDS

Basil seeds are very similar to chia seeds. Not only are they approximately the same size, but they also become gelatinous when wet.

Temperament

Basil is an easy-to-care-for plant and is perfect for people who want to try out their new green thumbs.
Leaves

The leaves are oblong and will range in size depending on the variety. The leaves go to a point in the end. They are glossy green and curve downward on the edges.

Flowers

Basil will produce one spike at the top of the plant which will produce small, white flowers. Allowing your plant to flower will alter the taste of the leaves.

Rate of Growth

The basil plant can grow extremely fast when in the correct environment. In fact, it can grow from seed to the ability to be harvested in as little as 3 to 4 weeks' time.
Here is a list of popular basil varieties:
Sweet Basil

Sweet basil is the most popular variety and is used in many Italian dishes. You can find both the plants and the produce at most supermarkets where herbs are sold.

Thai Basil

Thai Basil has a slightly different flavor (more anise-like). It is a common ingredient in many dishes from Southeast Asia.

Cinnamon Basil

Cinnamon basil has a slight cinnamon-like scent and flavor. It is commonly used in stir-frys. The variety is native to Mexico.

Lettuce Basil

Lettuce also has an anise-like flavor and is typically used in salads. the plant grows large leaves that mix well with tomatoes and other greens.

Greek Basil

Green Basil (also known as Bush Basil) is often used instead of sweet basil. It grows well in a planter and produces small leaves.
How to Care for Indoor Basil
Basil is fairly easy to care for so long as it is placed in the right container and environment. Here are a few things you should keep in mind:
How Often You Should Water Your Basil?

To ensure that the basil can thrive, you will want the soil the remain moist without having it stand in water. In order to achieve this, you may need to water it every 1-3 days and ensure that it is in a self-draining pot.

How Much Light Does a Basil Need?

Basil requires a lot of sunlight to grow well. In fact, it should ideally get between 6 and 8 hours per day. If placed in the right location, you should be able to enjoy this herb for several months out of the year.

When to Fertilize Your Basil

While growing your basil, you may need to fertilize your plant every 2-6 weeks depending on the environment and the plant. You will need to use a balanced fertilizer (10-10-10 or 12-12-12). Granules work well when scattered around the base of the plant.

Best Soil For Your Basil

When planting basil, look for well-draining soil that has a natural pH (6.0 to 7.0). You don't want to amend the soil too much (if at all), because it could affect the taste of the basil.

Optimum Temperature/Humidity for Your Basil

Depending on the variety, basil typically thrives at a temperature between 70 to 90 degrees F. Do not plant it or set it outside until nighttime temperatures are steadily above 50 degrees as it could damage the plant. Basil required heat to continue to grow.

You also want the air around the plant to be relatively moist. Make sure that the humidity is between 40 – 60%. You can use a humidifier nearby, place the plant on a plate with stones and water, or frequently spray it with water to help.
Common Problems with Basil
Why Does Your Basil Have Yellowing Leaves?

If your basil plant has yellowing or discolored leaves, it may be suffering from a fungus or root rot. Check your plant for signs. If none are found, your soil may also have a deficiency in nitrogen or other nutrients that your plan needs. Consider switching your fertilizer to one that is higher in nitrogen to see if it corrects the problem.

What Insects Can Affect Basil?

While one of the benefits of basil is that it repels a number of different insects, there are still that may still occasionally plague your plant. Four insects you should watch out for are aphids, Japanese beetles, Slugs, and Whiteflies.

Aphids

Aphids are generally found in groups or colonies on the undersides of new growth on a plant. While they will vary a bit in color (or whether or not they have wings), aphids are generally pear-shaped with little cornicles sticking out of the back of their abdomens. These soft-bodied insects seek out the sap of plants and will inject saliva into the foliage during the process which may alter the overall look of your plant.

Japanese Beetles

Japanese Beetles are green and brown metallic-looking beetles that grow to a little over half an inch long. They have a green head and thorax and copper-brown wing covers. The end of their abdomens have patches of white hair and there is also a few patches of white hair on the sides of their abdomens. They prefer to eat on warm, sunny days. While they prefer to much on leaves, they will also eat the flowers and fruits of plants. You typically need to use neem oil or insecticide to protect your plants from them.

Slugs

While you typically won't find slugs in your home, you may find them in your garden if you have planted your plants outdoors. Slugs will eat the entirety of a leaf if given enough time. They typically complete their work at night. Slugs are mollusks in the class Gastropoda that have a soft body and produce a great deal of slime. They enjoy moist environments. They can come in a few colors and sizes but are typically brown.

Whiteflies

Whiteflies appear exactly as they sound. With four, white wings, these tiny insects measure to be about 1/16 inch in length. They are very hard to spot individually, but when brushing up against a plant, you may notice them swarm together in a "cloud" above the plant. Whiteflies suck the juices from the underside of leaves which can cause damage to your plant over time. They also produce honeydew which can attract other pests to your plant.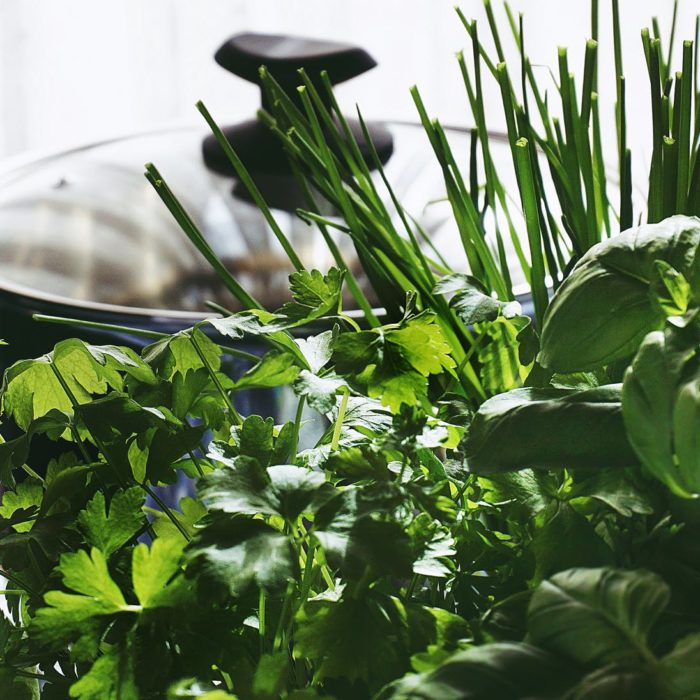 Companion Plants to a Basil
Not only do the following plants grow well when planted near basil, but they also work well with the plant when cooking. Here are some plants that can be companion plants:
Tomatoes Overview
Tomatoes are fairly easy to grow and are a very popular addition to many dishes. There are many varieties that come in a range of sizes and tastes and will have a different harvesting schedule to each other. The two main types of tomatoes are "determinate tomatoes" and "indeterminate tomatoes." Determinate tomatoes tend to grow to a 2 or 3-foot tall bush. Many canning tomatoes are determinate. Indeterminate tomatoes are "vining" plants that often need to be staked in order to stay upright. Many cherry tomato varieties are indeterminate.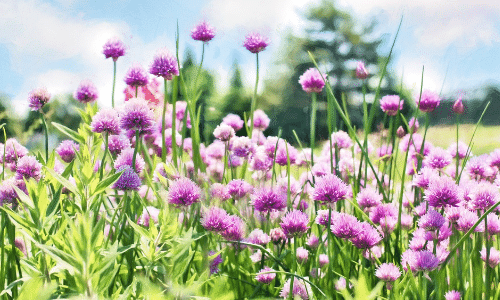 Chives Overview
From the same family as onions and leeks, chives are an easy plant to grow to harvest for your kitchen. They are cold-tolerant perennials that do well growing in the spring, allowing you to have a tasty treat in early summer. Growing from bulbs planted underground, the plant produces green, tubular leaves. The plant will also produce spherical clusters of blooms that are also edible. Chives are also known to be a pest deterrent and will chase away many insects such as mosquitoes.
Asparagus Overview
A perennial, asparagus is a plant that will produce stout stalks that can grow to between 40 and 60 inches tall (though most asparagus for culinary use will not reach that size). When eating the plant, you will notice that it has a woody and fibrous texture. The plant has feathery foliage that seems to make a spear shape at the top of each stem. Once your asparagus reaches the point where it can be harvested, it will happily grow for many years, allowing you to take advantage of this delicious vegetable year after year.
Plants that are Similar to Basil
There are several herbs that pair well with and that grow in a similar environment. Here are a few of our favorite herbs: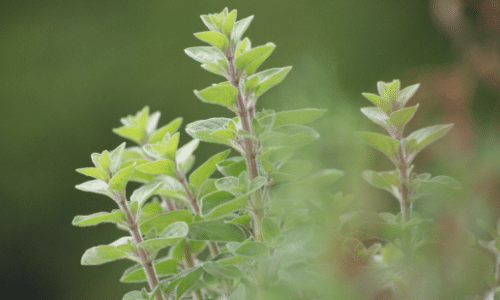 Oregano Overview
Oregano is a hardy, perennial herb Today, there are over 100 different species of oregano worldwide that plants similar characteristics including attractive foliage, aromatic leaves, and beautiful rose-purple or white blooms. Oregano prefers full sun and well-drained soil. It will tolerate drought conditions provided its roots remain moist. Like other members of the Lamiaceae family, oregano thrives in hot weather. Oregano is often used in many tomato-centric recipes and is the main ingredient in both pizza and pasta sauce.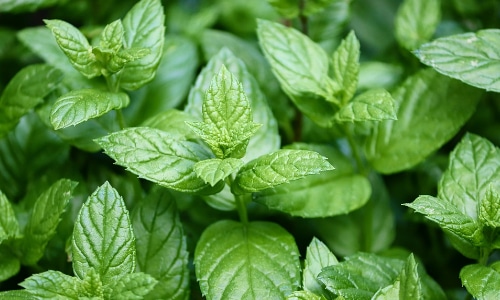 Peppermint Overview
Peppermint is a very easy herb to grow. With proper care, the plant can grow to about 3 feet high, producing serrated edged leaves that are often harvested for culinary purposes. Whether used as a tea, a part of a salad, or added to baked goods, peppermint is one of the most popular flavors that come from an herb. When harvesting, it is est to remove the leaves in the morning before the sun reduces the oil content.
Cilantro Overview
Also known as coriander, Cilantro is a popular herb that known for its strong flavor and is often used in Mexican cooking. It is easy to grow, but shouldn't be transplanted too often. It is said to have come from the Mediterranean region. The cilantro plant is an annual plant. It grows up to 18 to 24 inches high. This green leafy plant has square-shaped stems with small narrow leaves. Its flowers are white in color and are clustered in little umbrella-shaped structures at the end of its branches. It can usually be grown in backyard gardens.
Tarragon Overview
Tarragon is another delicious culinary herb, It has long, slender stems and needle-like leaves (which are what is used for flavor). The plant is a perennial herb native to the Mediterranean. It has a somewhat sweet, spicy flavor that is often compared to anise. It is especially good with chicken, fish, eggs, potatoes, and cream-based sauces. The leaves are small, bright green, and narrow to a point. The leaves grow in opposite pairs along the stem. The flowers are yellow-green and tiny.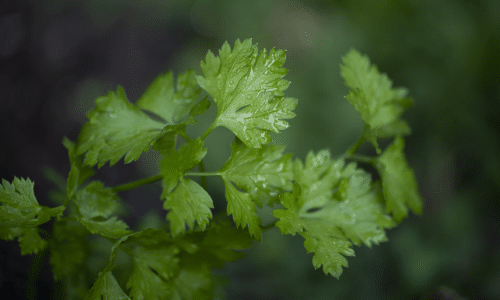 Parsley Overview
Parsley (Petroselinum crispum) is an herbaceous biennial plant in the celery family Apiaceae. It is native to the Mediterranean region, but has become naturalized in many places and is cultivated for its edible leaves. It is also used as a decorative garnish. The plant is widely used in European, Middle Eastern, and American cooking, and, used as traditional herbal medicine. Parsley can grow up to 2 to 3 feet tall. It bears small clusters of white or pink flowers and pointed leaves. The plant produces delicious leaves the first year and seeds in its second.
Frequently Asked Questions
How Large Will a Basil Grow?

Basil plants will typically grow to a height between 1 to 2 feet (12 to 24 inches) tall. Depending on the variety of plants, you should plant them between 8 and 16 inches apart.

Is a Basil Toxic or Bad for Pets?

Basil is a popular herb that is regularly ingested by humans without issue. It is also non-toxic and is shouldn't affect your dogs or cats.

What Kind of Container Do You Need for Your Basil?

While you typically don't have to be too picky about the container you use for your basil, you should make sure that there is plenty of room for the basil to have air circulate around it. You should also use a self-watering or a well-draining pot.

Is Basil an Invasive Species?

Basil is not classified as an invasive species and will not take over your yard, though other herbs may try to!

How Does Basil Spread?

Basil can be spread through propagating cuttings or by planting seeds. It can take a few weeks for cuttings to take root.