This post will go over what is typically in a substrate mix as well as cover various ingredients you may want to add to your own soil.
What is Typically in a Substrate Mix
When setting up a substrate mix, it is important to remember that you need to meet the key ingredients needed to support the plants in your terrarium. Your mix will need to include enough substance to support the plant and retain water to continually hydrate it without overwhelming it.
Here are the basic elements that will build the basic structure of your mix:
Soil base

The base soil should account for about 50% of your total mix. It is what will support the plant in the terrarium, keeping it upright and it should help absorb water enough to retain it for a few days.

Moisture retention

If you have plants that require extra moisture or don't like the soil to completely dry out between waterings, you may need to add another material to help absorb and retain the water. The percentage of what is added will depend on the plants in question.

Aeration and structure

While water is important to plants, it is rarely okay to have your houseplants sitting in water. Make sure to add materials that will allow your soil to drain properly as well as supply air to the roots and soil. The percentage of what is added will depend on the plants in question.

Compost

Again, this will depend on the plant in question, but adding compost to a potting mix will often help your plants thrive in the early days of them being in your terrarium.
Best Soils and Substrate Bases
To create a good base for your terrarium soil, you should never go outside and dig up your garden (more on that later). Instead, consider using one of the following: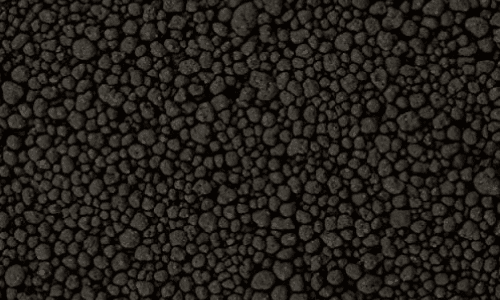 Aquarium Soil
Aquarium soil has more uses than just for fish tanks. In fact, many people prefer to use this soil for their terrariums. As "regular soil" that has been baked, it offers a lot of drainage to your mix and won't break down for several years. Due to its natural properties, it comes with many nutrients and minerals that will encourage growth in your plants. You should note, however, that they can be difficult to initially set your plants into.
Coir
Made from coconut husks, this fibrous material can be purchased in blocks to broken up into chips or powder. Each variation will come with its pros and cons (larger chunks will allow for better drainage while powder will aerate your soil better). It is a stable element and many indoor gardeners use it when building a terrarium. That being said, unlike other substrates on this list, coir doesn't have any nutritional value to add to the soil's makeup.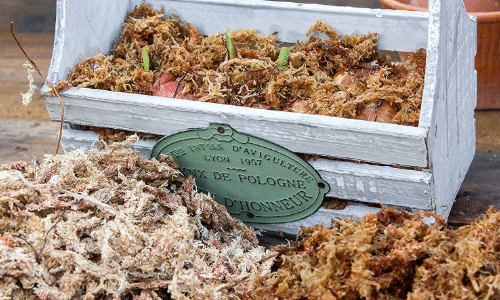 Sphagnum Moss
When choosing a sphagnum moss, look for a preserved variety as it is better for substrates (though the live form will also work). It comes in a fluffy texture that is good for both water retention and aerating the soil. Additionally, it contains acidic properties that won't hurt the plants but will reduce bacterial growth in the soil. While many ingredients are good for some terrariums, but not others, sphagnum moss can be used as a part of any mix.
Best Pre-Mixed Substrates
If you don't have the time to mix your own substrate, you can often get away with using a pre-mix or a kit. The following are three mixes that have served many terrarium owners well when growing their plants:
Josh's Frogs ABG Mix

The Josh's Frogs ABG mix is suitable for both terrariums and vivariums (a terrarium suitable for pets, such as frogs) that support tropical plants. It is based on a substrate recipe from the Atlanta Botanical Gardens and is designed to break down slowly over time. The mix contains peat moss, tree fern fiber, coco fiber, orchid bark, and charcoal.

Soil Sunrise Terrarium Mix

Great for ferns and African violets, the Soil Sunrise Terrarium mix contains a ratio of the following ingredients: coco coir, peat, pumice, and horticulture charcoal. The mix will keep some moisture retention while allowing water to drain. The charcoal will keep foul odors at bay.

Spring & Stone Terrarium Mix

The Sprig & Stone Terrarium Mix combines vermiculite, peat, coir, and charcoal to allow you to grow a fantastic miniature world in either an open or closed glass container. This mix does well for succulents, orchids, and many carnivorous plants.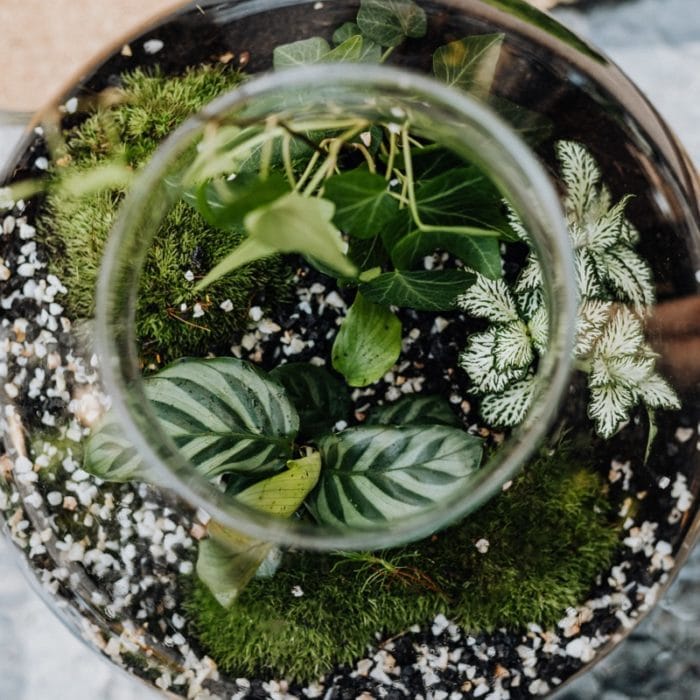 Best Supplements for Terrarium Soils
After you have decided on how to build your base soil, you will need to find supplemental ingredients to help finalize the structure and nurture your plants as they should. Here are few supplements you can consider for your own terrarium: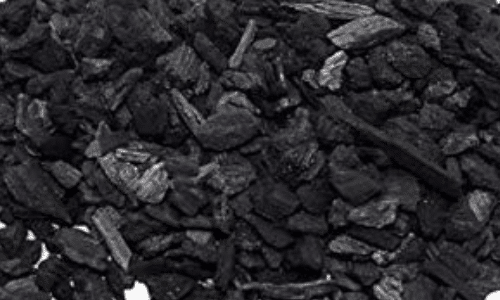 Charcoal
Charcoal is often added to terrariums to help absorbed contaminants in the soil, though it is debated on how effective it is overall. It also provides important nutrients your plants need and will retain moisture. Using 100% hardwood charcoal ensures that there are no added chemicals that can hurt your plants or the ecosystem of your terrarium. Cut or broken down to size will also allow you to mix it in with your base soil easier.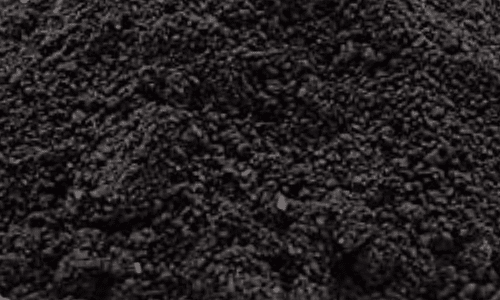 Earthworm Castings
Bring on the worm poop! Earthworm castings are all-natural compost that is created through the digestive system of worms. Not only does this fertilizer contain many nutrients that will benefit your new terrarium, but it will also help your soils drain while retaining moisture for your plants until the next watering. While other fertilizers or composts may cause issues for your plants, there are virtually no side effects to this natural substance.
Orchid Bark
If you want to go with a natural look or want to stick with sustainable materials, you can use orchid bark. While it won't help retain water, it will help aerate your soil, ensuring that your roots get the air they need. They will also provide structure to a soil that is mostly granular and loose. You will need to look for a size small enough that it will easily mix in with the other soils and supplements.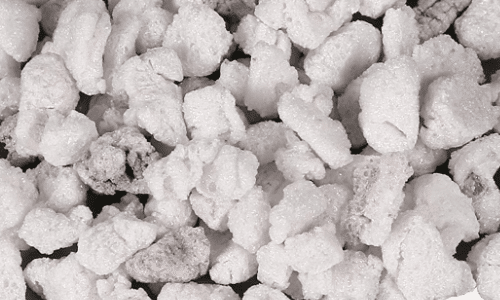 Perlite
Perlite is a naturally occurring substance that is created when siliceous rock heats to 1600° F. These small, porous rocks will not absorb water internally, allowing the water to drain, but will maintain enough moisture to continually keep the plant watered over time. As it is essentially volcanic glass, it is very durable and will not degrade over time. You also carry no risk of it rotting, making the small terrarium space uninhabitable by plants.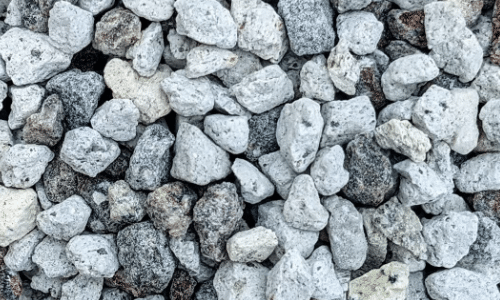 Pumice
Known for being perfect for bonsai, succulents, and cacti, Pumice is a volcanic glass that looks like fine gravel. The porous outer layer of each stone keeps the air moving through your mixture while also retaining water to feed your plant throughout the week. Another bonus for those who are worried about aesthetics is that it blends in well with many soil bases and other supplements.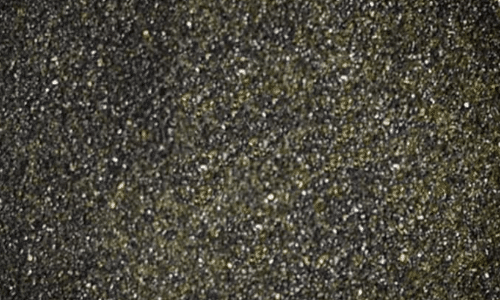 Sand
If you intend to install plants that need a lot of drainage in your terrarium, you may want to look into getting sand. Before you go down to the beach with a shovel and a bucket, you will want to remember that outside native soil isn't always clean or treated in a way where it will be beneficial to your glassed garden. Choosing coarser sand will allow for better drainage overall as well as better aeration.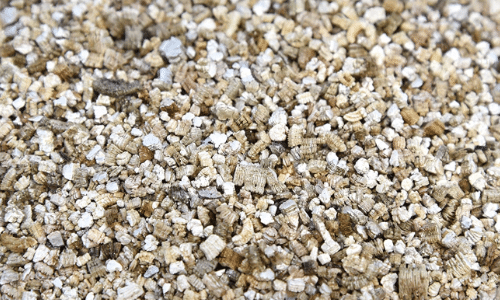 Vermiculite
If you have plants that require a lot of moisture, you may want to add vermiculite to your terrarium soil mix. It retains water better than any of the other additives on this list and is perfect for those who want to create miniature tropical worlds behind glass. It is actually a mineral, aluminum-iron magnesium silicate) which means it is nutritious for your plants as well. It comes in various different sizes to allow you to choose the size best for you.
Avoid These Terrarium Soils (if Possible)
While you can sometimes get away with using the following mixes if nothing else is available, your plants will typically not thrive as well as they would when planted in the above mixes. Here are a few things you should avoid:
Outside Soil

Most of the time, it isn't a good idea to take ground soil and transfer it to a terrarium (or even houseplants for that matter). The dirt will typically not have the right ratios, might be too compacted, and could contain unwanted pests or diseases. That being said, if you have planted the same (or similar) plants outside to what you want in your terrarium, you may be able to use that soil without issues.

Potting Soil/Mix

To ensure that the plant in your terrarium thrives, you will typically need to add a little more than just regular potting soil to your terrarium. Potting soil is designed for houseplants or garden plants that will have better drainage than what you will normally receive in a compacted space. Over time, it will become compacted, not allowing proper draining or aeration to your plants.

Random Mixes

Even with the right ingredients, it is important to ensure that you are using the correct ratios for the plants in question. Not enough of a base or too much of any single substrate could alter the soil into something that could damage or kill the plant over time.