There are a few reasons why Venus flytraps may turn black and die. The Venus flytrap plant isn't always the easiest to care for, and you should check it frequently for common issues like root rot or too many insects. That being said, turning black is also a completely natural process that even a healthy plant will endure.
This post will help you determine why your Venus flytrap plants may be turning black and what you can do to keep your favorite carnivorous plants healthy.
What to Do if Your Venus Flytrap is Black?
There are a couple of basic rules to keep in mind if your desire is a healthy Venus Flytrap. First, humidity is key to caring for your Venus Flytrap. These plants are happiest in a warm, humid climate. Second, water is very important to Venus Flytraps. Make sure, when not dormant, that these plants have wet, but not waterlogged, soil. Finally, remember that Venus Flytraps must have a dormant period each year. In their native northern hemisphere, these plants are dormant from late November to mid-February. 
What if you think you've followed all these rules, but your Venus Flytrap is turning black? What has happened? Well, there are a number of things that could be contributing factors. Let's take a look.
Captured Something Too Large

Sometimes an insect that is a little too large for your Venus flytrap plant may find its way into a trap. When the Venus flytrap closes to enjoy the delicious meal, it won't be able to completely seal in the bug, being the cause of your Venus flytrap turning black.

Each individual trap (hinged leaf) on the plant has a lifespan of about 3 months. During its lifetime, the trap will catch 1-4 insects. If the trap catches a creature so large that it cannot close properly, due to protruding legs or wings, the VFT will not be able to process the nutrients of the dead insect properly, and it will starve, causing the trap to turn black. This is a natural process and there is no way to reverse it. These black traps can be gently removed so that new traps can grow in their place.

Repotted or Moved

Have you repotted your Venus flytrap recently? If you did, it could be that the soil used in the new pot is too nutrient-rich. This plant wants/needs nutrient-free soil to thrive. If you used even regular potting soil, it could be overfeeding the Venus flytrap plant to the point of killing it.

If it hasn't been repotted lately, but you have moved your Venus Flytrap to a new location in your abode, pay attention to the finer points of its new space. Is it close to a heating vent? That could curtail natural humidity and dry the plant out. Does it spend less time in the sun? It may be getting too cold. Is it in a location that receives the full blast of afternoon sun without consistent water? The Venus Flytrap could need a less extreme climate.

Too Much Food

It could be that your Venus Flytrap is stuck in a veritable all-you-can-eat buffet with no way out. There may be so many insects at the moment that the plant is overrun with nutrients and is actually eating itself to death. Make attempts to limit the number of bugs being consumed by the plant through the use of a net and observe whether that seems to slow or end the black leaves on your plant.   

Dormancy

As mentioned above, Venus Flytraps have growing seasons each year, as well as a time of dormancy. This is completely normal and healthy. When entering dormancy when cold weather arrives, the plants will die back causing the foliage to turn black and shrivel. Their dormant period typically parallels times of extended cold and limited sunlight (winter) in their surrounding climate.

Improper Care

If your Venus Flytrap is not getting the humidity, warmth, water, and nutrition it needs, the plant is probably in the process of dying. Make the changes outlined earlier and see if the plant slowly recovers. Remember, humid climate, wet (not waterlogged) soil, warm temperatures, no fertilizer, and a reasonable number of small insects…with these things your Venus Flytrap will be complete. You should also ensure that you used distilled water to keep it properly hydrated (and ensure there are drainage holes in the clay pots where it's settled).

When one of your plants has several black traps, it is likely that you aren't properly caring for it (whereas a single trap turning black could be a sign that it is perfectly normal). If all the traps are struggling, you will want to make changes to how it is cared for immediately or it is likely that your plant will eventually die.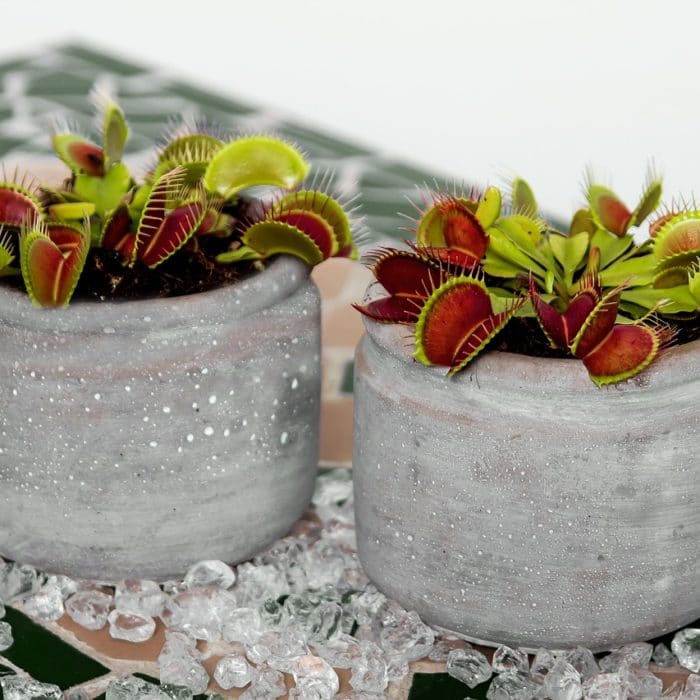 How to Trim Dying or Dead Leaves
Remember, all the foliage of your Venus Flytrap will turn black and die eventually. It is normal and healthy. You really have two choices regarding what to do with those dead/dying leaves:
Ignore them

You can ignore them, letting them eventually decay to become part of the plant's soil. These dead leaves shouldn't affect your trap plants. In fact, most carnivorous plants can benefit from a few nutrients from their own fallen leaves.

Trim foliage

You can trim the black/brown foliage with a sharp pair of scissors at the base of the plant, right at the soil line. If you do this, you can leave them in the pot to decay and join the soil, or you can throw the clippings away. This will make way for new growth.

One rule: be sure to only cut completely black and dead leaves. If you have any uncertainty, wait to trim the leaf until you are sure.
Frequently Asked Questions
Should You Feed My Venus Flytrap Hamburger?

Definitely NOT! Hamburger does not contain any of the nutrients your Venus Flytrap needs. That's why your plant eats insects – they do contain the needed nutrition. Death will likely result from any other diet.

How Many Times Will a Trap Eat a Bug?

A trap's average lifespan is about three months. During that time, a trap will typically consume between 1 and 4 insects.

How Often Should YOu Water a Venus Flytrap?

During its growing season, your Venus Flytrap should be watered regularly, from the bottom of the plant, with distilled water or rainwater. The soil should be wet, but not waterlogged. During dormancy, the soil should remain damp, following the same watering rules outlined for the growing season.