Although the nerve doesn't grow too large, it is a great conversation piece to have in your home. As they love humidity, you can choose to store it in a decorative terrarium to showcase it further.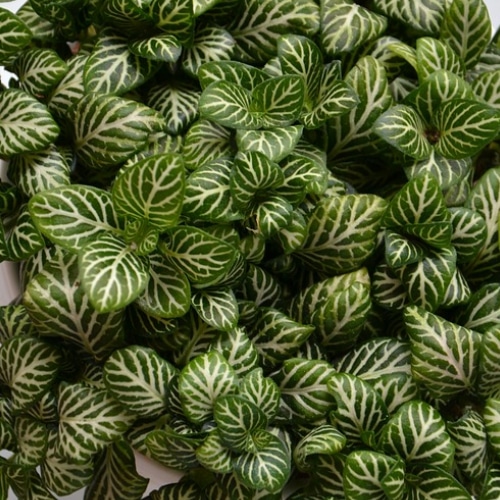 | Class | Info |
| --- | --- |
| Common Name | Nerve Plant, Mosaic Plant |
| Scientific Name: | Fittonia |
| Family | Acanthaceae |
| Plant Type | Leafy |
| Origin | Peru |
| Habitat | The Fittonia's natural habitat is the rain forest. |
Plant Description

The Nerve Plant is a tropical perennial houseplant with green leaves and colorful veins. It's great for cleansing the air from harmful toxins that can cloud your breathing.

Leaves

Leaves are a patterned deep green with vein colors of silvery-white, pink, red, green, and white.

Roots

The nerve plant has shallow roots and does well in small pots and/or terrariums.
Flowers

The nerve plant produces reddish to white flowers on spikes that tend to blend in with the rest of the plant. They are insignificant.

Rate of Growth

Roots sprout within two to three weeks and can grow up to 6 inches tall and spread out up to 18 inches wide.

Temperament

Nerve plants can be difficult to care for and does well in terrarium or bottle environments to help keep them moist.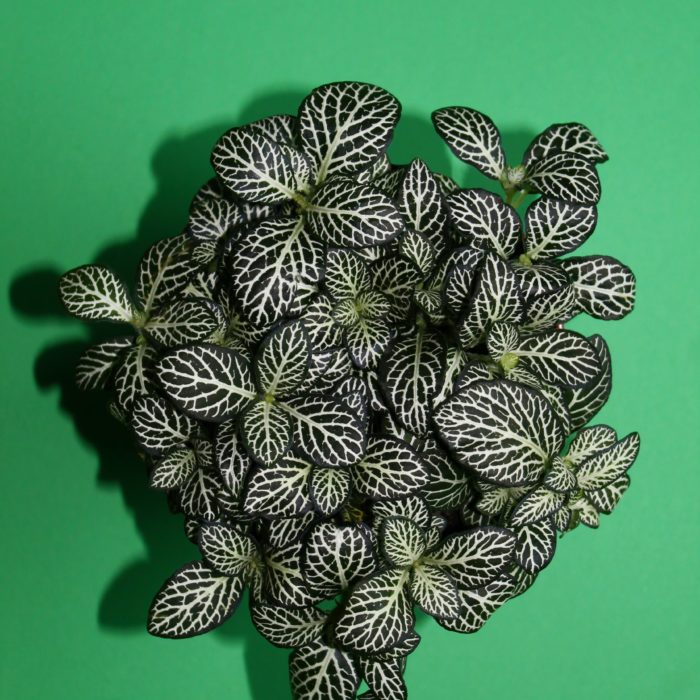 As a plant that does well in terrariums, there are dozens of mosaic plant varieties that are available in a host of styles and colors. Here are a few popular cultivars:
White Anne

The White Anne has more white in the leaves than green, while still maintaining the full look of the mosaic plant.

Ruby Red

Ruby Red fittonias have red variegation instead of white, creating a look that is almost Christmassy.

Pink Angel

Like the Ruby Red, the Pink Angel replaces the white variegation with the color pink, creating a unique look.

Josan

If you want a red plant, check out the Josan which contains very little green in its large, red leaves.

Angel Snow

These rich green leaves are small with white veins and white splotches on the edges.

Frankie

The Frankie has delicate pink leaves with green edges and some green foliage throughout the plant.
Lighting for Your Mosaic Plant

Your nerve plant will need filtered, indirect light to prosper. It is a perfect plant for north-facing windows (if you live in the southern hemisphere, place them in your south-facing windows). Don't give it full sun. In its natural environment, it thrived in the shade. It will do the same in your home.

If your plant gets too much sun, the leaves will begin to scorch. Move it away from the light source as soon as you can. Without enough light, your plant will begin to lose the whites and yellows of its veins. Try to move it into an area with more light. You can use indoor fluorescent lights to help give it the light it needs.

How to Water Your Fittonia

Moderately water your fittonia and allow it to dry a bit between your waterings (but not completely). If you allow the soil to go too dry, your nerve plant could begin to suffer. You should also ensure that there is no sitting water in your pot, as that could turn your leaves yellow and cause them to limp. If this happens, cut back on your watering. You may also need to re-pot the plant so that you can remove any damaged roots (from root rot).

For the best results, use water that has been stored at room temperature and aim to keep the soil moist without waterlogging it. Pour out any excess water or ensure that0 your container has a good draining system. You could also use a self-watering pot for this plant.

How to Fertilize Your Nerve Plant

You can use either a water-soluble (make sure to dilute it properly) or a granular fertilizer for your fittonia. Look for a 5-5-5 NPK fertilizer. During the summer (its growing season), try to apply the fertilizer once per week between waterings.

Do not over-fertilize your plant as it could burn the foliage or kill it. It is always better to under-fertilize than to over-fertilize. Fertilize less often during other spring and fall (once or twice throughout the season). Don't fertilize the plant in winter.

If you are using a granular fertilizer, make sure to fertilize even less frequently as it will break down over time.

What Soil to Use for Your Fittonia

A fittonia needs to have a high in organic content, well-drained soil in order to grow and flourish. If the soil you use is prone to waterlog, mix sand, bark fragments, or perlite to increase drainage. If you can, start out with a peat-based mixture (such as an African violet potting mix) because they will retain some moisture, but drain well.

Humidity for Your Nerve Plant

The fittonia hails from the rainforests of South America and loves to be kept in a humid environment. Try to keep the area around your nerve plant at 50% humidity or higher. Mist it frequently or put it on a plate with pebbles and water (so that the evaporation can create a humid environment).

Terrariums and bottle gardens are other great ways to create the humidity that will help your fittonia thrive. You can also try using a humidifier in its general region.

If you don't have enough humidity around, your nerve plant will begin to display signs of stress. The leaves will begin to wilt and will dry out completely. Though you may be able to revive several times as you notice the distress, repeatedly forgetting about it could eventually cause too much stress for your plant.

Temperature for Your Fittonia

In its natural environment, Fittonia was kept near the rainforest floor. In this shady environment, it was protected from the heat. The nerve plant likes to be kept in temperatures between 60-80°F (16-26°C). If your home is too cool, your plant may begin to drop its leaves. Be sure to not put your plant too near a heating vent, however, as the dry air from the heat will affect the humidity your plant needs.
Common Problems with Nerve Plants
As with all plants, there are a few potential problems that can plague your Fittonia. Here is what you should watch out for:
Why Does Your Nerve Plant Have Yellowing Leaves?

If your fittonia has yellowing or discolored leaves, you are likely overwatering your plant. Reduce the water immediately or ensure that it is draining properly. While the soil needs to be moist, nerve plants should not sit in water. They are actually very good plants to use with self-watering pots.

Why are the leaves of your Fittonia Dry?

If your mosaic plant's leaves are dry, they likely don't have enough humidity or have been exposed to too much direct sun.

Why is your Mosaic Plant Losing Leaves?

Fittonia will often lose leaves if they are in a draft or they get too cold. In order to reverse it or slow down the condition, you will need to move the plant to a warmer place in your home.

Does Your Fittonia Have Root Rot?

As they are very finicky plants that need to be watered "just so," root rot is a very common problem with nerve plants. You will need to remove the damaged roots and repot your plant in clean soil.

Which insects might affect your nerve plant?

Fittonia can be affected by many different insects (aphids, mealybugs, thrips, spider mites, fungus gnats, etc). If you notice signs of insect activity, treat it according to the pest.

Aphids

Aphids are generally found in groups or colonies on the undersides of new growth on a plant. While they will vary a bit in color (or whether or not they have wings), aphids are generally pear-shaped with little cornicles sticking out of the back of their abdomens. These soft-bodied insects seek out the sap of plants and will inject saliva into the foliage during the process which may alter the overall look of your plant.

Fungus Gnats

Fungus gnats are tiny grey and black flies that measure to be about 1/8 inch long. They have long, slender legs and antennae and are often confused for mosquitoes at first glance. They also have transparent to grey wings that join in a Y-shaped vein. Their larvae are very small and appear to be translucent worms in the soil.

Mealybugs

With a length of only 1/8 inch, mealybugs are white, soft-bodied insects that enjoy feeding on the photosynthates (plant juices) of your houseplants. As their bodies have a powdery-white substance on their bodies, they are often described as "looking like snow" when you have a larger infestation on your leaves. They will coat the leaves with a sticky substance that is covered by greyish-white bumps that resemble mold. While it does take some work, you can remove mealybugs so long as the issue hasn't become too overwhelming for the plant at the time of treatment.

Spider Mites

Spider mites are tiny black arachnids (not typically seen by humans) that like warm environments. They have oval bodies and eight legs and are generally white, red, or brown (though they are difficult to see with the naked eye). Spider mites can easily travel on the wind through a window screen. If you have them, you'll see fine webbing similar to spider silk underneath the leaves. Leaves will sometimes become spotted or change color. Spray them off with water, a homemade miticide, or use Neem oil to remove them. 

Thrips

Thrips come in various colors from black to yellowish. They are very thin (about the same width as a sewing needle) and have fringed winges. These tiny insects are typically most active in the spring and are attracted to various houseplants and garden vegetables. They will feed by sucking the sap of your plants. They spread very quickly through laying their larvae, so it is important to take action as soon as you realize you have an infestation.
How to Propagate Mosaic Plants
If you have mastered how to keep your fittonia alive, you are likely able to propagate it easy enough. Spring is generally the best time to propagate.
After you prune your plant (or take cuttings specifically for propagation), plant the cut portion of the cuttings into a peat-based soil. Make sure to cover 2-3 of the growing nodes (these are marks on the stems where buds from which buds would potentially grow) to give your cutting its best chance to take root (which should happen in 2-3 weeks).
While you don't usually need to use a growth hormone, you can add some to help ensure the rooting (or if your plant isn't in an ideal location). Follow the same watering instructions you would for your main fittonia and place it in a similar environment.
How to Prune Your Mosaic Plant
Unless you are one of the few people who love the look of the fittonia flower, pinch back any buds to allow the plant to docus growing its beautiful foliage. If you manage to find the perfect conditions for your plant, it will grow quickly and may shoot off long stems in various directions. If the plant becomes too leggy, pinch off the ends to encourage a bushier plant.
Companion Plants to Fittonia
There are several plants that work well as companion plants the fittonia. These will include the following: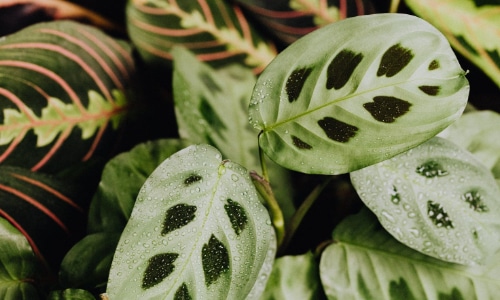 Calathea Overview
Also known as the "prayer plant" or the "living plant," the calathea plant is well-loved for the way it closes its leaves at night due to a small joint between the stem and the leaf. The leaves can grow to be several inches long and come in several different variegated patterns. The calathea can also purify the air, helping to purify the air of several pollutants. The plant will also continually grow new leaves, keeping it looking fresh and new.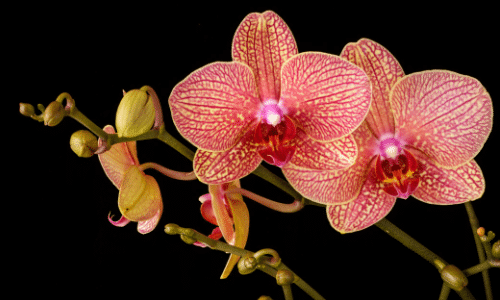 Orchid Overview
Orchids are not only delicate, but they are wild and exotic. With so many varieties, people can find a species that they especially love and want to showcase in their homes. The plant has simple leaves that have parallel veins that will vary in size. Stems will bloom several flowers that will vary in size and color depending on the plant. The flowers have two whorls. The outer whorl has three sepals and the inner whorl has three petals that look similar to the sepals. They do need a little extra care in order to thrive in your home.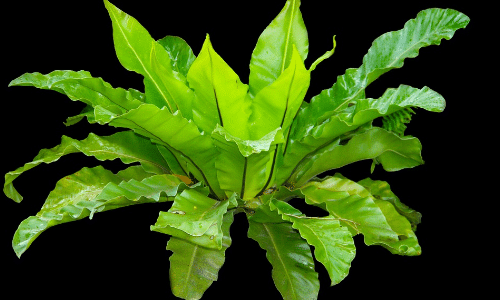 Bird's Nest Fern Overview
One of the key things that make the Bird's Nest Fern interesting is that they are epiphytic, which means they can grow on the surface of other nearby plants. The slow-growing plants can grow to between 3 and 5 feet tall as well as 2 to 3 feet wide. All of the leaves grow from a central rosette that sits in the ground. The plants love humidity, moisture, and warmth and will grow a little faster and taller when kept in those conditions. The plants are native to Africa, Asia, and Australia.
Similar Plants to the Nerve Plant
There are a few plants that are similar to the nerve plant in that they can also do well in lower-light conditions. These will include the following: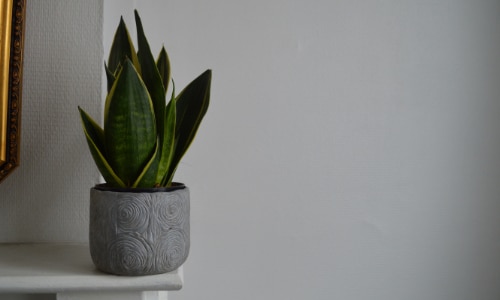 Snake Plant Overview
Also known as "Mother-in-Law's-Tongue," the Snake Plant is a popular plant that can grow up to 4 feet tall with proper care. The plant is created with sword-shaped leaves the grow directly from the base. The leaves will vary in color between light and dark green as well as a bluish green. Not only is the Snake Plant a hardy plant that can grow in a variety of conditions, but it is also known as a plant that will help clean the air in your home.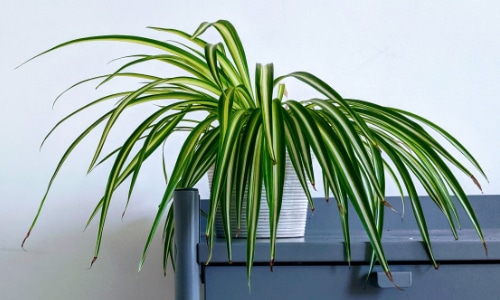 Spider Plant Overview
Known for its ability to clean the air in your home, the spider plant is a plant that grows long, variegated stems. Colors range from green to cream to white depending on the variety. The plant also produces smaller versions of itself on long stems that can be easily propagated in a new pot. Many homeowners will place them on a higher shelf to allow the leaves and stems to drape down, but they also look great in a hanging pot.
Corn Plant Overview
Corn Plants are easy to care for and do well in both indirect light and shade. They are both simple and elegant, adding a bit of decor to any room of your home. The plant is named due to the foliage that resembles that of growing corn. The bright leaves are often variegated and can bring a fresh, tropical look to your home. While they can grow in lower light conditions, they will grow more slowly. If you can periodically move them closer to the windows during the growing season, you will be able to enjoy a larger plant.
Frequently Asked Questions
What Type of Container Should YOu Have for Your Nerve Plant?

Your fittonia has a shallow root system, so it can be kept in a compact pot. Make sure that there are drainage holes in your pot. I recommend placing a tray with pebbles underneath it. Not only will this catch the water after it drains, but the pebbles will also slow the evaporation process while creating a humid environment for the plant.

You can also use a self-watering container for your Fittonia, as it will help keep the soil moist, but won't let the plant sit in water. Be sure to watch for stress signs for a few weeks if you opt for this option.

Repot every other year to refresh the potting soil and ensure that your root system has a little extra space as it grows. The ideal time to repot the plant is in spring or early summer.