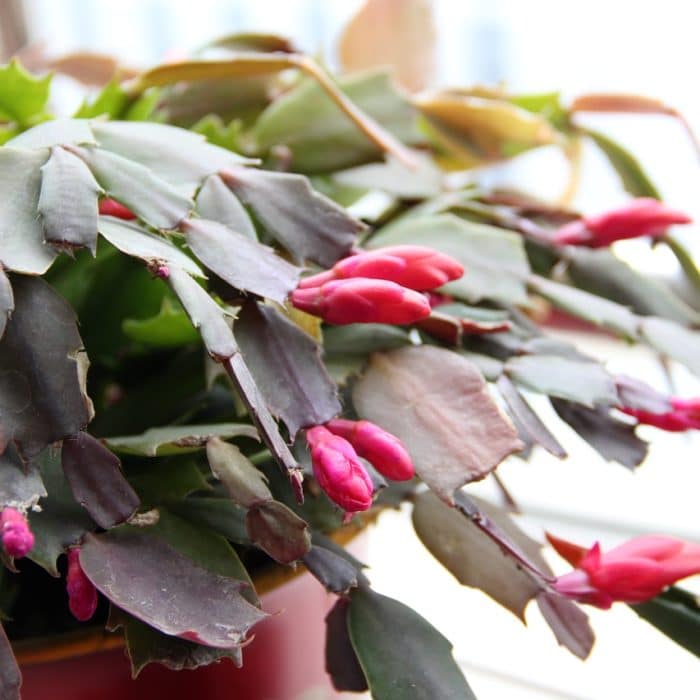 Tips to Make Your Christmas Cactus Bloom
Step 1: Reduce Watering in October

In mid-October to early November, cut back on your watering. Don't stop watering it altogether, just water it enough to let the soil stay slightly moist. Don't re-water until the top inch (2.5 cm) of the soil has dried out. This will help your plant enter its period of dormancy, which is necessary in order for it to bloom.

Step 2: Reduce the Amount of Light Your Christmas Cactus Receives

While you shouldn't put your Christmas cactus in the closet (it will still need some indirect light during the day), put your Christmas cactus somewhere where it will receive 12-14 hours of darkness on a daily basis. Additionally, keep the area an average of 50-55°F (10-13°C).

By completing step one and step two, you will begin the 6-8 week process of dormancy, which will enable the bud formation of your Christmas cactus.

Step 3: Bring Your Christmas Cactus Back Out into the Light

Your Christmas cactus will need both the darkness and the coolness in order to produce its buds. After the buds have appeared, they will bloom within the next 4-12 weeks. When they begin to bloom, place your Christmas cactus back where you generally keep it (a draft-free area with plenty of indirect sun).

Bringing it back into the light will encourage further blooming. You may begin to water it normally again, but pay attention to not overwater. You should also make sure that the soil doesn't become too dry while the buds are still forming.

Note: Please be sure that the location of your succulent is draft-free as buds may fall off in a draft. That being said, don't worry if a few buds fall off. It is natural for them to lose a few each year.

Step 4: Repeat Every Year

In fact, now that you know how to force your Christmas cactus to bloom, you can repeat the process a few times per year to enjoy the flowers more often. You may want to adjust which time in fall you nudge your cactus into dormancy for it to bloom at the proper time. After a year or two, you will understand your particular plant perfectly. Regardless, you should be able to enjoy the flowering plant at one point or another every year.
There are many Christmas Cactus Colors available, though if you want a specific color, you will need to seek out the right variety. Here are a few you can look out for:
Red

Red is a very popular color of Christmas cactus as red and green are the traditional holiday colors. If you are looking for a red variety, check out the following:

Kris Kringle – An early bloomer with red flowers
Dark Marie – While the buds are purple, when they bloom, you'll be blessed with red and white flowers.

Orange

Many orange varieties of the holiday cactus family will bloom in late autumn, the perfect time to showcase the color. Here are three of the nicest varieties:

Madslome – When bloomed, this variety is a dark orange color with a creamy white center.
Xmas Fantsy – Has a peach color with a purple hue throughout.
Peach Parfait – This plant has blooms that are both peach and orange on the plant. They have purple stamens.

Yellow

If you are looking for a pretty yellow variety, check out the "Gold Charm" which will bloom large gold flowers. This plant will also grow quite quickly.

Pink

When looking for a Christmas cactus with pink flowers, check out the following varieties:

Thor Rit – This variety blooms bright pink flowers does best in hanging baskets as the stems trail.
Thor Tina – Similar to Thor Rit, but with softer colored blossoms.

Purple

For a purple-flowered Christmas cactus, check out one of the following varieties:

Dark Eva – This variety will start out as dark purple buds, but will bloom in white flowers with a violet-colored tip.
Nicole – The blooms on this variety are soft purple with a creamy center.

White

If you want to remember the snow at Christmas-time, you may enjoy Christmas cactus varieties with white flowers, much like the following:

White Christmas – Produces very small white flowers that are a bit creamy.
Thor Britt – Not only does this variety have white flowers, but each has a bit of pink in the center as well as pink stamens.