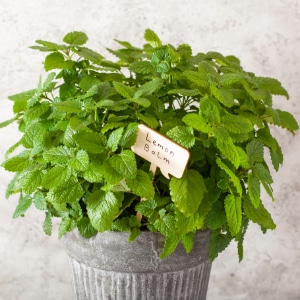 | Class | Info |
| --- | --- |
| Common Name | Lemon Balm |
| Scientific Name: | Melissa officinalis |
| Family | Mints |
| Plant Type | Perennial |
| Origin | North Africa and the Middle East |
Plant Description

The lemon balm is a perennial that will grow to be a bit busy. They tend to stay between 10 and 24 inches tall at the most.

Leaves

Leaves are light green and shaped like an arrow. They will be course to the touch.

Flowers

The flowers are typically white with a yellow or pinkish tinge to them.

Temperament

Lemon balm is a hardy perennial that is easy to grow.
Roots

The roots grow extensively enough that they can be separated for propagation.

Seeds

The tiny seeds form in the lemon balm flowers and, if not contained, will easily take root and spread through your garden.

Rate of Growth

Lemon growth will grow very quickly, especially when it is grown outdoors. The seeds of the plants will also germinate faster than many other plants.
Here is a list of popular lemon balm varieties:
Quedlinburger

If you are growing lemon balm to create your own essential oils, consider this variety. It has a higher concentration of the valuable substance than other varieties.

Aurea

The Aurea variety is a beautiful plant made up of dark green leaves with yellow variegation in the spring, though it will fade by summer. The scent of this plant is long-lasting.

Citronella

One of the smaller lemon balm varieties, this plant will attract good insects (such as bees) to your garden. Like its namesake, many people claim that this plant will keep mosquitoes away.

Lime

What is lemon without lime? Apparently, there is a lemon balm variety names after the other citrus flavor. That is because this variety has a scent that is closer to lime. It is drought tolerant.

Compacta

Possibly the smallest variety, the compact will grow to be about 6 inches tall and will spread to about 12 inches wide. It is perfect for the gardener that wants to experience its mild flavor but doesn't have a lot of space.

Lemonella

If you love the relaxing scent of lemon balm, you will love this variety. Many gardeners swear by its fragrance. It is also used to repel mosquitoes.
How to Care for Lemon Balm
Lemon balm is a delicate herb that is easy to care for but also easy to kill if you don't know what you're doing. If you are thinking of growing them at home, here is a complete guide to help you.
How Often You Should Water Your Lemon Balm

When you water your lemon balm, you should water it deeply, allowing all the roots to be fully saturated. That being said, make sure that your plant is in well-draining soil as it could develop root rot if it is in soggy soil. Don't water your plant again until the top of the soil has begun to dry out.

How Much Light Does a Lemon Balm Need?

The amount of sun that a lemon balm needs may depend on the variety of the plant. Most prefer shade especially in places where it gets really hot, but some will need a little sun in order to thrive.

How to Fertilize Your Lemon Balm

While you typically won't need fertilizer to feed your lemon balm, there may be times where you will notice that it could use a few extra nutrients. In these cases, you will need a water-soluble fertilizer to help your lemon balm thrive. You may also fertilize your plant in the early spring at the beginning of the growing season.

Best Soil For Your Lemon Balm

Lemon balm will do well in almost any type of soil, except clay. That being said, when choosing a soil for your lemon balm, it is a good idea to choose loose or sandy loamy soil. Make sure that there is enough organic matter that will help your plant thrive. The ideal pH for your soil is between 4.5 and 7.6.

Optimum Temperature/Humidity for Your Lemon Balm

Lemon balm is a cold-hardy perennial and while it will die back over the winter, the plant can survive to up to -20°F ( -30°C ). They cannot tolerate extreme heat and should be grown in the shade if you have very hot summers.
Common Problems with Lemon Balm
Even though the plant is easy to care for, you can encounter some problems growing lemon balm. These will include the following:
Why Does Your Lemon Balm Look Like It Has Flour On iT?

If your lemon balm looks as though it has been dusted by flour, it likely has powdery mildew. You will need to remove the infected leaves and spray the plant with a mild fungicide. You can prevent this disease by ensuring your plants are separated so that each plant can get enough air circulation.

Spider mites Affect Your Lemon Balm

The lemon balm plant is typically pest-free, but there are a few that will still plague it. One of the more common insects that may find its way onto your plants is the spider mite.

Spider Mites

Spider mites are tiny black arachnids (not typically seen by humans) that like warm environments. They have oval bodies and eight legs and are generally white, red, or brown (though they are difficult to see with the naked eye). Spider mites can easily travel on the wind through a window screen. If you have them, you'll see fine webbing similar to spider silk underneath the leaves. Leaves will sometimes become spotted or change color. Spray them off with water, a homemade miticide, or use Neem oil to remove them. 

Is Lemon Balm an Invasive Species?

Lemon balm does have a reputation for being invasive, but it spreads by seed instead of runners. This means that you can keep on top of its spread if you remove the flowers before they seed.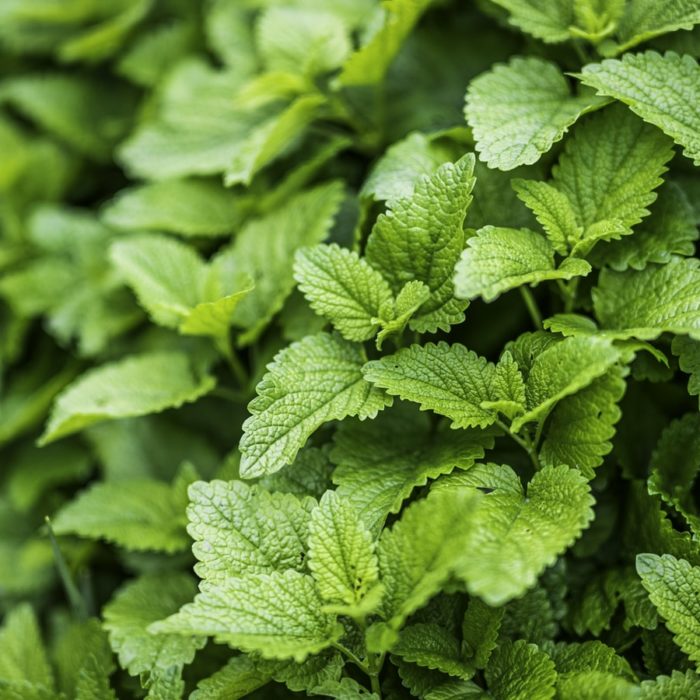 How Does Lemon Balm Reproduce?
Lemon balm can be grown from seeds or cuttings taken from the stems or roots of the plants. It can also be spread through layering or propagating lemon balm from a neighbor's plant by dividing the plant.
If you decide to grow the plant from seeds, you should sow them in early spring, cover them with a thin layer of soil. Frequently water the area to ensure that it stays moist.
You can divide a lemon balm by cutting the old stems back and sepearting the root ball into smaller pieces. Place the smaller pieces in different areas, then water them to encourage new growth.
What Container Should You Use for Lemon Balm?
Your lemon balm will grow well in a container that will allow it to spread. Choose one that is several inches high and about 18 inches wide. This way, you plant will be able to grow.
When to Prune a Lemon Balm
You will need to pinch back the stems once they begin to grow too tall for your liking. Remove flowers when they begin to wilt and cut back the entire plant when it reaches the end of the season (though it will die down to the roots at frost).
Companion Plants to Lemon Balm
A few plants that can be grown as companions to lemon balm are as follows:
Tomatoes Overview
Tomatoes are fairly easy to grow and are a very popular addition to many dishes. There are many varieties that come in a range of sizes and tastes and will have a different harvesting schedule to each other. The two main types of tomatoes are "determinate tomatoes" and "indeterminate tomatoes." Determinate tomatoes tend to grow to a 2 or 3-foot tall bush. Many canning tomatoes are determinate. Indeterminate tomatoes are "vining" plants that often need to be staked in order to stay upright. Many cherry tomato varieties are indeterminate.
Basil Overview
Known as one of the key ingredients in many Italian dishes, basil is one of the most popular herbs to grow at home. While it can be difficult to grow it indoors as it requires plenty of light, you can grow and harvest it throughout the spring and summer, harvesting it frequently. The green leaves of the plant are oval-shaped and tend to cup downward on the edges. Part of the mint family, basil can grow to between 12 to 24 inches high, but are often pinched down in order to spread out and produce more of the aromatic leaves.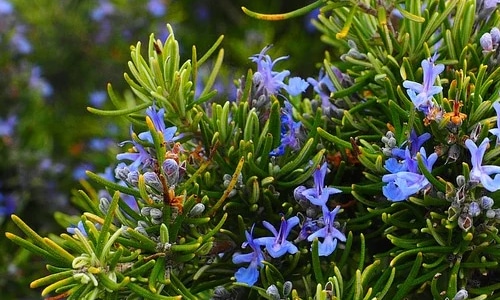 Rosemary Overview
A perennial herb, rosemary grows into a shrub that can either be continually pruned back or grow into a full, bushy shrub. Each branch produces evergreen, needle-like leaves that give the plant the pine-like scent for which it is known. While the plant is dark green at the top side, underneath, there is a dense fur-like covering of white hairs. The plant will grow light purple flowers that have an earthy smell. The plant has many medicinal benefits (such as being a source of antioxidants) and is often used in culinary dishes.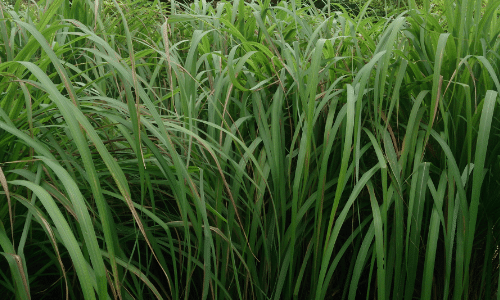 Citronella Grass Overview
Citronella grass, also known as Cymbopogon, is a tropical grass that is known for its unique smell. The perennial plant is a clump-forming grass that thrives in warm environments but can also be grown as an annual in places where it gets cooler. It will die when exposed to frost. The plant can grow to be quite tall, topping out between 60 and 72 inches. It can also grow to be about 36 to 48 inches wide. This popular plant is said to be able to repel mosquitoes and the scent is often used in commercial pest repellents.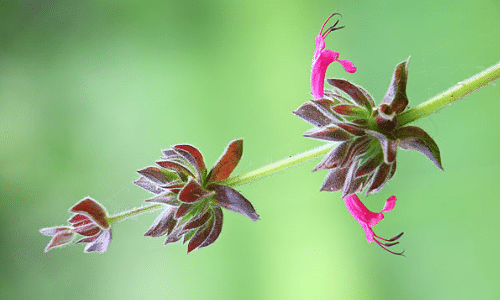 Pitcher Sage Overview
Scientifically labeled as Salvia azurea, the pitcher sage is an herb that produces blue flowers that are often used as part of potpourri alongside lavender and other fragrant flowers. The foliage is covered with fuzzy hairs and will release its scent when crushed. Pitcher sage is perfect for gardeners who want a flowering plant in a shaded portion of their garden. In the right environment, the plant can grow between 3 and 5 feet tall and about 3 and 6 feet wide. The plant can attract hummingbirds into your garden, making it ideal for bird-lovers.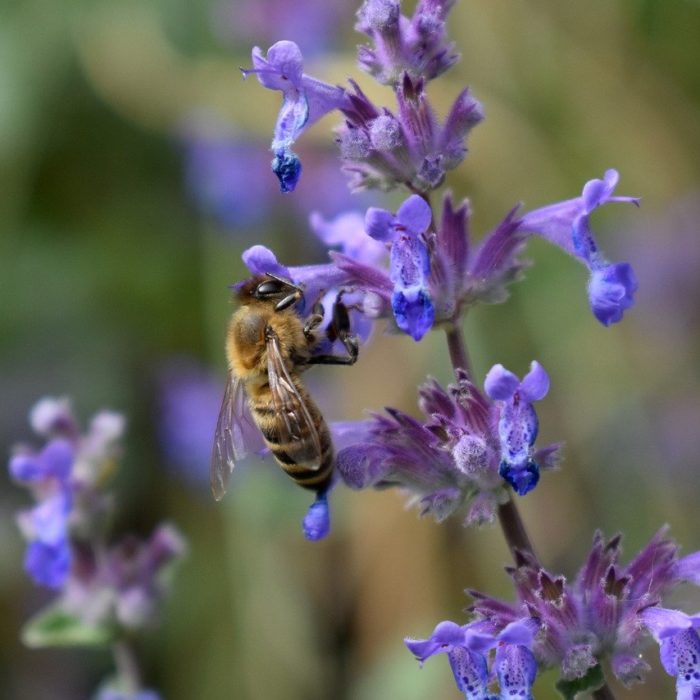 Plants that are Similar to Lemon Balm
If you want to grow plants that are similar to lemon balm, consider one of the following: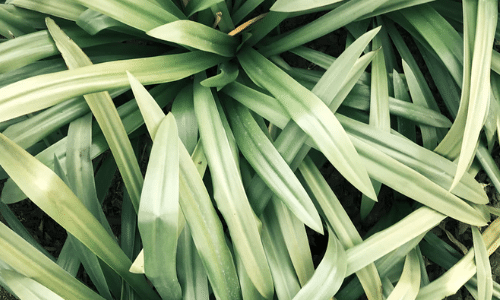 Lemongrass Overview
Lemongrass can grow to be about 2 to 3 feet tall. It grows grass-like leaves that are a greenish grey and both the leaves and the stems give a lemon-like flavor when used in culinary dishes. You can often smell a lemon-like scent from the plant as well. Even the plant is fairly easy to grow, it cannot withstand winter conditions, making it an ideal container plant for those who want to use the herb.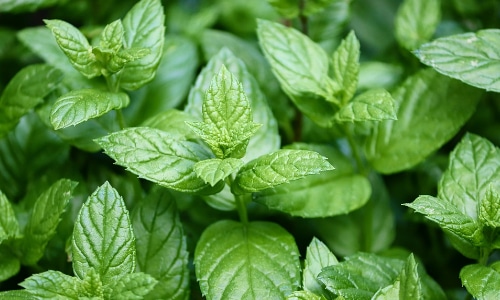 Peppermint Overview
Peppermint is a very easy herb to grow. With proper care, the plant can grow to about 3 feet high, producing serrated edged leaves that are often harvested for culinary purposes. Whether used as a tea, a part of a salad, or added to baked goods, peppermint is one of the most popular flavors that come from an herb. When harvesting, it is est to remove the leaves in the morning before the sun reduces the oil content.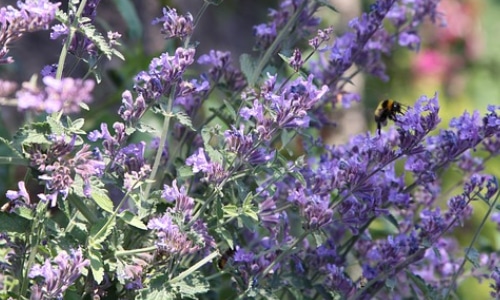 Catnip Overview
Catnip, also known as Nepeta cataria, is a member of the mint family. This perennial is known for its minty smell that cats simply adore. The plant stands erect and has square stems and light-green foliage that resembles feathers. The leaves of the tea are often used for medicinal purposes, especially in tea form. Many people claim that it treats their anxiety, insomnia, and other symptoms. The flowers are lavender in color and are often used as a home remedy to treat coughs.
Spearmint Overview
Spearmint is one of the most popular herbs today because of its pleasant aroma. This easy-to-grow herb originated in Asia Minor where it was traditionally used to make tea. Spearmint likes cool temperatures and lots of sunshine. If your area gets really hot in the afternoon, make sure the plant has a little shade. Once planted outdoors, give spearmint plenty of space between plants. They grow quickly and spread by underground rhizomes. Spearmint has plenty of health benefits as well, including soothing sore throats and anxiety relief.
Lemon Verbena Overview
The lemon verbena plant can grow into a larger shrub, up to 6 feet high and 8 feet wide. Because of its size, it is often planted to create a border between properties. It does best in warmer weather and if you live in a colder climate, you will need to bring the plant indoors to survive the winter. The leaves are glossy green, elongated, and offer a sweet lemony fragrance every time they are touched or disturbed. The leaves of the plant are often used to add flavor to drinks or as a garnish to salads. Some recipes call for it as an ingredient for deserts.
Frequently Asked Questions
How Large Will Lemon Balm Grow?

Your lemon balm plant will grow to between 10 and 24 inches tall depending on its variety and environment. You should be able to grow it indoors under the right conditions.

Is Lemon Balm Toxic or Bad for Pets?

Lemon balm is not toxic for humans or for pets. In fact, many people use the herb as a supplement for dogs, cats, and other animals that they own.