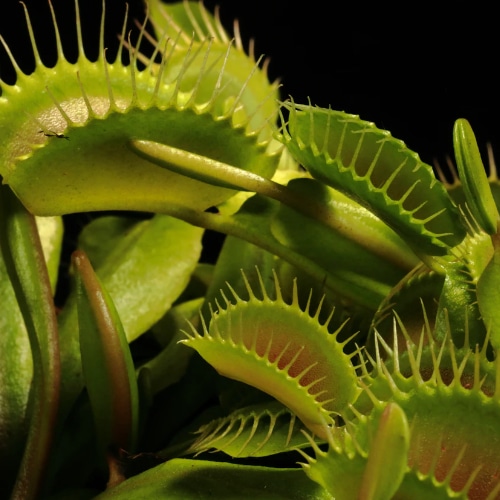 | Class | Info |
| --- | --- |
| Common Name | Venus Flytrap |
| Scientific Name: | Dionaea muscipula |
| Family | Droseraceae |
| Plant Type | Carnivorous |
| Origin | North and South Carolina, USA |
| Habitat | Savannah |
Plant Description

The Venus Flytrap is a vulnerable carnivorous plant that can live up to 20 years. They eat insects, bloodworms, mealworms, and crickets.

Rate of Growth

In 2-4 year the Venus Flytrap can grow about 4-5 inches. The trap itself can grow to be about 1.5 inches.

Flowers

The flowers of a Venus Flytrap are usually white with green stems and bloom every year.

Fruits

The Venus Flytrap's fruit is a round, green pod that are filled with tiny black seeds.
LEAVES

The Venus Flytrap has leaves that open wide and are equipped with sensitive hairs that trigger the leaves to shut when an insect or anything else bends one of them.

Roots

The Venus Flytrap has bulb roots meaning that as it extends in the soil, it creates bulbs which later grow into a new Flytrap.

Temperament

The Venus Flytrap is a tough plant to care for as it is very particular about the conditions in which it thrives.

Seeds

The Venus Flytrap's seeds are small and black and clumped together.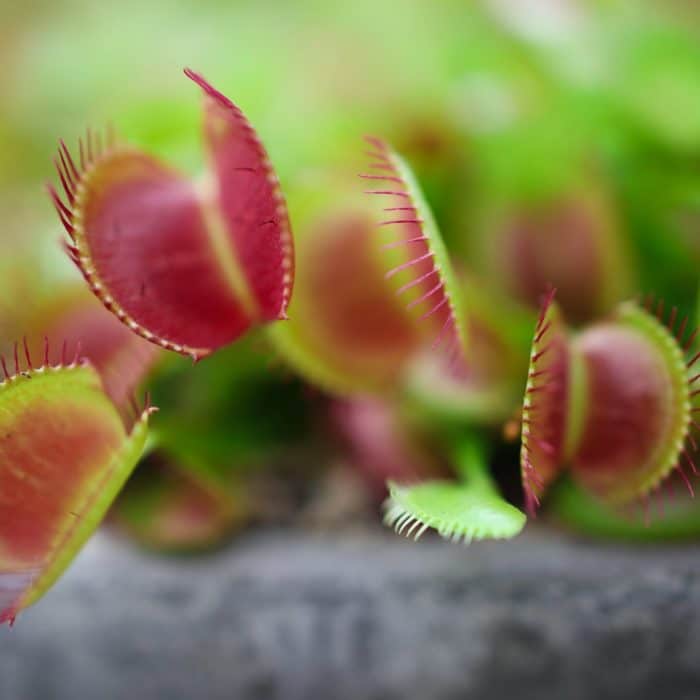 As the commercial popularity of the Venus Flytrap has grown, the naturally occurring plant has become endangered. As a result, all Venus Flytraps purchased today are grown in greenhouses. The cultivars have focused on three areas: color, size, and mutation.
Here is a list of popular Venus Flytrap varieties:
Akai Ryu

The Akai Ryu is an all-red cultivar.

Justina Davis

The Justina Davis is a popular, all-green cultivar.

B-52

If you are looking for a large Venus Flytrap, you may like the B-52.

Slack's Giant

The Slack's Giant is a very large Venus Flytrap.

Sawtooth

On the Sawtooth, the cilia are not as long and are more jagged. It has a fringe along the edge of the leaf.

Fused Tooth

The cilia are not individual and the edge of the leaf supports a flossy veil of tissue on the Fused Tooth.
One thing that you should note is that blue and purple Venus Flytraps do not exist. While seeds for them are often marketed on platforms, these are always a scam.
Growing a Venus Flytrap inside can be done successfully, though as carnivores, the outdoors may be the more obvious choice. If moving the plant indoors, the most important thing to remember is they must have a dormant time each year, typically mid-November through mid-February in the northern hemisphere. If dormancy is observed, the Venus Flytrap should flourish indoors if a few rules are observed.
How Often You Should Water Your Venus Flytrap

First, water your plant only with pure water – rainwater collected outside or distilled water would be best.

During the growing season, the pot holding the Venus Flytrap should be set in 1 cm (⅓ inch) of the kind of water mentioned above, watering the plant from below. Do not water the plant from above. Soil should be wet, but not waterlogged. Watering should be ongoing.

During dormancy, the soil around the plant should be just damp, not dry or wet.

When to Fertilize Your Venus Flytrap

Because of the plant's design, fertilizer is not necessary. All the nutrients the Venus Flytrap needs are provided by its diet of insects.

Best Soil For Your Venus Flytrap

Nutrient-free (no fertilizer) soil that provides good drainage and aeration is the best for this plant. One part peat moss, one part perlite is the best mixing ratio. Certainly do not use potting soil that includes lots of additives, compost, or fertilizer.

Optimum Temperature/Humidity for Your Venus Flytrap

Being born in the bogs of North and South Carolina, this plant prefers a warm, humid climate with cool, well-watered soil. Inside, that means a bathroom with a source of natural light would be ideal. Be sure that wherever your Venus Flytrap is in your house, the plant is moved away from spaces that get cold at night, e.g. a window.
Common Problems with Venus Flytrap
There are some issues that can commonly crop up when you care for a Venus Flytrap. Here are a few:
Why Is Your Venus Flytrap Losing Leaves?

Often when the plant is preparing for dormancy, its leaves will end up falling off. This also happens if the plant is exposed to overly cold weather.

Why Does Your Venus Flytrap Have Brown (BLACK?) Leaves?

A number of explanations need to be considered if your Venus Flytrap's leaves are turning black. The following are four possibilities: being overfed, being stressed, poor living conditions, and experience cold weather.

What Insects Can Affect Venus Flytrap?

Venus Flytraps are most vulnerable to aphids and fungus gnats. Aphid infestations generally affect the crown of the plant, where fungus gnats attack the roots.

Is the Venus Flytrap an Invasive Species?

No, Venus Flytraps are not invasive species. In fact, due to over-harvesting in their natural habitat, Venus Flytraps are considered Vulnerable by the International Union for Conservation of Nature's Red List of Threatened Species.
How to Propagate a Venus Flytrap
There are three main avenues of propagation for the Venus Flytrap: division, leaf cuttings, and seeds. In late winter through early summer, the individual plants can be divided at the root and replanted. In early summer, leaf cuttings can be taken and planted in soil. Finally, seeds can be harvested from the plant and placed in soil for germination.
How Does Venus Flytrap Spread?
The Venus Flytrap employs two ways to spread. First, it is rhizomatous. As such, the plant may spread through the actions of the rhizome. Secondly, the plant does produce seeds. If these seeds are planted intentionally by humans or inadvertently by birds or animals, the plants can produce this way.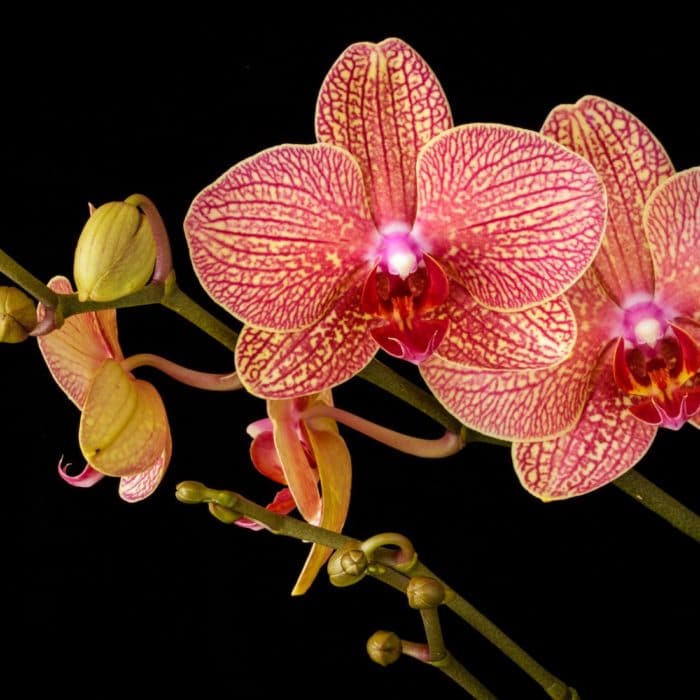 Venus Flytrap Companion Plants
Though the carnivorous plant doesn't typically get consideration as a companion, it does pair well with a number of plants including the following: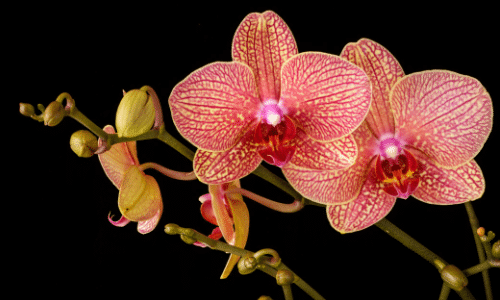 Orchid Overview
Orchids are not only delicate, but they are wild and exotic. With so many varieties, people can find a species that they especially love and want to showcase in their homes. The plant has simple leaves that have parallel veins that will vary in size. Stems will bloom several flowers that will vary in size and color depending on the plant. The flowers have two whorls. The outer whorl has three sepals and the inner whorl has three petals that look similar to the sepals. They do need a little extra care in order to thrive in your home.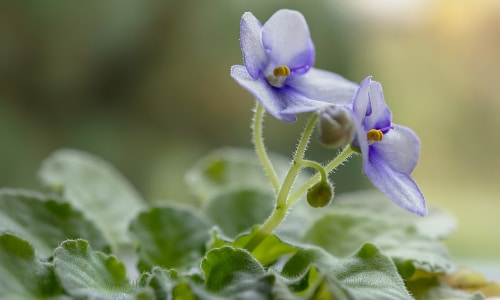 African Violet Overview
The African Violet is a popular compact houseplant that typically grows purple flowers, though there are varieties with other colors. They have short, fleshy leaves that are a bit furry and flowers that typically have 5 petals (though some varieties have more) that are either oval or heart-shaped. These plants do really well in self-watering plants and are typically fairly low maintenance when kept in the right environment.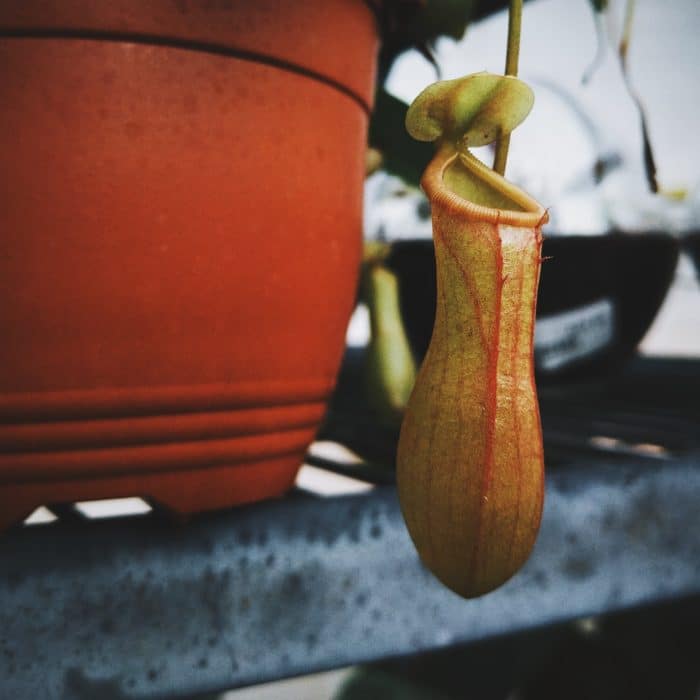 Plants that are Similar to the Venus Flytrap
There are more carnivorous plants than most people realize. Though the Venus Flytrap is the best known, its family (Droseraceae) is made up of 154 species, almost all of which are types of Sundews, but also include the following: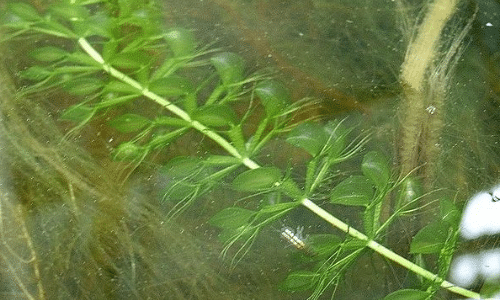 Waterwheel Plant Overview
The waterwheel plant is an aquatic plant that employs a trapping mechanism in its design. The plant gains much of its nutrients from the prey they eat. The waterwheel plant is a rootless, free-floating stem that has whorls of traps connected to it. Each trap has a few hairs that are triggered by small invertebrates, such as daphnia and eelworms. The plant produces small, white flowers which are supported above the water and only opens for a few hours. The plant has a few dozen extant populations across the globe found in Africa, Asia, Europe, and Australia.
Monkey Cups Plant Overview
The Monkey Cups Plant is a carnivorous plant with beautiful pitchers that attract insects. Also known under many other names, including Nepenthes, this plant originated in tropical Asia. The pitchers on the plant grow at the tips of the leaves from a vein and is actually a swelling of that mid-vein. Insects fall into the pitchers and are digested by the fluid it contains. Nepenthes plants are slow-growing and will take a few years to mature, but when they do, you will have a very interesting plant that will help you with your pest control.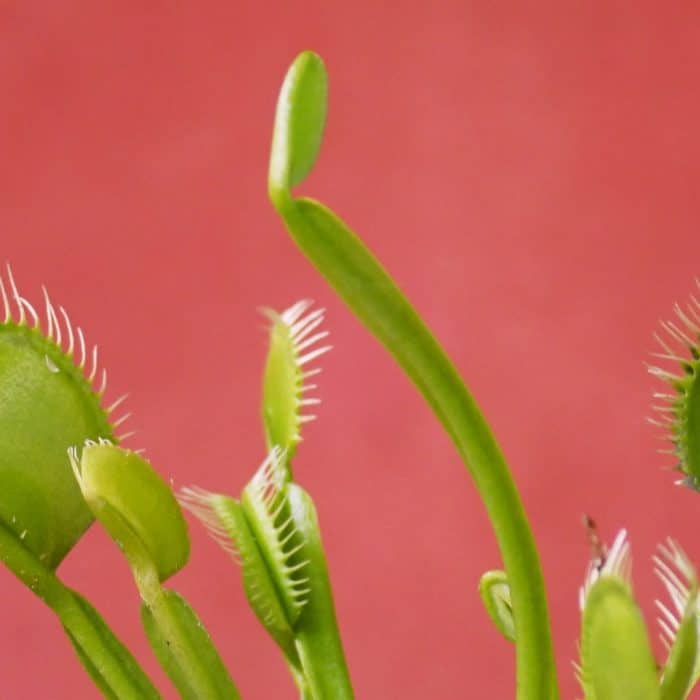 Frequently Asked Questions
How Much Light Does a Venus Flytrap Need?

A Venus flytrap should receive at least 6 hours of direct sunlight a day is needed for vigorous growth. Placing the plant in a south-facing windowsill will typically ensure that it gets it.

How Large Will a Venus Flytrap Grow?

The mature Venus Flytrap plant will be 5 to 6 inches in diameter at the base.

Is a Venus Flytrap Toxic or Bad for Pets?

The Venus Flytrap is not toxic to humans or dogs or cats. They primarily are only dangerous to insects flying within their reach.

What Kind of Container Do You Need for Your Venus Flytrap?

A tall pot with a drain hole in the bottom provides a good container. They don't need to be too big as long as there is enough room for the Venus Flytrap's root system.