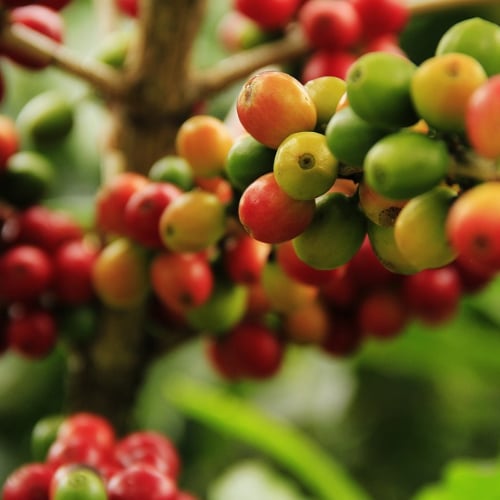 | Class | Info |
| --- | --- |
| Common Name | Coffee plant, coffee tree, Arabian coffee, coffee shrub |
| Scientific Name: | Coffea arabica |
| Family | Rubiaceae |
| Plant Type | Shrub, tree |
| Origin | Ethiopia |
| Habitat | Prefers high altitude where there is both a wet and a dry season. Coffee loves the shade. |
Plant Description

The coffee plant are described as small trees or shrubs that can generally live between 20 and 30 years. They are classified as woody evergreens and can grow up to 30 feet tall.

Leaves

Coffee tree leaves will vary in size but are elliptical or oval in shape. The leaves are smooth are dark and glossy.

Roots

The coffee plant's tap roots go down deep into the soil as they branch well. They can spread far.

Flowers

Creamy-white flowers will bloom in clusters.
Fruits

Typically, the fruit is small (like the size of an average blueberry). It starts out green but will turn red or purple as it ripens.

Seeds

Each berry (the fruit of the coffee tree) will contain two seeds.

Rate of Growth

While it can take a few years for the coffee plant to reach maturity, it will typically reach a height of 2 feet in its first year. It will typically produce berries in 3-4 years.

Temperment

The coffee plant is typically considered easy and hardy can can be grown by novice indoor gardeners.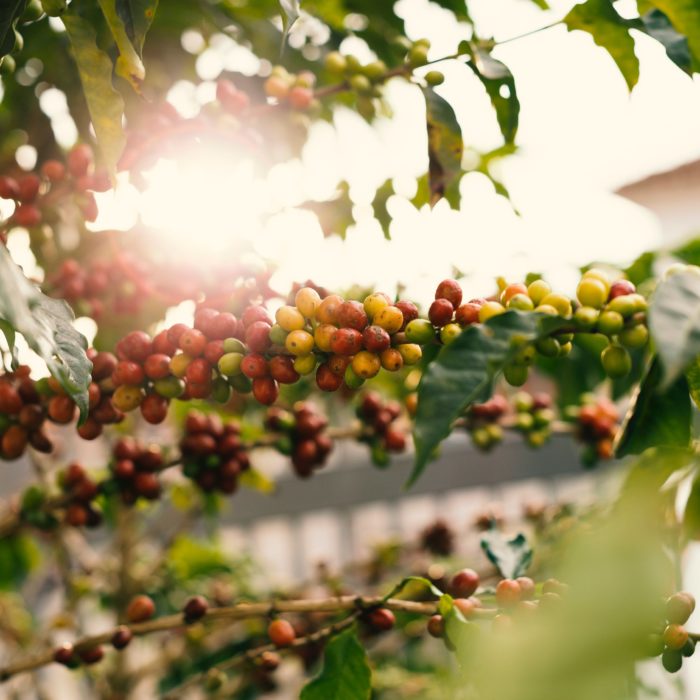 Most of the arabica coffee varieties come from two originals, the Bourbon and Typica coffee trees. Each come with their own pros and cons. For instance, the Bourbon produces more coffee, but doesn't do as well in harsh conditions, whereas the Typica is a bit more hardy but produces less beans.
Here are a few of the most popular coffee plant varieties that can be found around the world:
Mundo Novo

A natural hybrid of the Bourbon and Typica varieties, this plant does well in higher altitudes. It takes a while for the cherries to mature, but the flavor is exquisite.

Geisha

A relatively new-found variety, the Geisha plant was discovered in the early 2000s on a farm in Panama, but was found again later in Ethiopia.

Kent

Kent is a Typica cultivar that was cultivated on the Kent Estate in India. It is grown throughout India and a sub-section of the variety, known as K7, is commonly found in Kenya.

Timor

This natural hybrid between the arabica and robusta species was discovered in Indonesia in the 1940s. This hardy plant is resilient to some plant diseases.

Java

This Typica variety was originally introduced to the island of Java from Yemen. It gives a moderate yield and is resilient to the diseases in the areas they are typically grown. They can be recognized by their young, bronze-colored leaves.

Maragogype

The Maragogype is a Typica mutant that produces large cherries, though in a lower yield. It was first recognized in 1870 in Brazil.
Coffea Arabica Basic Care
When Will a Coffee Plant Begin to Produce Berries?

It will take about five years of growth before your coffee plant reaches full production. Berries take about a year to ripen after flowering. In order for your indoor plant to produce fruit, it needs to stay in ideal conditions.

Do You Have to Pollinate Coffee Flowers?

Coffea arabica (which accounts for most of the coffee grown for consumption in the world) is self-pollinating, making it an ideal plant to try fruiting indoors. Your first flowers will appear when the plant is 3-5 years old. The blooms have a sweet aroma and will flower for about a month.

How Much Coffee Will a Coffee Tree Produce Per Year?

Healthy coffee plants grown outdoors will produce about 10 pounds (4.54 kg) of coffee cherries per year. This is the equivalent of about 2 pounds (.91 kg) of roasted beans annually. An indoor plant will yield less, but give you the experience and joy of understanding your favorite dark beverage a little better.

How Much Sun Does a Coffee Plant Need?

Coffea arabica prefers bright, indirect light. Place your plant near a window but make sure that the sun will not directly hit it.

What Temperature and Humidity Does a Coffee Plant Need?

Coffee plants prefer warmer temperatures. They won't tolerate freezing temperatures and will have issues if your temperature frequently goes below 65° F (18° C). Keep them in a warm spot in your home, away from drafts.

Your plant will also need a fair amount of humidity. An easy way to add humidity to your plant is to place it on a tray of pebbles and water. As the water evaporates, it will create humidity around your plant. This method is a great way to care for your plant without affecting the humidity in the rest of your home.

How Often Should You Water Your Coffee Plant?

Keep the soil of your coffee tree moist, but not wet or soggy. Typically, this will mean that you should water it about once a week (especially in the summer). Check the soil to see if it needs watering. Don't let more than the top two inches dry out. In winter months, you can water a little less, though you should never let the soil dry completely.

Watch for droopy leaves. They are the first sign that you might not be watering your coffee plant as often as you should. If the soil is dry, give it a good watering to show it a little love.

Should You Fertilize Your Coffee Plant?

As a young plant (between 8-36 inches/20-92cm in height), your coffee plant will be in development and will benefit from a nitrogen-rich fertilizer. Your coffea arabica is still developing its trunk, branches, and foliage and will require more nitrogen at this stage than any other.

After this stage, your tree will begin the process of developing and producing buds. At this point, you should look into flowering supplements (such as rose food) instead of growth supplements.

Start out with smaller amounts of fertilizer. It is always better to under-fertilize than to over-fertilize. You can always add more if needed. Keep your fertilizer organic as it will affect the flavor of your coffee beans in the future.
Common Problems With Coffee Trees
If you notice the following problems with your plant, take preventative action immediately:
Dropping Leaves

While it is common for coffee plants to lose older leaves, if you notice it shedding new leaves, check to see if it is getting enough water. It could also be due to frequent temperature changes. If you have it near a heater or an air conditioner, consider moving it to a spot where the temperature is more stabilized.

Yellowing Leaves

Discolored leaves (yellowing or brown spots) generally mean that there are watering issues (either too much or not enough, or non-consistent). If your watering is on point, you may need to add a little extra fertilizer.

Crispy Edges On LEaves

Typically a sign that your plant doesn't have the humidity it needs. It can also mean that you are overwatering it or that the water isn't draining correctly.

Pale, Small Leaves, Uneven Growth

This typically means that your plant isn't getting enough sun. Move it to a better location or get it appropriate supplemental lighting.

What Pests Affect the Coffee Plant?

While there are hundreds of insects that can affect a coffee plant, there are few that are known to do damage universally. These include the Coffee Berry Borer, Coffee Leaf Miners, Mealybugs, and Nematodes.

Coffee Berry Borer

Coffee berry borers are little black beetles that can affect almost any coffee plant in any country. These little pests will burrow inside coffee cherries and lay their eggs, ultimately causing damage to the potential flavor of the bean. They can also cause crops to fall off the plant prematurely. In fact, it has been said that this insect has caused more damage to the coffee industry than any other pest in history. If you see the typical signs of these pests, you will need to cut open your berries to confirm they are there.

Coffee Leaf Miners

There are two related leaf miners that can attack your coffee plant. These are both from the moth species and are called Leucoptera caffeine (which is typically found in African countries) and Leucoptera coffeella (which is typically found in Latin America). Both of these pests survive by eating the leaves on coffee plants, which affects the amount of photosynthesis the plant can receive. In coffee plants, this may mean that the beans will not mature properly, which could result in a bitter brew down the road.

Mealybugs

With a length of only 1/8 inch, mealybugs are white, soft-bodied insects that enjoy feeding on the photosynthates (plant juices) of your houseplants. As their bodies have a powdery-white substance on their bodies, they are often described as "looking like snow" when you have a larger infestation on your leaves. They will coat the leaves with a sticky substance that is covered by greyish-white bumps that resemble mold. While it does take some work, you can remove mealybugs so long as the issue hasn't become too overwhelming for the plant at the time of treatment.

Nematodes

One of the most plentiful animals on earth, the nematode is a microscopic worm that will attack the root systems of plants. Not only will this affect the roots, but it can damage the whole plant due to it not being able to receive the water and nutrients that it needs. These tiny parasites are generally symmetrical and tapered at both ends. While some nematodes can grow to be extremely long, most are not visible to the naked eye or will be mistaken for a spec of dust.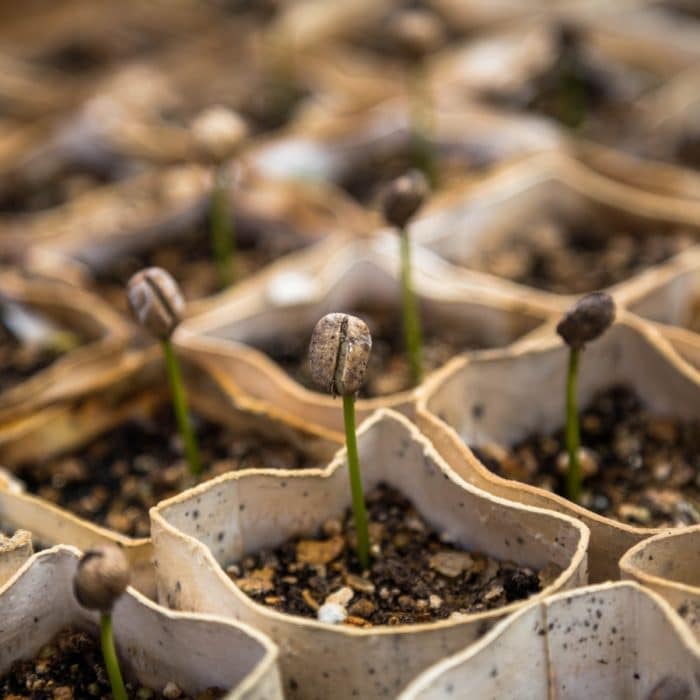 How Coffea Arabica Spreads
The coffee plant can be propagated and spread in three different ways: by seed, cuttings, or air laters. Here is a little information about each:
Seeds

When propagating your coffee plant by seed, you can either take the seeds from an existing plant or purchase them for planting. In the wild, the seed is spread through birds eating the berries that contain them and releasing them through their feces.

Cuttings

Many gardeners propagate their coffee plants by snipping 8-10 inches off a branch and putting them in a soilless potting mix for several weeks.

Air layering

Air layering is the process of rooting branches from the parent plant. This can happen naturally by lower branches making long-term contact with the soil and rooting. Many gardeners also "force" it to happen.
Companion Plants to Coffee Tree
If you have a few coffee trees planted outside, you may wonder what can be grown alongside the plant to maximize the space. While you should never plant pumpkins, carrots, or cucumber nearby, here are a few plants that work well as companion plants to the coffee plant: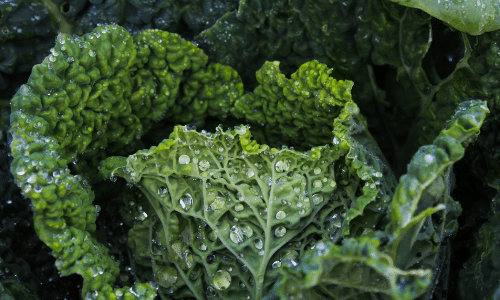 Kale Overview
Kale, known as Brassica oleracea, is a popular edible plant that is grown in many vegetable gardens. This loose-leafed plant will typically grow bluish-green, but can also come in varieties of purple, red, or green. The plant is a cousin of cabbage and contains many nutrients and vitamins. Not only is it full of fiber, but it contains calcium, antioxidants, iron, and vitamins C and K. Kale is often consumed by people who are working toward living a healthy lifestyle. It is a bit chewy but is also very tender.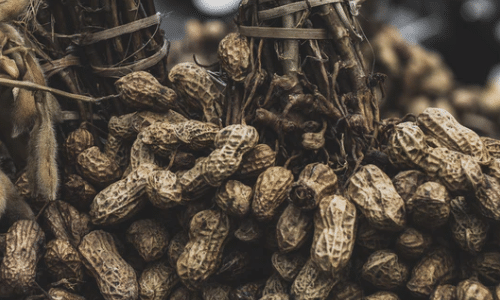 Peanuts Overview
It is very easy to grow this popular snack at home. All you need to start growing peanuts are raw, uncooked peanuts in their shell (they should be fresh). Just stick the peanut into the ground about 2 inches into the soil and in 4 to 5 months, you may be able to dig up between 25 and 50 peanuts. Not only are peanuts delicious, but they are also very healthy for you. They contain healthy fats, folate, magnesium, zinc, iron, calcium, and vitamins A and E. Whether you eat them a handful at a time or blend them into peanut butter, growing your own peanuts can be rewarding.
Similar Plants to the Coffee Tree
The following plants are similar to the coffee plant in one way or another, either by similar looks or in containing caffeine:
Chicory Overview
Native to Europe, chicory is a plant that is often grown as a cool-season crop for culinary purposes. Both the leaves and the roots of the plants are used as home remedies for constipation, rapid heartbeat, upset stomach, and other ailments. The taste of hickory is often compared to coffee and is described as woody, nutty, and earthy. Eaten raw, it can be very bitter. The stems of the plant can grow up to 36 inches tall and will be stiff and hairy. Light purple or blue flowers produced by the plant are often used to decorate flowers.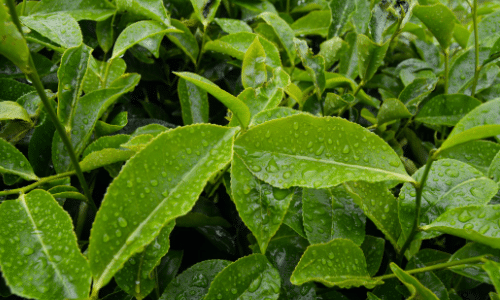 Green Tea Overview
The plant that makes up green tea is called Camellia sinensis. The leaves and buds of the plant are used in the popular drink that was originally hailed from China. The difference between green tea, black teas, and oolong tea is that the product has not gone through the withering and oxidation process. Camellia Sinensis grows dark green leaves that come to a pointy tip. The leaves have serrated edges and are oval in shape. The leaves have hairy undersides and tend to grow between 2 to 4 inches long.
Frequently Asked Questions
How Large Will Your Coffee Plant Grow?

With proper care, your coffee tree can grow to be about 6 feet tall (183 cm) indoors. You can also prune it back to keep it shorter or more bush-like if you wish. As it grows, you will want to re-pot it into an appropriate sized container with organic potting soil.

When the plant reaches 8 inches (20 cm) in height, transfer it to a 12-18 (30-46 cm) container using a good, potting soil and nitrogen-rich fertilizer.

It will take 12-18 months of growth before you can transfer it into its final container (which will be the size of a half-wine barrel). At this stage, your coffee tree should be between 24-36 inches (60-92 cm) high.

What is the Ideal Potting Container for Your Coffee Tree?

The ideal potting container for your coffee plant will have the following features:

It will be made of either plastic or clay – these are lightweight, making your plant easier to move when necessary.
Deep, with good drainage – keep your root system healthy by giving it room to grow and allowing water to drain through properly.