The type of terrarium we recognize today was invented by a London physician named Dr. N. B. Ward in the Victorian age (mid-1800s). He wanted to grow ferns but wasn't having much luck when he noticed that a baby fern was growing inside a closed bottle. He watched it for four years and never watered it and later developed large containers for growing plants indoors. The containers were even called Wardian cases.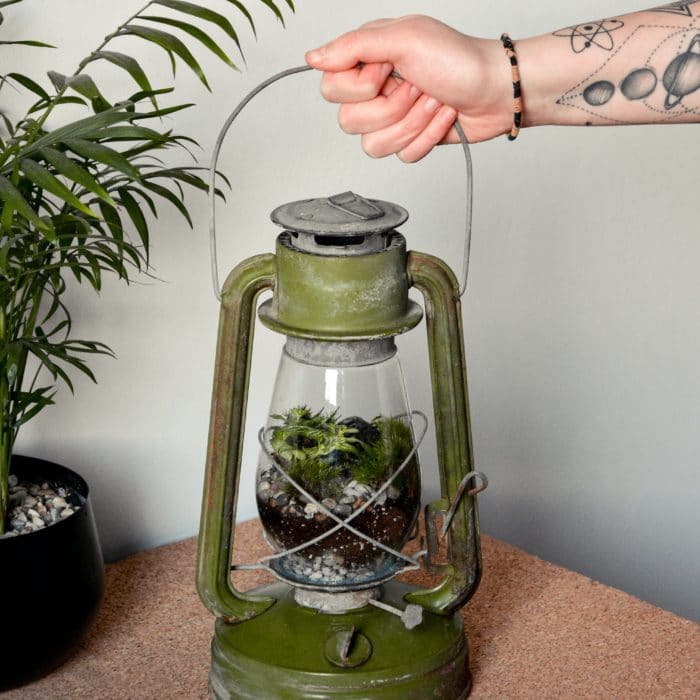 So how is it possible to keep plants alive in a glass case even though they are rarely watered or fed? The answer is that the environment inside the terrarium is the same as the natural environment at work in the world as a whole. In this case, we are mainly talking about a closed terrarium. This cycle is concerned with three things: photosynthesis, respiration, and the water cycle.
Photosynthesis

Photosynthesis occurs when green plants use sunlight to make food. In order for this to happen, chlorophyll (the thing that makes plants green) absorbs energy from the sun. This energy is then used to make nutrients called sugars. The plants use the sugars and oxygen is released by them into the air. They also get energy by taking in water and nutrients from the soil and carbon dioxide through parts of their leaves. Photosynthesis is important for life on earth because without it there would be no green plants, and without them, no animals. Not to mention, the green plants create oxygen!

Respiration

The next part is respiration. And just liked you'd think, it means breathing. But in this case, instead of all the time, like us, plants breathe, or respire, at night. They take in oxygen and breathe out carbon dioxide. With photosynthesis and respiration, there is a constant exchange of gases in a sealed container. In other words, plants use carbon dioxide to make oxygen and use oxygen to make more carbon dioxide. Talk about recycling!

Ecosystem

A closed terrarium works because it develops its own ecosystem that is a smaller version of the one that works on earth. The soil provides nutrients, and just like in nature, when a plant (or parts of a plant) dies, it falls back to the soil to make more nutrients.

Sunlight

Once the terrarium is completed, with layers of charcoal, gravel, soil, and plants, the only other thing the unit needs is sunlight. Like any other plants, the ones in the terrarium must have sunlight for photosynthesis to occur. However, not direct sunlight! The enclosed glass container will get far too hot, so indirect sunlight is perfect.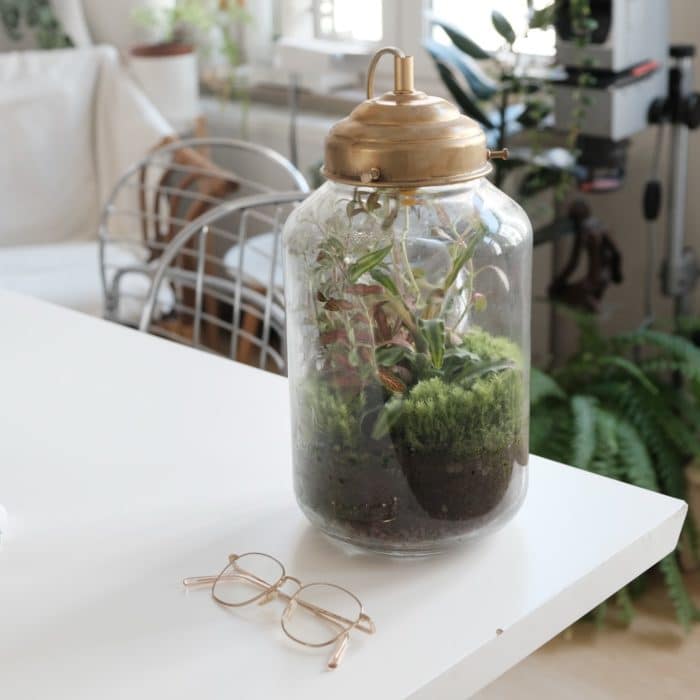 How Does a Terrarium Manage Water?
Water recycling is the last part of the system. There are four parts to the water cycle: evaporation, condensation, precipitation, and collection. In a closed terrarium container, you will carefully water the first time. The water will be taken up by the plants through the roots.
Eventually, it will be released in the form of water vapor (evaporation). You can see the vapor when it condenses and ends up on the sides of the glass container (condensation and precipitation). Once there, it will make its way back down to the roots (collection) and start the whole process over again. That's why you only need to water a terrarium a few times a year.