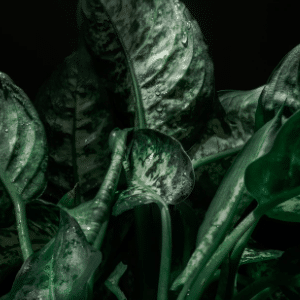 | Class | Info |
| --- | --- |
| Common Name | Dumb Cane |
| Scientific Name: | Dieffenbachia seguine |
| Family | Araceae |
| Plant Type | Herbaceous perennial |
| Origin | Brazil, Caribbean |
| Note | The common name is due to the toxic symptoms of the plant which could paralyze the vocal cords. |
Plant Description

The Dumb Cane is a clustered perennial that is known for its large leaves and cane-like stem. While they can grow up to 10 feet tall outdoors, they are often kept much shorter indoors.

Flowers

The spathe of the flower is green and may look like an unfolding leaf from time to time. The spadix is most often white and can resemble a peace lily.

Seeds

The seeds are fairly large and must be removed from their fruit before they can be planted.

Fruits

The dumb can produces red, berry-like fruit that contains seeds.
Leaves

The evergreen leaves are oblong in shape, occasionally with pointed ends. Leaf variegation will vary depending on the variety, allowing you to choose which would fit your home best.

Rate of Growth

The dieffenbachia can grow very fast, even up to 2 feet in its first year of life. When planted outdoors, they can grow up to 10 feet tall.

Temperament

It is fairly easy to care for a dumb cane. While they enjoy indirect light and timely watering, they can also thrive when placed in areas with low light.
Here is a list of popular Dumb Cane cultivars:
Camille

The most popular dumb cane variety is known as Camille. This cultivar has whitish-lime-colored leaves with dark green edges.

Tropical Tiki

This variation can grow to between 4-7 feet tall. It has shrug-like growth of upright leaves that are green with yellowish blotches.

Compacta

Compacta's leaves are a creamy-yellow color in the center with dark green edges and dots throughout the. They are often found as smaller plants.

Camouflage

If you enjoy a lighter shade of plant, the Camouflage variety may be perfect for you. The leaves are light green and the veins are the color of light cream.

Seguine

With long leaves that seem to be striped between light and green, the Seguine variety is a popular cultivar that will make any house look a little more tropical.
How to Care for Indoor Dumb Cane
While the dumb cane is a relatively easy plant to care for, you should take note of the basic conditions that will help it grow.
How Often You Should Water Your Dumb Cane

You should water your dieffenbachia regularity, but allow the soil to dry out a bit between waterings. Make sure that the top two inches of the soil are dry before watering again if it is kept in indirect light. If it has less light, you may want to allow the soil to dry out a little more before watering it again. If the leaves begin to droop, you definitely need to water your plant again. Over time, you'll discover how often your particular plant will need to be watered in order to thrive.

How Much Light Does a Dumb Cane Need?

While your dumb cane prefers indirect light, diffused light, or partial shade, they can be kept in full shade and still manage quite well. The plant will experience slower growth in lower amounts of light, but many people prefer to keep their houseplants shorter. If you want it to grow, put it in indirect light.

When to Fertilize Your Dumb Cane

You should fertilize your dieffenbachia one every 2-6 weeks throughout its growing season (generally doing through autumn). Check for signs of over-fertilization and adjust your schedule accordingly.

Best Fertilizer For Your Dumb Cane

You should use a balanced fertilizer on your dumb cane plant. This means that each part of the N-P-K ratio will be measured out in the same way. Look for the same numbers, such as 8-8-8 or 20-20-20.

Best Soil For Your Dumb Cane

The dumb cane plant prefers to be planted in well-drained soil. Mix perlite or sand in with your potting mix. Stove for 2 parts peat moss and 1 part perlite or sand. Alternatively, you can use African violet mix which works great for dieffenbachia.

Optimum Temperature/Humidity for Your Dumb Cane

Dieffenbachia prefers to live in temperatures between 65 – 75° F (18-23° C). When planted outdoors, they do well in hardiness zones 10-12. They also love humidity so it is a good idea to keep a humidifier nearby or frequently mist your plants throughout the week. You can also set your dumb cane on a tray with pebbles and water to keep the humidity level around the plant a bit higher. Aim for the humidity of 60% for these plants to really thrive.
Common Problems with Dumb Cane
Unfortunately, like any plant, you may encounter some issues when caring for your dieffenbachia. These may include the following:
Why Is Your Dumb Cane Losing Leaves?

If your dieffenbachia is losing leaves, it is likely not warm enough where it is. If the plant gets too cold, it will begin to lost leaves.

Why Is Your Dumb Cane's Leaves Turning Brown Leave?

If the edges of your dieffenbachia's leaves begin to turn brown, your plant may be waterlogged. Allow the top two inches of your soil to dry out between each watering.

What Insects Can Affect Dumb Cane?

There are a few insects that can affect the dumb cane. These include aphids, mealybugs, scale insects, and spider mites.

Aphids

Aphids are generally found in groups or colonies on the undersides of new growth on a plant. While they will vary a bit in color (or whether or not they have wings), aphids are generally pear-shaped with little cornicles sticking out of the back of their abdomens. These soft-bodied insects seek out the sap of plants and will inject saliva into the foliage during the process which may alter the overall look of your plant.

Mealybugs

With a length of only 1/8 inch, mealybugs are white, soft-bodied insects that enjoy feeding on the photosynthates (plant juices) of your houseplants. As their bodies have a powdery-white substance on their bodies, they are often described as "looking like snow" when you have a larger infestation on your leaves. They will coat the leaves with a sticky substance that is covered by greyish-white bumps that resemble mold. While it does take some work, you can remove mealybugs so long as the issue hasn't become too overwhelming for the plant at the time of treatment.

Scale

Scale are small insects that suck the sap out of your houseplant's leaves or stems. Either round or oval in shape, they can come in a variety of colors but are most often brown. While all of them have shells, there are two main varieties, one of which has a harder shell (known as a hard shell) than the other (soft shell). These insects can be found anywhere on a plant and are very difficult to fully remove, though the soft shell scale is easier. You will need to remain very vigilant for a few weeks in order to save your plant.

Spider Mites

Spider mites are tiny black arachnids (not typically seen by humans) that like warm environments. They have oval bodies and eight legs and are generally white, red, or brown (though they are difficult to see with the naked eye). Spider mites can easily travel on the wind through a window screen. If you have them, you'll see fine webbing similar to spider silk underneath the leaves. Leaves will sometimes become spotted or change color. Spray them off with water, a homemade miticide, or use Neem oil to remove them. 

Which Plant Diseases Can Affect Dumb Cane?

The dumb cane may also suffer from the following ailments:

Bacterial blight
Dasheen mosaic virus
Fungal spot
Root rot
Stem rot
Soft rot

Is the Dumb Cane an Invasive Species?

While they can be invasive in the wild, the dumb cane isn't considered a threat in most cases.
How Does Dumb Cane Spread?
While the Dumb Cane does produce seeds, it is easier to propagate them than to grow them from seed. In this way, they can reproduce fairly quickly, especially if they are kept in their ideal conditions. Dumb cane is typically propagated through stem cuttings or tip cuttings that are then rooted.
How You Should Prune your Dumb Cane?
There is no specific good time to prune your dumb cane, but you should wait until it has shed a few leaves so that you can see the stem clearly. When pruning, use a sharp knife to cut at a 45-degree angle to the desired length. Never remove more than a third of the plant when pruning.
What Kind of Container Do You Need for Your Dumb Cane?
You will need a container that is large enough for your plant with a little extra space to allow it to grow throughout the year. Additionally, you should ensure that the pot drains well as the plant prefers well-draining soil.
Companion Plants to a Dumb Cane
The following are a few plants that work well as companion plants to the dumb cane: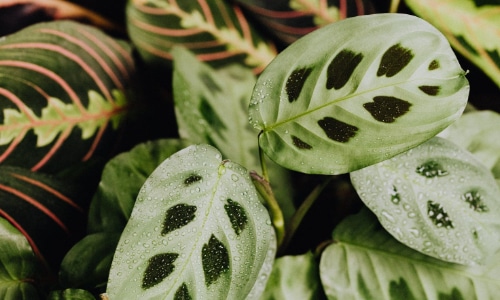 Calathea Overview
Also known as the "prayer plant" or the "living plant," the calathea plant is well-loved for the way it closes its leaves at night due to a small joint between the stem and the leaf. The leaves can grow to be several inches long and come in several different variegated patterns. The calathea can also purify the air, helping to purify the air of several pollutants. The plant will also continually grow new leaves, keeping it looking fresh and new.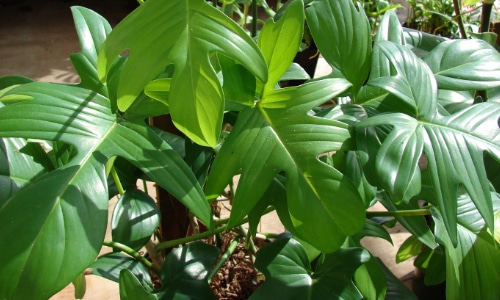 Philodendron Overview
Depending on the variety, a philodendron's leaves may vary from green, purple, red, or copper. Grown leaves will range from 10-16 inches that are arrow-shaped and have veins that will occasionally contrast with the color of the leaf. Not only are these plants popular in many homes, but they are also said to remove harmful toxins (such as formaldehyde) from the air. The plant will typically grow to be about 3 feet tall, but can be quite wide.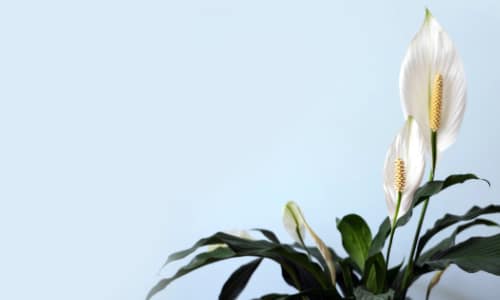 Peace Lily Overview
Peace lilies are known for their long, dark green leaves that come to a point and their long-lasting white flowers. Due to the lily-like flowers, the plant has long symbolized innocence, peace, and purity and is often used as a symbol of sympathy toward a family who has lost a member. Due to its love of shade, the plant is typically grown indoors and can help to purify the air of several pollutants. The plant is sometimes believed to bring good luck.
Plants that are Similar to Dumb Cane
There aren't many houseplants that look very similar to the dumb cane, but the following is one that does. It also works well as a companion plant to the dieffenbachia.
Aglaonemas Overview
The aglaonema has stems that grow along the ground and can root at various nodes. Once rooted, they can grow into another "new" evergreen perennial. The leaf blades are typically variegated and will create a crown at the top of the stems. Each fleshy leaf is oblong in shape and will vary in color and variegation. The plant is an evergreen perennial and, depending on the variety, will grow stems that are creeping, decumbent, or erect. The plant works really well as a houseplant, even in lower light conditions.
Frequently Asked Questions
How Large Will a Dumb Cane Grow?

When grown indoors, a dumb cane will typically reach a height of between 3-5 feet. However, if you keep them outdoors in your garden or on your deck, they can reach a height of 10 feet tall and produce leaves that grow to 20 inches long.

Is a Dumb Cane Toxic or Bad for Pets?

The dieffenbachia contains calcium oxalate which can be very toxic when eaten. The effects oxalis acids and asparagines (another plant protein) will cause a burning sensation if you chew on the leaves. Your mouth could become swollen and your vocal cords could be affected, causing you to temporarily go dumb.

The plant is considered to be in the medium range of toxicity and the effects are rarely fatal. That being said, children and pets do tend to have a worse reaction to the plant than adults, so it is best to keep them out of reach when they are around.

If you or a loved one consumes part of a dumb cane, contact the appropriate number below to find out how best to treat your symptoms:

Australia – Call 131 126

Canada – Find your province's number on this website

New Zealand – Call 0800 POISON (0800 764 766)

United Kingdom – Call NHS 111

United States – Call (800) 222-1222