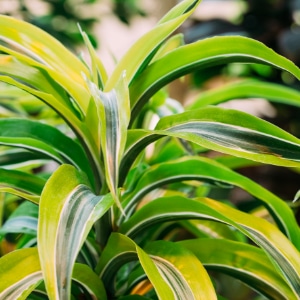 | Class | Info |
| --- | --- |
| Common Name | Dragon tree, dragon plant, Madagascar dragon tree |
| Scientific Name: | Dracaena marginata |
| Family | Asparagus |
| Plant Type | Broadleaf evergreen |
| Origin | Canary Islands, Cape Verde, Morocco, Portugal |
Plant Description

Named for its fat, scaly trunk, the Dragon Tree grows tall before branching out, creating an umbrella-like canopy above. Grown outdoors, the plant can grow up to 20 feet tall, though it is kept much shorter when grown as a houseplant.

Leaves

The leaves of the Dragon Tree grow in clumps. Each can grow up to two feet long and resemble long, stiff knives or swords.

Roots

The Dracaena's roots take up a long of room. They start at the base and grow in a cluster as they go deeper into the earth. When transplanting, it is always important to put the plant into a larger pot to allow for further root growth.

Temperament

The Dragon Tree is an easy-to-care-for tree that works well as a houseplant. It likes high humidity, but mostly enjoys an environment that is comfortable for humans.
Fruits

The Dragon Tree produces orange berries that hang in clusters. They tend to stay on the tree for about a year. They are dispensed as birds eat them and fly to other locations.

Seeds

The seeds of the Dracaena grow in the berries and are dispersed by birds in the wild.

Rate of Growth

The Dragon Plant has a slow rate of growth. Most trees won't reach maturity for 30 years and it can take nearly a decade for them to grow to the height of 2 to 3 feet.

FLOWERS

In early summer, the Dragon Tree will start producing long panicles of flowers that will eventually turn into berries. The flowers are greenish-white in color.
Here is a list of popular Dragon Tree cultivars:
Dracaena Marginata

This plant is slow-growing, making it the perfect indoor tree for several years. Like other Dragon Trees, this plant will spread its leaves at the top of its trunks. It requires very little hands-on care.

Dracaena Arborea

The Arborea does better when it is planted outside in a hot, dry environment. It grows a thick trunk and can be planted in both direct sun and shade.

Song of India

This Dragon Tree plant grows beautiful yellow and green leaves that can add color to your room. It grows quite slowly.

Dracaena Draco

The Draco can grow quite tall when planted outdoors, producing very long, sword-like leaves. Many reach heights between 20 – 25 feet tall.
How to Care for Indoor Dragon Tree
Dragon Trees are fairly easy to care for and are a perfect first tree for any budding indoor gardener. That being said, there are a few things you should make sure you do in order to keep your plant thriving year after year.
How Often You Should Water Your Dragon Tree

The frequency of when you should water your dragon tree will vary depending on your environment and the season. You will typically need to water less often during the winter months than in the summer.

Your Dragon Plant will need to dry out between waterings, only rewatering when the topsoil is dry. This tends to be once every 7-10 days. When watering, thoroughly water all around the base to properly give the whole plant the hydration it needs.

How Much Light Does a Dragon Tree Need?

Dragon Trees prefer to have indirect light. If placed where they can get the sun, ensure that they get no more than 4-6 hours a day and are shaded the rest of the day. Too much sun can scorch their leaves and damage the plant over time. That being said, Dragon plants kept in bright conditions will tend to thrive very well.

When to Fertilize Your Dragon Tree

There are two opinions about when to fertilize your Dragon Plant. The first is that they should only be fertilized twice per year – once in the early spring and six months later in early fall. The other is to fertilize the plant every two weeks throughout the growing season (spring through fall).

When fertilizing your own plants, it is a good idea to start off slowly and adjust your schedule from there, doing what is right for your Dragon Tree based on the environment in which you live. The Dracaena is a slow-growing plant and generally doesn't need much, so if you choose to fertilize every two weeks, give it a lower dose than you usually would.

Best Fertilizer For Your Dracaena

Choose a liquid or water-soluble fertilizer for your Dragon Tree with an N-P-K ratio of 3-1-2. Other beneficial nutrients for your plant will include sodium, manganese, zinc, iron, and copper.

Best Soil For Your Madagascar Dragon Tree

Dragon trees do best when they are planted in a well-draining potting mix. To get the best results, you will want to use loamy soil that has been mixed with peat moss. Ensure that you add enough in a large container for root growth.

Optimum Temperature/Humidity for Your Dragon Tree

The Dracaena plant does very well in high humidity. Try to keep it between 60-80% humidity when you can. You can use humidifiers and frequently mist your plant to help if you live in a typically dryer climate.
Common Problems with Dragon Tree
Even though the Dracaena is easy to care for, there are a few common issues you should keep in mind. Look for the signs of these issues so that you can fix the issues right away.
Why Is Your Dragon Tree Losing Leaves?

If your Dracaena is losing leaves, you may be watering it too much. Not only can over-watering lead to leaf loss, but it can also lead to root rot which is far more difficult to treat. Make sure that your water correctly and that your Dragon Tree is in a well-draining container.

Why Does Your Dragon Tree Have Yellowing Tips?

If you have noticed that the leaves of your Dragon Tree are starting to turn yellow at the tips, you may need to fertilize less often. If you know that the cause isn't fertilization, you may have too much fluoride in your water that you should filter out before giving it to your plants.

Why Does Your Dracaena Have Tan or Red Spots?

If the leaves on your Dragon Plant have developed tan or reddish spots that are surrounded by yellow circles or halos, it may have a fungus problem known as fusarium leaf spot. You will typically find this issue on leaves that are closer to the base of the tree.

You will need to use a fungicide to fight the problem. To prevent it from happening again in the future, water the soil directly, don't water over the leaves or base.

What Insects Can Affect the Madagascar Dragon Tree?

There are three pests that can affect your Dracaena negatively. Keep an eye out for the signs of them:

Mealybugs

With a length of only 1/8 inch, mealybugs are white, soft-bodied insects that enjoy feeding on the photosynthates (plant juices) of your houseplants. As their bodies have a powdery-white substance on their bodies, they are often described as "looking like snow" when you have a larger infestation on your leaves. They will coat the leaves with a sticky substance that is covered by greyish-white bumps that resemble mold. While it does take some work, you can remove mealybugs so long as the issue hasn't become too overwhelming for the plant at the time of treatment.

Spider Mites

Spider mites are tiny black arachnids (not typically seen by humans) that like warm environments. They have oval bodies and eight legs and are generally white, red, or brown (though they are difficult to see with the naked eye). Spider mites can easily travel on the wind through a window screen. If you have them, you'll see fine webbing similar to spider silk underneath the leaves. Leaves will sometimes become spotted or change color. Spray them off with water, a homemade miticide, or use Neem oil to remove them. 

Scale

Scale are small insects that suck the sap out of your houseplant's leaves or stems. Either round or oval in shape, they can come in a variety of colors but are most often brown. While all of them have shells, there are two main varieties, one of which has a harder shell (known as a hard shell) than the other (soft shell). These insects can be found anywhere on a plant and are very difficult to fully remove, though the soft shell scale is easier. You will need to remain very vigilant for a few weeks in order to save your plant.
How to Propagate a Dragon Tree
You can propagate some Dracaena plants in water by pruning some of the long canes. Remove the foliage at the bottom of the canes and place them in water. Place them in an area that has a lot of indirect, bright light but not in direct sunlight as the plants may burn.
Replace the water every few days to ensure that bacteria doesn't build up. Make sure that the container is less than half-full, allowing most of the stem to stay out, protecting it from root rot.
If successful, you should be able to see roots beginning to emerge in 10 – 14 days. Eventually, you can transplant the dragon tree into well-draining soil.
How Does Dragon Tree Spread?

In the wild, the Dragon Tree is spread by seed, but many gardeners prefer to grow new plants from cuttings. As the Dracaena is a slow-growing plant, you will likely find better satisfaction through propagation.
Companion Plants to a Dragon Tree
What you plant with your dragon tree will depend on the size of your plant and the container in which it is planted. As the Dragon Plant is so tall and takes up a lot of space with the root system, it is a good idea to stick to planting annuals in with the plant. That being said, there are several pretty flowers that grow well with the dracaena.
Here are a few you can try: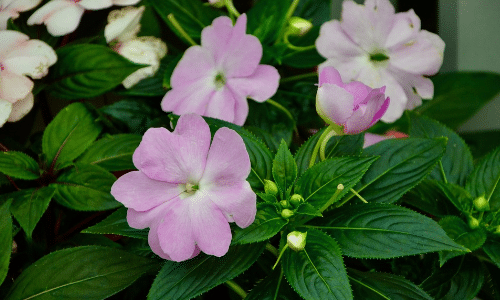 Impatiens Overview
Also known as "touch-me-not" flowers, Impatiens can add color to your planter as well as a bit of green foliage. These shade-tolerating flowering plants will produce long-lasting blooms in a variety of colors, including purple, violet, coral, pink, red, white, and yellow. The flowers, which get their name from the way they shoot themselves out of the earth, produce five-petaled blooms (some varieties have doubles) that will typically range between 1 – 2 1/4 inches wide. Their alternate leaves are smooth with serrate margins which are oval to elliptic in shape.
Petunias Overview
Petunias are a very popular annual that is known for their versatility. They can be planted in almost any container and still thrive. The plant is an herb, but should not be consumed as it is a nightshade. The leaves are often oval-shaped and have toothless margins, though some have sticky hairs on them. They are also sessile, meaning they don't have a leaf stem or a petiole. The flowers on the petunia are wide and trumpet-shaped and come in a variety of colors and designs, including veined, striped, and solid colors.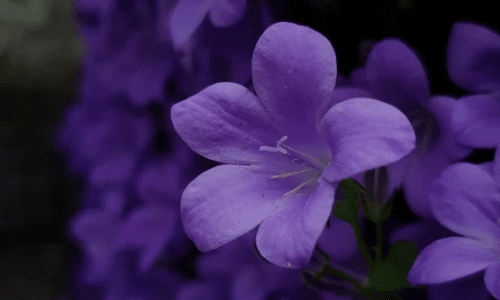 Violets Overview
Violets are known for their heart-shaped leaves. All violets are symmetrical, with five petals on each. Despite the name, violets come in more than just a shade of purple. In fact, you can find violets that come in yellow, pink, white, orange, cream-colored, red, and blue as well. The specific shape of the flower may define which species to which it belongs. The plant is a slow-growing perennial, so if you like it, you should plant a few different colors for interest so that you can reap the full benefits in a few years.
Leafy plants also look great when planted near a Dragon Tree. Consider trying a Dieffenbachia, Spathiphyllum, or a Philodendron with your plant.
Plants that are Similar to Dragon Tree
The Dragon Tree is popular because it is a tree that can grow indoors. If you are looking for other indoor trees or fantastic plants, consider checking out one of the following:
Corn Plant Overview
Corn Plants are easy to care for and do well in both indirect light and shade. They are both simple and elegant, adding a bit of decor to any room of your home. The plant is named due to the foliage that resembles that of growing corn. The bright leaves are often variegated and can bring a fresh, tropical look to your home. While they can grow in lower light conditions, they will grow more slowly. If you can periodically move them closer to the windows during the growing season, you will be able to enjoy a larger plant.
Ficus Alii Overview
If you live in a low-humidity environment and want an indoor tree, check out the Ficus Alii. This fairly new cultivar is also often sold with a braided trunk. The plant features a long, tall trunk that spreads out into crisp green leaves, making any room look a little more regal. The olive-green leaves are long and narrow and slightly curved to hang down on the tree. In the right conditions, the tree can grow to be between 8 and 10 feet tall with leaves that range in size between 3 and 10 inches.
Majesty Palm Overview
Originally from Madagascar, the majesty palm is a fuller plant that is known for cleaning the air in your home. Some of the toxins it removes include carbon monoxide, formaldehyde, and benzene. It loves light and humidity, so it should be kept in south-facing windows if possible. This robust plant has graceful, tropical fronds and is typically found planted on the banks of rivers. The leaves grow directly from the front, arching at the ends. The plant gets its name from the crown-like look mature palms have.
Frequently Asked Questions
How Large Will a Dragon Tree Grow?

When planted outdoors, a dragon tree can grow to about 20 feet tall. However, as a houseplant, it is typically kept at between 5-6 feet tall through pruning.

Is a Dragon Tree Toxic or Bad for Pets?

While the Dragon Plant is typically considered non-toxic to humans, those with some sensitivity should be careful around the plant. That being said, the Dracaena is toxic to pets, especially cats. If ingested, a cat could experience vomiting, diarrhea, weakness, drooling, and other symptoms.

What Kind of Container Do You Need for Your Dragon Tree?

When choosing a pot for your Dragon Tree, make sure to find one that is about 2-4 inches larger than the current root system. It should be a well-draining container that allows the soil to dry out a bit between waterings.

Is the Dragon Tree an Invasive Species?

The Dragon Tree is not classified as an invasive species.