The only major difference is the time period in which they naturally bloom in the wild. In order to help it bloom indoors, you will need to assist it into a dormant state.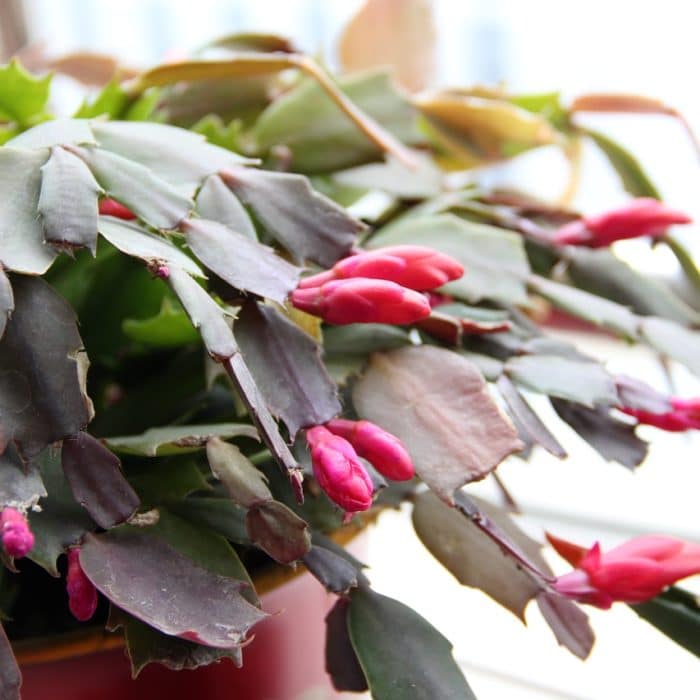 Identify Your Holiday Cactus
Want to learn how to differentiate between Christmas, Thanksgiving, and Easter Cactus? Read on:
How to Identify a Christmas Cactus (Schlumbergera bridgesii)

The flat leaves (stem sections) of a Christmas cactus are smoother than both the Thanksgiving and Easter varieties.

The flowers (generally a magenta color) hang down at the tips of the stem. They will generally start blooming in late November and could continue to bloom through February.

How to Identify a Thanksgiving Cactus (Schlumbergera truncata)

Many people refer to the Thanksgiving cactus as the "lobster cactus" or the "crab cactus" as its square-shaped leaves (stem sections) has a sharper, claw-like look to them due to 2-4 "prongs" or "teeth" on them.

The Thanksgiving cactus' flowers can grow to be 2-3 inches (5-7.5 cm) long. The flowers seem to grow outwards, but have a similar trumpeted shape as the Christmas cactus. The flowers typically bloom in late October through December. The Thanksgiving cactus can come in many colors (including white).

Hybrids of the Christmas and Thanksgiving Cactus

Both the Thanksgiving cactus and the Christmas cactus originate in Brazilian rainforests.

Hybrids of the Thanksgiving and Christmas cactuses come in many colors including yellow, pink, purple, white, orange, and a mix of two of the colors. Their blooming times will range depending on the particular plant.

How to Identify an Easter Cactus (Rhipsalidopsis gaertneri)

The leaves (stem sections) of an Easter cactus are more bristled than their holiday counterparts.

The flowers are still trumpet-shaped but have pointier petals (usually red or pink – occasionally a yellow color). This plant generally blooms in the spring around Easter and occasionally will bloom in Autumn as well (Halloween cactus anyone?). The flowers seem to open wider than other holiday cactus.
Care for a Holiday Cactus
Fortunately, regardless of which of these plants you have, they are all cared for in a similar way. Here are a few tips:
Holiday Cactus Enjoy Humidity

Misting them often or placing them on a tray of pebbles and water will help them thrive.

Holiday Cactus Are Succulents

Make sure that you water them more than you would a "normal" cactus. While you want the soil to dry out slightly between watering, they will always want access to moistures.

Don'T Overwater Your Holiday Cactus

Make sure to use a container that will properly drain. Overwatering can lead to root rot, which will ultimately destroy your plant. If your plant is in bloom, don't repot it to another container. This will cut the blooming period short.

Keep Your Holiday Cactus Out of Drafts

The drafts can cause stress on your plant, which may cause it to lose the buds that will turn into your beautiful flowers.

Holiday Cactus Need To Go Dormant In order to Flower

To help it, place the plant in a darker, cooler part of your home for a few weeks about two months before you want your Christmas Cactus to bloom.

Holiday Cactus Can Be Propagated Easily

After they bloom, twist off a few portions of the stems and plant them so that two or more "leaf sections" are beneath the soil. This is an easy way to create gifts for your friends and family in the following year.