If you live in a tropical climate, your house may be warm enough for them to thrive outdoors year-round. With the right conditions, you can grow your own coffee plant indoors. Best of all, within few years you'll be able to enjoy fresh coffee.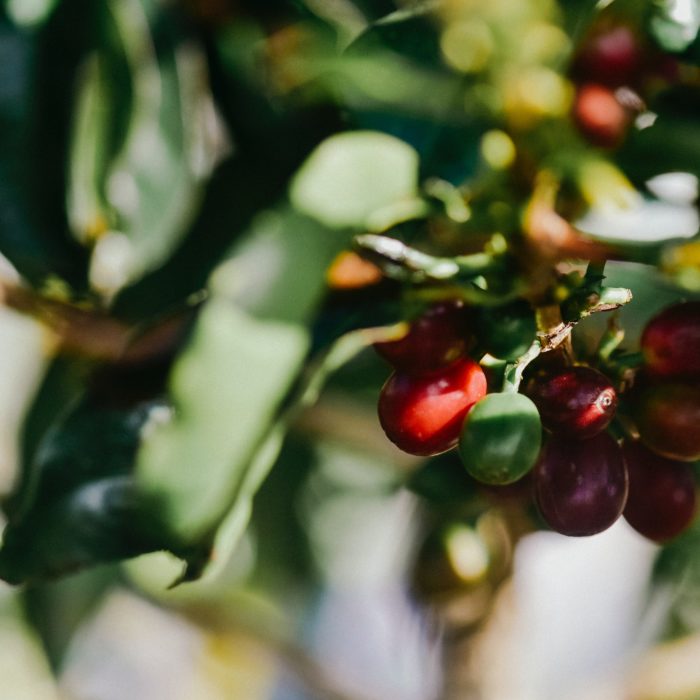 Best Coffee Plant Varieties to Grow at Home
Coffee plants are fairly hardy; you can grow them indoors in pots and thrive well outdoors if you live in a warm climate.
Even though they're small enough to grow in the garden, they can still produce a good harvest with the proper coffee plant care routine.
There are many varieties to choose from, so you can grow your own coffee plants that best suit your taste preference and growing conditions.
Here are some coffee plant varieties that are easy to grow at your own home:
Arabica Coffee (Coffea arabica)
It is the most common variety of coffee plants. Arabica coffee is the original species, and it's native to the hillsides of Ethiopia. You can find Arabica coffee plant varieties growing in almost every part of the world.
It can produce decent full-bodied, aromatic, delicious coffee beans with robust flavor yield in a pot, and it's the least picky about its growing conditions.
The arabica beans are also the variety used to make most commercially available coffee products.
Coffea arabica is fairly small, typically growing no more than 15 feet high. They need well-draining soil and plenty of water.
You can grow arabica beans indoors in pots or outdoors with some wind protection and prefers indirect sunlight. It's also fairly tolerant of pests and diseases.
The plants produce white flowers that can be enjoyed both indoors and out.
Robusta (Coffea Robusta )
Robusta is a variety that produces heavier and less expensive coffee beans. It can yield up to twice as much as arabica; it is a robust coffee, as the name suggests. It has a milder flavor and can tolerate more difficult conditions and too much sun exposure.
Robusta coffee is hardy, tolerant of the cold, pests, diseases, and resistant to caffeine rust. They can grow tall up to 40f high if untrained.
Robusta beans can be produced as potted coffee plants, but they are easier to grow outdoors because of their size.
They're great for fences, trellises, and other support structures. It is considered the harsher tasting variety of coffee beans.
It's best to have more variety of coffee plants growing in your garden or container.
You can also mix these two seeds of Robusta plants with Arabica plants to produce a more balanced cup of coffee.
You can try many other varieties of coffee, but these two types are the easiest to find and grow at home.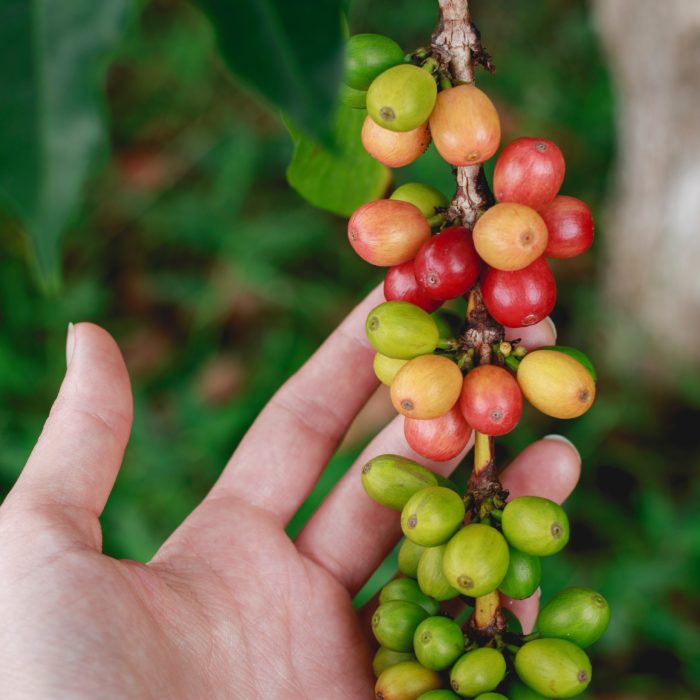 How to Pick the Right Coffee Tree for Your Home
The coffee tree does not shed its leaves as many other trees and shrubs do. The foliage is very attractive and can be left as a nice display of color and texture year-round.
That makes coffee plants suitable for indoor or outdoor gardens, especially if you love coffee. But how to pick the right coffee tree for your home?
Here are the tips you need when choosing the type of coffee tree to grow at home.
Coffee Plants Variety with Attractive Foliage

Among the most important things is to look for a coffee plant that has attractive foliage. You can choose from many varieties, including green, dark, brown leaves, variegated foliage, or even tinted leaves with different sizes and colors.

The coffee plant should have a healthy dark green leaf color throughout the year. Avoid those that show signs of yellowing leaves as this may indicate poor growing conditions or caffeine rust, a deadly fungus disease.

Coffee Plant Varieties for Indoor Growing

Some coffee plants grow better indoors than others because they do not prefer diffused sunlight, are too cold, and are sensitive to extreme changes in soil moisture.

Growing plant indoors is the only option to have fresh produce beans during winter if you live in a colder region. Many types of coffee plants grow well indoors with the proper care.

Coffee plants indoors are typically smaller than those grown outside and can be grown in a pot. They are also better suited for containers because they are smaller, don't require as much space, and you can bring them inside if the weather becomes too harsh or changes dramatically.

Coffee Plant Varieties with Attractive Flowers

If you want to have more than just pretty leaves to spruce up your garden, a coffee plant, while also having attractive flowering plants, some varieties with this characteristic can be a great choice.

It is a coffee plant with lovely white or fragrant pink flowers that can grow in clusters. Look for those that bloom abundantly and produce plenty of coffee seeds throughout the year.

Those that show off their bright white to deep pink colors are best, although some varieties have single-colored flowers, so you can experiment with different varieties to find one that works for your taste and garden.

Coffee Plant that Produces Coffee Cherries

Some coffee tree varieties produce berries. Those are also called "coffee cherry" or "coffee seeds." If you're looking for something fun to grow indoors or outdoors, this type of coffee plant is a great choice.

They can be very attractive and provide plenty of color, texture, and scent to your garden. Many are fragrant with pink or white blooms, although they may not bloom throughout the year.

A coffee plant that produces coffee cherries can grow small or large depending on the variety. They typically grow in a rounded shape, and most varieties produce fruit within one year of indoor planting if you live in a warmer climate.

Younger plants grown indoors will not produce green fruits until they are about three years old.

Coffee Plant as a Bonsai

A coffee plant can be grown as a bonsai if you have the proper conditions and good air circulation around it to prevent fungal diseases.

Choose a young, healthy plant with a straight trunk that is less than a foot tall before a severe pruning. Keep older leaves and flowers trimmed back to promote a smaller canopy, but keep some on the tree for the fullness.

Younger branches under a foot tall can be pinched out to promote a smaller canopy over time.

Coffee Plant Varieties for Containers

When growing your own coffee plants in containers, you need to pick smaller varieties. A potted coffee plant can grow indoors or outdoors. If you have a backyard garden with plenty of space, larger types may work well there.

They do best in wide and deep planters because those mimic their natural rainforest habitat. They also do well in a large or small pot indoors but may have room to grow out of the pot if you live in a warmer climate.

A typical planter will work for an indoor coffee plant, but you need to ensure plenty of drainage holes in the bottom to avoid soil moist. For them not to drown while growing indoors under artificial light.

The coffee plant can be grown outdoors on the ground or in containers. Dwarf and semi-dwarf types are great for outdoor containers, but standard varieties will work well outdoors if planted near a shaded area.

Dwarf varieties grow best indoors because they are smaller size plants. They should have plenty of water and humidity along with indirect bright light to prevent leggy growth.

Regular coffee trees grow well outdoors as long as you give them a shaded spot from direct sunlight. These types can be planted in the ground or kept in containers, just like indoor varieties.
Other Things To Consider When Choosing Coffee Tree for your home :
Climate Conditions

Consider your climate conditions. If you live in mild winters, choose a coffee tree variety that can grow outdoors.

Some areas have frequent cold snaps, so you'll need a type that can survive the winter. Consider your yard and garden to determine if a coffee plant variety will work well in those conditions.

Sunlight Conditions

Although they typically prefer shade as young trees, they will need bright light in older age. Pick a location that acquires at least six hours of bright direct sunlight per day to prevent leggy growth.

Some types can handle less direct sun, so you may find they work well in the flowering tent indoors with artificial light. They will still need some indirect light outdoors if placed under a shade tree or other natural cover for part of the day.

Soil Conditions

A coffee plant does best in moist, nutrient-rich soil with proper drainage. They like acidic soil (5.0 to 6.0 pH). Add organic potting mix or manure to the planting area to ensure enough nutrients for healthy growth.

Containers need potting soil that contains ingredients like vermiculite, peat moss, and perlite for good drainage.

Water Conditions

The best way to water a coffee plant is from the base of the trunk, getting the root system wet without wetting the leaves or stems. This ensures they can get enough moisture without developing fungal diseases near the soil line.

Choose a variety that is drought-tolerant to prevent overwatering. Container plants may need more frequent watering, while some outdoor types can go for a couple of weeks without water during hot summer months.

Water your coffee plant every week to 10 days, depending on the type and local conditions. Young trees need more water than old ones, so give them a deep drink every few days.

Don't let the soil dries before watering. This can promote leggy growth and reduce fruit production during the growing season.

Disease and Pest Resistance

Choose a coffee tree variety that is resistant to common diseases, scale insects, and pests in your area. Diseases can reduce plant growth, while pests can damage leaves and interfere with fruit production.

Mealybugs are among the most common pests for indoor varieties. They may also be found under bark at the soil line or near the graft point when young.

Avoid disease and pest damage by keeping the area around your own coffee plant free of debris, such as fallen leaves and fruit. Always check your indoor plants for insects and other pests before bringing it inside in late fall after outdoor seasons are over.

General Growth Habit

Coffee trees are slow-growing but long-lived. They can live for many years and produce enough beans and large crops of fruit each season.

Some varieties may need to be pruned back every winter to keep them from becoming too tall and leggy indoors. Choose one that fits your space for the best growth results.

These are just some of the things to consider when choosing coffee plants for your home. Regardless of how many coffee plants you want to grow, before buying, always research the type you are considering to determine if it is a suitable variety for your climate, sunlight conditions, soil type, and other growth needs.