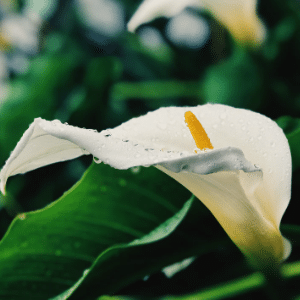 | Class | Info |
| --- | --- |
| Common Name | Calla Lily |
| Scientific Name: | Zantedeschia elliottiana and Zantedeschia rehmannii |
| Family | Araceae |
| Plant Type | Ornamental plant, flower |
| Origin | Southern Africa |
Plant Description

The Calla Lily is a sturdy plant that is hardy enough to be able to grow in several environments and soils. It comes in several shades and has funnel-shaped flowers.

Leaves

The leaves of the Calla Lily grow directly from the rhizome and surround the flowers. They are smooth and sword-like in shape.

Seeds

Once the blooms of the Calla Lily withers, the plant will be left with a capsule that is filled with seeds for more plants.

Roots

Calla Lilies grow from rhizome roots which spread over time.
Flowers

The spathe of the Calla Lily flower is actually a modified leaf rather than a petal. That being said, the portion of the plant considered a flower comes in multiple colors that create a funnel-shaped cone.

Rate of Growth

Calla Lily shoots can appear within 2 weeks from planting the rhizomes and will reach full height by the end of the growing season.

Temperament

Calla Lilies are easy to grow and can be planted in many types of soil. They can also grow in many different environments without issue.
Calla lilies come in various sizes and colors, allowing you to choose those that meet your own personal preference. Here are a few of our favorites:
Flame

Thee Flame Calla Lilly gets its name from the yellow to orange bloom that it produces. These will need to be planted in early spring after the end of frost.

Red Alert

The Red Alert is a unique, red calla Lilly that will stand out when planted among other plants and flowers. They also look very elegant in bouquets.

Crystal Blush

If you want to showcase calla lilies at a wedding, this may be the flower for you. The Crystal Blush is white with just a slight hint of pink on the edges of the flowers.

Night Life

For purple calla lilies, you should look for the Night Life (also known as Night cap) varieties. They come in a rich shade of blue and purple that stands out. They do well when paired with Crystal Blush calla lilies or other, softer varieties.

Pink Ice

For a softer look, try the Pink Ice calla lily variety. They come in a soft white that looks as though they were dipped into a soft pink shade.
How to Care for Indoor Calla Lily
Even though the Calla Lily is fairly easy to care for, there are a few things you can give it to ensure to keep it in optimal conditions. Here are a few ways you can keep your Calla Lilies doing well over time.
How Often You Should Water Your Calla Lily

When caring for indoor Calla Lilies, make sure to water your plant frequently enough to keep the soil moist, but not saturated. Keep them in well-draining soil to ensure that the water doesn't remain standing in the pot as that could lead to root rot.

How Much Light Does a Calla Lily Need?

Calla Lilies can do well in both direct light and partial shade. If you have long, hot summers, try to plant them in partial shade, whereas they will do better in direct light in milder seasons. Indoor plants can typically be placed in south-facing windows (in the northern hemisphere) with no issue.

How to Fertilize Your Calla Lily

The best time to fertilize your calla lily is when they are planted or in late autumn (October and November). Place slow-releasing fertilizer sticks into the soil near the roots and the bulbs so that they can be fed throughout the winter.

Best Soil For Your Calla Lily

Calla lilies do best when planted in moist, organically rich soil that drains well. You do not want water to sit in the container, but you do want to ensure that the soil remains fairly moist overall.

Optimum Temperature/Humidity for Your Calla Lily

Calla lilies should be kept between 60 and 75 degrees F (15 to 23 C) during the daytime, and not much cooler in the nighttime (55 degrees F). If temperatures dip cooler than that, the plant will stop growing. The plant also prefers to be kept in relatively humid environments and will thrive when the soil is kept moist (but not wet).
Common Problems with Calla Lily
Why Is Your Calla Lily's Flower Drooping?

If your calla lily flower has begun to droop, it may be due to a watering issue. While this is typically due to over or under-watering, it may also have a fungal rot disease or too much nitrogen in your soil.

Make sure that you are watering your plant frequently enough that the soil remains moist, but not enough that the soil is wet (which will lead to fungal growth). You can tell if you have a fungal problem if the stems get mushy. You will either need to replace the soil or replace both the rhizome and the soil at that point.

What Insects Can Affect Calla Lily?

There are a few pests that could affect your calla lilies. You will want to watch out for signs of aphids, slugs, spider mites, thrips, and whiteflies.

Aphids

Aphids are generally found in groups or colonies on the undersides of new growth on a plant. While they will vary a bit in color (or whether or not they have wings), aphids are generally pear-shaped with little cornicles sticking out of the back of their abdomens. These soft-bodied insects seek out the sap of plants and will inject saliva into the foliage during the process which may alter the overall look of your plant.

Slugs

While you typically won't find slugs in your home, you may find them in your garden if you have planted your plants outdoors. Slugs will eat the entirety of a leaf if given enough time. They typically complete their work at night. Slugs are mollusks in the class Gastropoda that have a soft body and produce a great deal of slime. They enjoy moist environments. They can come in a few colors and sizes but are typically brown.

Spider Mites

Spider mites are tiny black arachnids (not typically seen by humans) that like warm environments. They have oval bodies and eight legs and are generally white, red, or brown (though they are difficult to see with the naked eye). Spider mites can easily travel on the wind through a window screen. If you have them, you'll see fine webbing similar to spider silk underneath the leaves. Leaves will sometimes become spotted or change color. Spray them off with water, a homemade miticide, or use Neem oil to remove them. 

Thrips

Thrips come in various colors from black to yellowish. They are very thin (about the same width as a sewing needle) and have fringed winges. These tiny insects are typically most active in the spring and are attracted to various houseplants and garden vegetables. They will feed by sucking the sap of your plants. They spread very quickly through laying their larvae, so it is important to take action as soon as you realize you have an infestation.

Whiteflies

Whiteflies appear exactly as they sound. With four, white wings, these tiny insects measure to be about 1/16 inch in length. They are very hard to spot individually, but when brushing up against a plant, you may notice them swarm together in a "cloud" above the plant. Whiteflies suck the juices from the underside of leaves which can cause damage to your plant over time. They also produce honeydew which can attract other pests to your plant.

Is the Calla Lily an Invasive Species?

Calla lilies are considered to be invasive in some areas of the United States. This is due to how they are spread (bird-born seed and through rhizome pieces). If you want to plant your Calla lilies outdoors, you should check with your local mandates to find out any rules. You may need to keep the plant in a container.
How to Propagate a Calla Lily
Every 3 to 5 years, you can propagate your calla lily plant by dividing the rhizomes. You will either need to do it late in the season or very early.
The process is easy enough. After digging up the rhizome, carefully divide it into multiple parts, ensuring that each has its own eye. You will be able to replant each of them at the proper planting time.
How Does Calla Lily Spread?
Calla lilies spread through the multiplication of their rhizomes or through propagation. If they are planted in partial shade, they can even spread on their own. Their seed can also be spread by birds in the wild and can also occasionally be purchased at gardening centers.
Companion Plants to Calla Lily
There are several plants that work well as companions for Calla Lilies. These will include the following: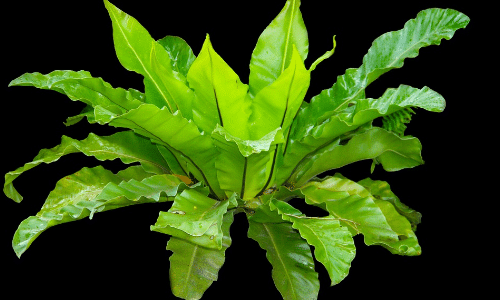 Bird's Nest Fern Overview
One of the key things that make the Bird's Nest Fern interesting is that they are epiphytic, which means they can grow on the surface of other nearby plants. The slow-growing plants can grow to between 3 and 5 feet tall as well as 2 to 3 feet wide. All of the leaves grow from a central rosette that sits in the ground. The plants love humidity, moisture, and warmth and will grow a little faster and taller when kept in those conditions. The plants are native to Africa, Asia, and Australia.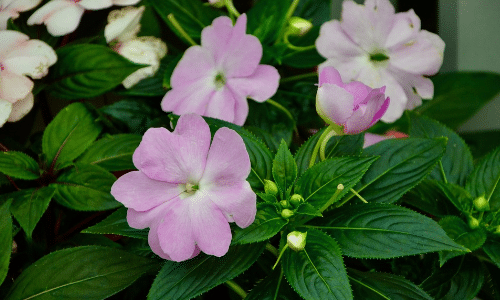 Impatiens Overview
Also known as "touch-me-not" flowers, Impatiens can add color to your planter as well as a bit of green foliage. These shade-tolerating flowering plants will produce long-lasting blooms in a variety of colors, including purple, violet, coral, pink, red, white, and yellow. The flowers, which get their name from the way they shoot themselves out of the earth, produce five-petaled blooms (some varieties have doubles) that will typically range between 1 – 2 1/4 inches wide. Their alternate leaves are smooth with serrate margins which are oval to elliptic in shape.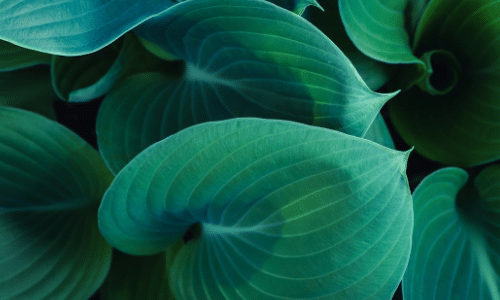 Hosta Overview
Hostas are perennial bulbs that come in a variety of sizes and cultivars. They are big, leafy plants that are fond of the sun. Many varieties are available, ranging from variegated green leaves to those that are bluish in color. The larger the size of the hosta and unique variegations will typically make the plant more valuable. They can be planted in spring or early summer; the earlier the better. Hostas can grow to be 3 feet wide and 3 feet tall. The flower of the hosta are not very pretty but they have a nice yellow color.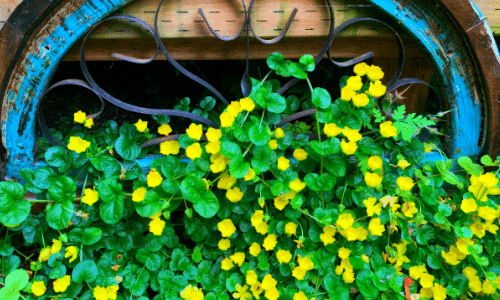 Creeping Jenny Overview
The Creeping Jenny is an evergreen plant that produces stems that produce rounded leaves on either side of the plant. In the summer, the plant will also produce yellow flowers on the axils of the leaves. It thrives in shades and can easily grow in a variety of places. The fast-growing plant is typically used for groundcover as it spreads out using long stems. It should be noted, however, that the plant is considered invasive, but it can be managed by gardeners who keep an eye on it and prune it back regularily.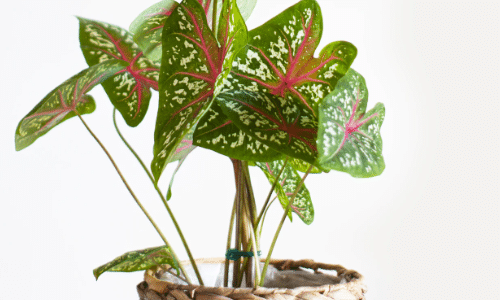 Caladium Overview
Caladiums are perennials that come from the tropics of Central and South America. Their large, heart-shaped leaves come in many colors and shades including white, red, green, and pink, allowing you to choose the one that works best for your personal garden. Fortunately, the leaves are interesting enough that you won't miss the flowers that rarely bloom on the plant. Caladiums can grow in shady areas as long as there is still enough indirect light. The plant is often used as bedding plant that will keep your garden interesting during the summer months.
Plants that are Similar to Calla Lililies
There are several plants that are similar to the calla lily. These include the following: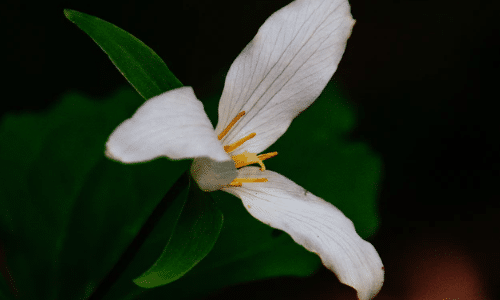 Trillium Overview
Trillium is a perennial plant that belongs to the Melanthiaceae family. The plant has three leaves that seem to encircle the flower that blooms above them. The flower is often described as having a leathery texture, small, and has three white petals. As it mature, the flower will gradually turn to a dark wine-colored red. The plant is called Trillium due to its three leaves and three petal flower. The plant is known by different names in different regions. There are more than 40 varieties of this plant.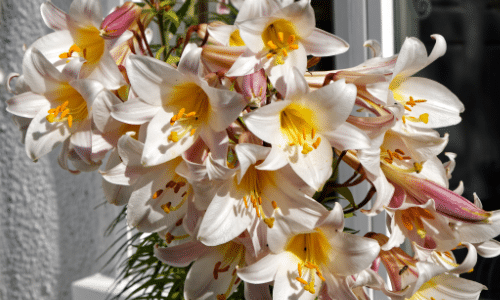 Regal Lily Overview
While the regal lily (also known as the trumpet lily) has a flower that is a similar shape to the calla lily, the plant will typically grow to be much larger, reaching up 3 feet in height, making them an excellent choice as a border plant. The flowers are white whit pink lines down the sides which accentuate the trumpet shape of the bloom. Native to southwestern China, the flowers will bloom in the middle of summer. To get the most out of this plant, plant them in groups of three or more bulbs. You can also place them in planters to decorate a porch.
Easter Lily
Easter lilies are perennial flowering plants growing from bulbs, with large, showy flowers growing from the basal leaves. The white flowers have a sweet scent. Easter lilies are native to South and Central America, but are widely grown as houseplants in cooler regions. In fact, when grown under cooler conditions, the plant will typically produce more leaves. The plant is named due to their blooming during the Easter season. The plant has dark green, lanceolate leaves that grow directly from a talk stalk which props up the flowers.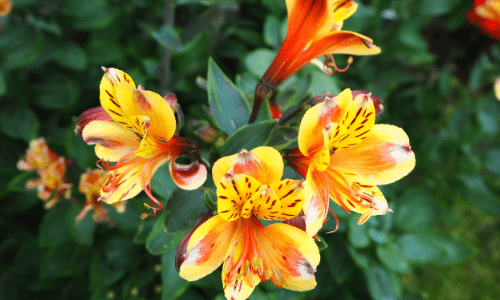 Alstroemeria Overview
Alstroemeria (also known as the Lily-of-the-Incas) boasts a six-petal flower that will bloom in a variety of colors. They are known for attracting bees to your garden. This perennial plant is native to Asouht America and can grow into a bush-like plant that measures 24 to 36 inches high. The flowers are typically yellow with orange streaking and spotting, making this a bright addition to your home or garden. In many cultures, these lilies symbolize friendship and good fortune, making them the perfect gift to send to someone you love.
Frequently Asked Questions
How Large Will a Calla Lily Grow?

Calla lilies will typically grow between 1 to 2 feet tall, making them a good choice for indoor flowering plants (so long as you have the right environment and a deep enough container). When planted outside, they do well in both the front and middle sections of a flower bed.

Is a Calla Lily Toxic or Bad for Pets?

Calla lilies are toxic. They continue insolvable calcium that could cause burning sensations among other symptoms in the mouth plus medium to severe indigestion. It is also toxic to pets. Many gardeners even use gloves when handling the plant to prevent the poison from affecting them as much.

Australia – Call 131 126

Canada – Find your province's number on this website

New Zealand – call 0800 POISON (0800 764 766)

United Kingdom – Call NHS 111

United States – Call (800) 222-1222

What Kind of Container Do You Need for Your Calla Lily?

When picking a container for your calla lilies, you should look for one that is 10-12 inches in diameter. It should be well-draining and relatively easy to move (if you take them outdoors for the summer and return them indoors for the cooler months).