If you're looking to grow strawberries indoors, you can do so pretty easily with a little bit of gardening know-how!
There are some varieties of strawberries that you can successfully grow indoors, and strawberries are just perfect because they don't produce runners like other berry plants. Furthermore, their small size makes them easy to grow.
What You Need to Grow Strawberries Indoors
Growing strawberries indoors requires the same equipment as growing them outdoors. There are a few differences, however, to facilitate a better airflow and maintain a pleasant environment for your plants, you need the following supplies to ensure the best chances of success:
1. Lighting

Lighting is essential to the growing process, and a strawberry plant requires at least 4-6 hours of direct sunlight. So if you want to grow strawberries indoors, you can use artificial lighting, including fluorescent lamps.

Fluorescent lights can produce a lot of light without generating much heat. If you're worried about the plants getting too hot for how many hours of exposure, you can use fans to direct the heat and help circulate fresh air without blowing it directly on your strawberry plant.

2. Watering System

You will need a watering system for growing strawberries. There are many solutions that work perfectly well for this purpose, such as drip irrigation systems or even just regular water bottles.

3. Organic Potting Mix

Strawberries will grow in most soil types, but some types of potting mix are better than others. Make sure to use an organic potting mix high in peat moss, sand, and perlite to help with drainage.

4. Containers

Perhaps, you'll want to plant your indoor strawberry into larger pots or containers for optimal growth. You can choose from any container that has a decent amount of space for them to grow and spread.

Just ensure that the container has some drainage holes on the bottom and good aeration around the pot.

5. Soil pH and Fertilizers

Strawberries require neutral soil with a pH level of 7.0 to grow at their best indoors. This means that you need to carefully check your potting mix and adjust it if necessary before planting strawberry cultivars.

You can buy soil additives from any plant or grocery store, or simply use organic compost as a soil additive. Strawberries do like rich, organic compost that contains several nutrients like peat moss to grow properly with good yields indoors.

You can use fertilizers at regular intervals to keep them healthy and increase their growth rate (1-2 times every 2 weeks).

Now that you have everything ready, it's time to grow your indoor strawberries!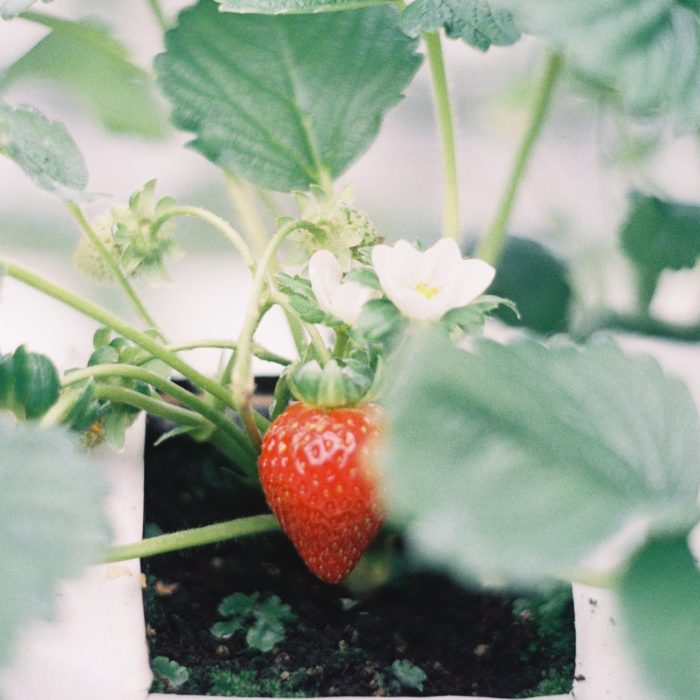 Strawberry Varieties That Grow Indoors
Growing strawberry plants indoors is relatively easy, and you can grow most varieties of strawberries inside successfully. However, certain strawberries are best suited for this purpose because they yield well and don't require much work.
If you like your strawberries fresh and homegrown, these varieties will make growing them indoors a real pleasure. They're perfect for growing in large containers because they don't produce runners and grow slowly with good yields of sweet fruits and flavorful berries suitable for eating raw or making into delicious desserts and smoothies. You can slice up the fruits and add them to salads for a sweet and tangy taste.
If you're looking to grow your strawberries indoors, here are some strawberry varieties that you might like to try:
1. Alpine Strawberries

Alpine strawberries are known for their intense, sweet flavor and small size. They're perfect for growing indoors because they don't easily succumb to pest attacks and grow slowly with compacted blooms.

Most alpine strawberries need at least 4-5 hours of direct sun exposure every day and produce well in large containers. Indoor gardeners love these small, super sweet strawberries because they don't produce runners and take up very little space.

2. Everbearing Strawberry

Everbearing strawberries produce two sets of fruit and stay green all year round. They're perfect for growing indoors alongside other multiple plants because they don't take up much space and flourish without sun exposure.

3. June Bearers

Junebearer strawberries are perhaps the most common type of strawberries in indoor gardening because of their easy care and high yield.

June-bearing strawberry plants produce large flowers with long green leaves, and they can survive without direct sunlight for several weeks but may need artificial lighting or led lights during the long winter months.

4. Baby Belle Strawberry

This is a great strawberry variety for growing in an indoor location because it doesn't require much sun to thrive, and you can easily grow them in large containers or glasses without making too much of a mess.

These homegrown berries grow slowly, which makes them perfect for container growing. They also produce a healthy yield of small, good flavor strawberries with a sweet taste and nice fragrance.

5. Heritage Strawberry

These ripe strawberries are very easy to grow indoors because they don't need much attention or care. You just need to provide them with the best soil, fertilizer, and water regularly to produce high yields of delicious berries.

6. Pineberry Strawberry

This plant is perfect for growing strawberries indoors because they don't require much light or produce runners. You can grow them under artificial lighting in large containers without any problems.

These ripe strawberries have a unique flavor and contain almost no seeds, which means much juicy goodness in every bite. They also produce a good yield of fragrant, white strawberries that taste great and look beautiful.

7. Wild Strawberries

These are the types of strawberries that you should grow indoors if you want to add a pop of color and flavor to your meals. Their flowers add a splash of color to any tabletop or garden, and their fruits taste amazing.

They're perfect for growing in large containers and require very little care. They're also suitable if you've never grown strawberries before because they're easy to grow and don't produce runners.

These are a few of the best varieties of strawberry plants that you can grow indoors with little space and sunlight. If you love strawberries, these varieties will keep you happy all year long without any hassle.
Strawberry Seeds vs Plants
Strawberry seeds and strawberry plants are two different things. Many beginners get confused about this, so here's a simplified explanation:
Strawberry Seeds
Strawberry seeds are a good option if you want to grow your strawberry plants from scratch. These seeds are hard and need to be stored in a cool, dry place where they won't get wet or damaged.
As soon as you plant the seeds indoors, the conditions have to be optimal for them to germinate. If you can provide those conditions, you'll have strawberry plants in about 18-30 days.
Strawberry Plants
If you don't want to deal with seeds, you can just buy a strawberry plant ready for growing. These plants produce healthy fruit very quickly and need less space than growing strawberries from seed. They're also easier to grow because they already have a root structure and don't require much care or attention.
So which one should you choose if you want to grow strawberries indoors? Is it seed or plant?
Well, it depends on your preferences. If you like to plant things from scratch, then strawberry seeds are the way to go. But if you don't want to deal with the hassle, then choose a strawberry plant that is ready for growing inside or outside your home.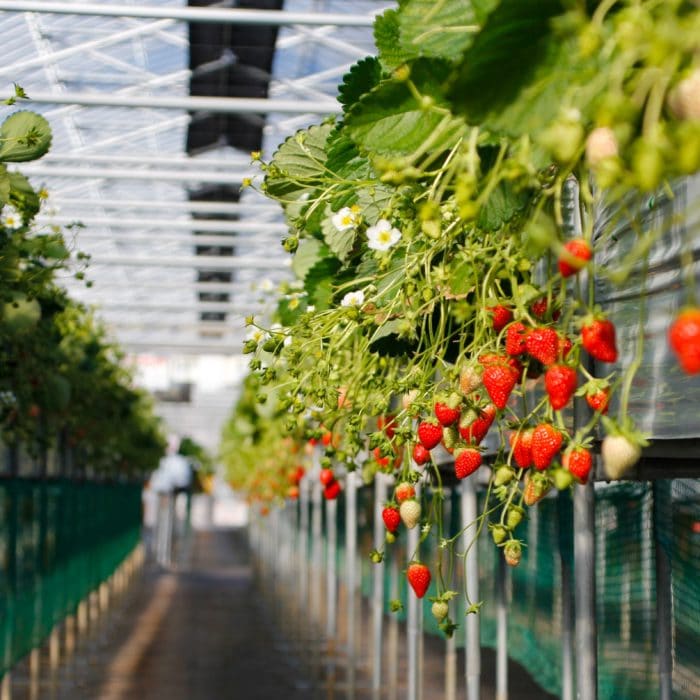 Requirements For Growing Your Strawberries Indoors
Growing strawberries indoors is not that difficult, but you'll need to provide them with the right conditions, like temperature and light all year round. Here are some tips for growing your strawberry plants:
1. Location

Strawberries are very sensitive to temperature fluctuations, so you need to provide them with a warm environment.

If you lack the luxury of an indoor greenhouse or grow room, try setting up your strawberry plants near a sunny window where they can receive sunlight during most hours of the day.

2. Providing Proper Heat and Sunlight

Strawberries require at least 6 hours of direct sunlight every day. If you don't provide them with that much sunlight, you should keep your plants closer to a window.

The temperature should also be above 50 degrees Fahrenheit for optimal growth, although they can withstand a few degrees below that as well.

As mentioned earlier, you can use artificial light if you won't provide them with proper sunlight. Just ensure that the distance between the plants and the light bulbs is about 3-5 inches. The plants should ideally be placed 10-16 inches above the light source.

3. The Right Container Size

Choose the right size of the container. If you're planting strawberry seeds, you should use containers at least 6 to 8 inches deep and filled with good potting soil. Plant them about 2 to 3 inches below the soil surface.

For strawberry plants, use containers that are large enough for your plant's root structure because they will grow as larger berries over time.

If you use too small a container, the plant won't grow in it, and you'll have to re-pot your strawberry plants every few months.

4. Proper Water and Nutrition

Strawberries do like moist but not wet soil. If you don't water them enough, their leaves will start turning yellow, and they'll stop growing. On the other hand, if you overwater them, they can develop root rot, and their growth will be stunted.

This is why you should provide your strawberry plants with the proper amount of water, but not too much to damage them. Here's how:

Keep your strawberry plants moist but not wet at all times until they start developing strawberry flowers.
Once they start producing flowers, you should water them more often because the soil will start drying out faster.
You can also mulch around your strawberry plants to make sure that the soil is moist at all times.

Strawberry plants need good nutrition as well, and you can provide them with organic plant food if they're indoors and grow your strawberries in large pots.

You can also use natural fertilizers, like manure or compost to ensure that your plants are getting the right amount of nutrients and to produce fruit successfully.

5. Proper Drainage

Make sure that the drainage holes in your pots are big enough, so the water can properly drain out. This way, you won't over-water your plants and cause root rot. Remember the following:

If your soil is too moist, you should allow some time to make the soil dry before watering them again.
Suppose the soil is too dry, then you should add some water, but not too much.
If the soil is just right, you should water your plants once every 3-5 days.

6. Prune Your Strawberry Plants Properly

Pruning is essential to growing strawberries. You should prune your plants after they have produced flowers so that you can get bigger and more fruitful yields.

Here's how to prune strawberry plants:

Once the flowers turn into green, leafy vegetables, you should remove them by cutting or pinching them off. This will encourage the plant to produce bigger strawberries with more seeds.
Cut off all of the runners, but leave about 8 inches on each runner so you can later replant them to more pots. This way, your strawberry plants will produce more flowers and more fruits at the same time.

7. Don't Forget to Harvest Properly

As with any plant, you should harvest your strawberries at the right time to get bigger yields. Make sure that the strawberries are bright red before harvesting them.

If they're green inside, then you should wait a few days until you ripe fruits, or else their taste will be sour and bitter.

Strawberry plants like it dry, warm, and sunny. If you can provide them with these conditions, then they will grow fast and produce a good amount of fruit for you to enjoy.

Just make sure to keep checking all of their basic needs, and your strawberry plants will be healthy and you can bear fruits soon.
Best Containers to Grow Strawberries
If you're growing strawberries indoors, then you need to put them in containers that are large enough for their root structure.
Planting your strawberries into small containers won't develop properly because their roots will be constricted. Here are the best types of pots to use:
1. Strawberry Barrels

If you want to grow strawberries in a small space, then strawberry barrels are the way to go. They have a built-in drip irrigation system that supplies your plants with water and nutrients at all times.

This helps keep your plants hydrated and healthy, which ensures that they give you more fruits than usual.

2. Strawberry Pots

You can't grow as many strawberries in strawberry pots as you can with strawberry barrels, but they're perfect for small indoor spaces and balconies.

They also make for a great decoration piece because their bright red color will liven up any room. Plus, they come in different styles and shapes, so you can find the best match for your home.

3. Strawberry Tubs

Tubs are similar to pots, but they're more affordable, and you can also use them to store other objects in your house. Strawberry tubs make it easier for you to move around your strawberry plants and reposition them whenever necessary. If you want an easy and simple to use container, then strawberry tubs are the right choice for you.

4. Strawberry Buckets

If you want an effective and cost-efficient way of growing strawberries indoors, then you should get a strawberry bucket. These are relatively small buckets with built-in planters for your plants.

They have enough space for the roots to grow and develop properly, but they're still quite affordable. Plus, you can move them around your house as needed because they have a handle at the top.

5. All-Purpose Pots

If you want an affordable yet spacious option, then all-purpose pots are the way to go. They have much space inside them for your strawberry plants' roots to grow, but they don't have any built-in planters or irrigation systems. You can choose to install these features yourself if you want, and some even come with them already built-in.

6. Hanging Baskets

Hanging baskets are another good choice if you want to grow strawberries indoors. Just be sure that they have a large diameter and enough depth for the roots of your plants to develop properly.

The bigger and deeper the basket is, the healthier your strawberry plants will be, which means they'll give you more fruits in return.